Michigan Brewing Company - High Seas IPA
ABV:

6.0%

Int'l Bittering Units (IBUs):

70+

Serving Temperature:

45-50° F
If you don't know what a normal IBU (international bittering unit) is, let's just suffice to say that 70 is HUGE!!! This one's for Hop Heads only because this dark amber IPA is loaded with 'em! The brewers at Michigan Brewing Company sure know what they're doing when it comes to brewing a tasty, hop aggressive, India Pale Ale. When you first bring this beer to your lips, the Cascade hops really grab you and smack you up side the head. You are then bombarded with mass quantities of Northern Bbrewer and Cascade hops when this beer touches your tongue, which is then followed by a slightly sweet finish. One of the more assertively hopped beers we have featured. This beer would go great with gumbo or jambalaya.
Thai Beef Salad

Spicy Beef

1 pound top sirloin, sliced thinly against the grain
½ Cup Peninsula Porter
2 cloves garlic, finely minced
1T dark soy sauce
1t dark sesame oil
¼ C Canola oil

Chili Oil Dressing

1/3 C Canola oil
3 ground hot Thai chilies (or 2t Thai red curry paste)
6 Szechwan peppercorns
2T Sesame seeds
2T Peninsula Porter
1 ½ t dark sesame oil
1t Sugar

Salad

1 bunch spinach, cleaned, stemmed, and torn
1 bunch red-leaf lettuce, cleaned, stemmed and torn
1 carrot, julienned and tossed in 1t fresh lime juice
1 bunch green onions, sliced thinly and tops cut into 2-inch lengths
1 can baby corn, drained and patted dry
1 small can water chestnuts, drained and sliced
1 small can straw mushrooms, drained
½ small bunch cilantro, leaves only
¼ C peanuts or almond slivers, toasted

In a bowl, stir the beef, Peninsula Porter, garlic, soy sauce, and sesame oil and let stand for 45 minutes. In a wok, heat 1/4 C of canola oil on medium-high. Drain the meat and stir-fry in three small batches just until cooked. Remove and set aside.

Prepare the chili oil dressing by heating 1/3 C of canola oil over medium heat. Remove wok from heat and stir in ground chilies or curry paste, Szechwan peppercorns, and sesame seeds, stirring for 1 minute. Allow to cool completely. Add soy sauce, Peninsula Porter, sesame oil, and sugar to the cooled chili oil. Toss meat into this mixture and allow to stand while you prepare the greens.

Arrange spinach and red-leaf lettuce on individual plates or a platter. Toss carrots and slivered green onions together and sprinkle over arranged greens. Drain the meat and reserve the chili oil dressing. Place the meat on the greens and arrange corn, water chestnuts, and mushrooms on top. Garnish with cilantro and toasted nuts. Pour remaining chili oil dressing over the salad.

Source: The Great American Beer Cookbook, Candy Schermerhorn, Brewers Publications.
Dear Murl,

I want to host a beer tasting. Can you give me any tips on how to make it a successful event?

Joe Maiz

Trenton, NJ.

Yo Joe!

Your main task in hosting a beer tasting is making it a fun and educational evening. Well…at least fun! You'll want to make it an event that people will remember, so put some thought into these simple rules of thumb as you plan your soirée:

1. Obviously, your guest list should include only people who really enjoy beer, but consider mixing it up a bit between those that might consider themselves connoisseurs of hand-crafted beers to those that lean more towards whatever is discounted most heavily at the local watering bowl. Enlightenment is a beautiful thang to behold.

2. Keep in mind that you need to be a responsible host. This is not an occasion to dust off your college beer bong, and quarters mixed with your sampling glasses tend to only confuse the palate. All you really need to get an ample taste of a beer is 2-3 ounces, which will allow your guests to try numerous styles without being featured on COPS

3. Food should play an important role in any beer tasting. Unsalted crackers, plain popcorn, and water are key to helping cleanse the palette... rawhide works well with the pack I run with. Consider asking your guests to bring over foods that complement the styles of beer you plan to taste. Check out Candy Schermerhorn's Great American Beer Cookbook.

4. Serve the beers at their optimal recommended serving temperatures: Lagers around 42 degrees, ales at 50, and stouts and porters at approximately 55 degrees.

5. Be sure and have enough clean glassware and/or bowls. You may want to have 2 or 3 styles evaluated next to each other so it's best to have at least 3 glasses per guest. You can have them rinse between rounds.

6. As the host, you'll need to be in charge of placing the beers in the order that they should be sampled - generally speaking lighter to darker styles is best. Facilitate discussion amongst your guests as to their observations of the beers sampled.

With these things in mind, your party should be a tremendous success. Just do me a favor and give me at least a week notice so I can line up the French poodle twins next door and book a flight.

Woof!

Murl.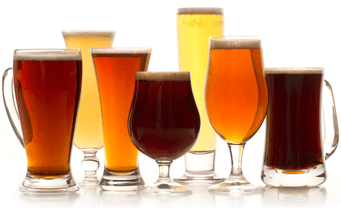 Unmatched Variety by style, brewery & country
Choose from Five different Beer Clubs offering unmatched variety by brewery,
country of origin, and beer style to suit your specific tastes.
DISCOVER OUR FIVE CLUBS