Millstream Brewing Company - Millstream Hefeweissen
ABV:

5.2%

Int'l Bittering Units (IBUs):

20

Serving Temperature:

42-47° F
Chris uses a combination of two row Breiss & malted red wheat to create this classic interpretation of a Great summer seasonal style. If you've never had a true hefeweissen, you're in for a treat. Unlike any beer style you've ever tried! Millstream's Hefeweissen has a wonderful banana estery nose of banana and a pronounced clove character derived from the yeast strain used to brew this tasty treat. We found it medium-to-full-bodied and would recommend that you pour it into a glass to fully appreciate the nose. Look for a slightly dry, spicy finish. We recommend pouring about 2/3 of the beer into a glass, then agitating the remaining beer in the bottle before pouring it into the glass. This will helps rouse the yeast and add to the flavor.
Lakefront Brazilian Beer Baked Chicken!

The name got you this time, didn't it? Yeah, us too! I've gotta get me some Brazilian Beer Baked Chicken! No one here at corporate can cook too well. Can someone just make some of this stuff and send it to our office? You may not want to part with 2 bottles of your coveted shipment to bake up a chicken, so if you don't use the Lakefront dark lager, substitute a roasted porter or stout like Sierra Nevada Porter or Guinness.

2 small frying chickens (about 2 ½ pounds each)
1 small onion, sliced
2 bottles (approximately) dark beer
1 tablespoon chopped garlic
2 teaspoons dried tarragon leaves
2 teaspoons dried oregano leaves
2 ½ teaspoons dried basil leaves
2 ½ teaspoons paprika
½ teaspoon black or white pepper
½ teaspoon red pepper flakes
1 tablespoon kosher salt
1 1/3 cups long-grain rice, cooked with ¼ tsp saffron threads
Couve

Split the chickens in half and remove the backbones; split or remove the keel (breast bone). Remove the second and third wing joints and any excess fat and flaps of skin. If you want a more compact shape, chop off the heel end of the drumstick with a cleaver. Arrange the chicken halves skin side down in a deep roasting pan or casserole and lay the onion slices on top. Add beer to nearly cover the chicken. Scatter the garlic, herbs, peppers, and salt over the surface and gently spoon the beer around to moisten everything evenly. Cover the pan with aluminum foil or a lid and marinate 2 hours to overnight in the refrigerator.

Preheat the oven to 400 F. Remove the chicken from the refrigerator for about 30 minutes to let it come back to near room temperature. Bake the chicken, covered, for 1 1/2 hours. Remove the foil or lid, turn the chicken halves skin side up, and return them to the oven to bake 15 minutes longer. Let them cool, then refrigerate overnight. That's right! You gotta wait baby!

On Serving day: Remove the excess fat from the surface of the sauce. Reheat the chicken and sauce uncovered in a 400 F oven; if your baking dish is flameproof, you can reheat the chicken on top of the stove. When it is thoroughly reheated, lift the pieces out of the sauce and arrange them on a platter or individual plates; set aside and keep warm. Bring the sauce to a boil (transfer it to a large skillet first if your baking dish is not flameproof) and reduce the volume by about two-thirds, making a thick glaze. Spoon the glaze over the chicken and serve with saffron rice and sautéed couve.

NOTES: If you want to serve the chicken on the same day you bake it, cook it a bit longer in step 2. Time the dish to come out of the oven about 10 minutes before serving time, then reduce the sauce as directed in step 3.

This recipe makes restaurant-size portions, with half a small chicken per person. If you have trouble finding fryers under 3 pounds, or if your appetite and baking dish are a little smaller, one large fryer (about 4 pounds) would suffice for 4 family-style servings. Two split Cornish hens would make 4 modest proportions, each containing both light and dark meat. With larger or smaller birds, you will need to adjust the initial (covered) cooking time.
Dear Murl,

The last time I tried a wheat beer, some kind of sedimentary residue build up plopped on in my glass at the end of the pour. What's up with that, Murl?

Robert Alan Rohrer - "Lefty"

Bobby,

So why do they call you "Lefty", Bob? You got a mean left hook? You a lefty? You like to do stuff with you left hand? What is it man? I don't get it. Cause to me, a paw is a paw. You know what I'm saying? Although, I do prefer to lift my left leg when I gotta twinkle, so maybe I'm a "lefty" too…Food for though…Anyway Lefty, what you were looking at was a traditional wheat beer that has had a secondary fermentation in the bottle. That build up that you were most likely suspiciously eye-balling was not in fact trace particles of the Del Grande Burrito you woofed at lunch, but rather the yeast that has settled to the bottom of the bottle of your unfiltered brew. Try not to be so eager to quaff next time with a slower pour and you'll be able to keep that yeast out of your glass. Chow.

Woof!

Murl.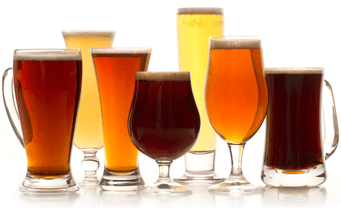 Unmatched Variety by style, brewery & country
Choose from Five different Beer Clubs offering unmatched variety by brewery,
country of origin, and beer style to suit your specific tastes.
DISCOVER OUR FIVE CLUBS