Northcoast Brewing Company - Acme Pale Ale
Int'l Bittering Units (IBUs):

17

Serving Temperature:

40-45° F
Mark's Pale Ale is brewed with a combination of two-row Pale, Carapils and Carastan malts. He adds Cluster hops up front to give Acme its bitter finish and Northern Brewer hops towards the end of the 60 min. boil for both their bittering and aromatic characteristics. A proprietary house ale yeast strain is used and Acme is tank conditioned.
Immediately note a malty sweet, spicy hop nose with a trace of clove esters evident. Look for great head retention in this pale, filtered, medium-bodied ale. Also note a clean, well-balanced malt and hop profile followed by a bitter-dry finish. Overall, a clean, flavorful, and exceptionally well balanced pale ale, somewhat English in its interpretation.
Brew it Yourself

Al's Spiced Christmas Ale

This month's recipe is contributed by Al Korzona of Bridgeview, Il, a proud member of the Brewers of South Suburbia (B.O.S.S.), the Chicago Beer Society, and the Headhunters Brewing Club. Al recommends you allow this one to mellow for 3 months prior to tasting it and likens it to Anchorsteam's 1991 Christmas Ale. He also suggests that you use Pure Seal (smartcaps) bottle caps to better preserve the aromatics of this tasty nectar.

3.3 lbs. Munton & Fison Old Ale Kit
1 ½ lbs. Laaglander light dry malt extract
1 ounce Hallertauer hop pellets, in boil at 60 min.
1 ounce Hallertauer hop pellets, in boil at 10 min.
2 teas. ground cinnamon
½ teas. ground nutmeg
1 ounce fresh ginger, peeled and grated
Zest of 4 oranges, grated
1/3 ounce Burton water salts
Wyeast #1084 Irish Ale yeast
¾ cup corn sugar, for priming

Bring malt extract and water treated with Burton water salts to a boil. Add 1 ounce of Hallertauer hops. Boil for 50 minutes, add 1 ounce of Hallertauer hops, and all spices. Boil for 10 minutes and turn off heat. Cool, transfer to a primary fermenter, and pitch yeast. After a single-stage fermentation, prime with ¾ cup corn sugar boiled in 16 ounces of water and bottle.


Dearest Murl,

I know that I'm supposed to use this column to ask beer related questions, but my question is more personal in nature. You see, I own an adorable little female Australian Sheep Dog and every month I show her your photo in the newsletter and she gets all worked up and frothy. The only problem is that you always just give us a head and shoulders shot. Would it be too much to ask to have you include a few full-body snaps for my little Lizette?

Monica Poland

Laguna Hills, CA

Dear Lizette (and Monica),

I must say, when I read your letter I got a little worked up myself if ya know what I'm talking about and I think ya do. Woof! Woof! Grrrrruff! Wahooooooooo. Somebody stop me! Hey, don't look at me that way, pal! I am a dog after all. In any case, I'm not sure how much space the publishers will allot me to strut my stuff in the place of my otherwise enlightening column, but it is the Holiday Season and maybe I could use a little Scrooge-Logic on them if they ain't bitin'. Thanks for the support and interest and do be sure and let me know when you're in my hometown, Lizette.

Woof!

Murl.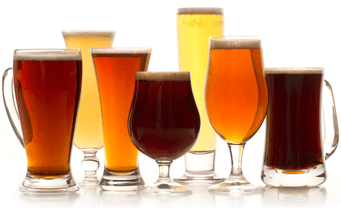 Unmatched Variety by style, brewery & country
Choose from Five different Beer Clubs offering unmatched variety by brewery,
country of origin, and beer style to suit your specific tastes.
DISCOVER OUR FIVE CLUBS