Nutfield Brewing Company - Black 47 Stout
ABV:

4.0%

Int'l Bittering Units (IBUs):

30

Serving Temperature:

50-55° F
Black 47 Stout is named in recognition of the Irish Potato Famine in 1847. It is a true Irish Dry Stout, brewed with a combination of 2-row pale and chocolate malts as well as roasted and flaked barley. To balance off the malts, East Kent Goldings and Cascade hops are used. Immediately note a beautiful dark tan head that gives off hints of dark malt and light chocolaty notes. This stout starts out moderately sweet with a nice subtle hop bitterness in the finish. You'll find that the flavors really express themselves as this beer gets warmer so do your best to be patient! Good luck with that one. Overall, a very dark, roasted, bitter, creamy ale loaded with flavor. A great dessert beer!
Barbequed Tabershrimp

A grill filled with these tantalizing shrimp and a bucket of chilled brew is a sure-fire way to enjoy a Sunday afternoon with friends and family. You'll only have to part with 2/3 cup of your Tabernash Pilsner to make it happen…

2 pounds of large shrimp
½ cup olive oil
2/3 cup Tabernash Pilsner
3 tablespoons lemon juice
4 large cloves garlic, crushed
¼ cup finely chopped scallion
2 tablespoons fresh basil or 2 teaspoons dried
Dash or two of Louisiana hot pepper sauce
Bamboo skewers, soaked in water for 1 hour

Shell and clean shrimp, rinse, and pat dry. Mix oil, Tabernash Pilsner, lemon juice, garlic, scallion, basil, and hot pepper sauce (optional), add shrimp, and coat thoroughly. Cover and marinate in refrigerator 4 to 8 hours. Spear shrimp on soaked skewers and place in refrigerator until ready to cook. Barbecue or broil until shrimp turn pink.

Source: Great American Beer Cookbook, Brewer Publications, Boulder, CO.
Dear Murl,

I am a lay person just discovering the wild Microbrew Frontier! You may have covered this in a past issue of this newsletter, but I did not see it as I am a new subscriber. Would you please explain "original gravity" and "international bittering units" to me? Thank you in advance. You are welcome to my house any time for a lobster dinner, but be sure and bring your own bowl!

Best regards,

Bill Marsh

Tewksbury, MA

Oh Billy, Billy, Billy…

Caddyshack. Ted Knight. Remember? "Oh Billy, Billy, Billy"… Man, I crack me up sometimes. Before I get into answering your question, let me just clarify a thing or two here, Bill. Are we talking East or West Coast crustaceans (I like the claws, though they're tough to eat with paws) and as you've suggested it to be a B.Y.O.Bowl affair, am I to assume that I'll be asked to eat on the floor as well? Let us hope not.

Original Gravity refers how much the earth pulled you toward it before you started drinking beer as opposed to how much more it pulls you now! Actually, it refers to the amount of sugars in the bittersweet liquid solution (called wort) obtained by mashing the malted barley and boiling-in hops before it is fermented into beer. What it tells you is potentially how high and full-bodied the alcohol content and body might be for that beer. Generally speaking, the higher the Original Gravity, the higher the alcohol content and the more full-bodied the beer.

International Bittering Units (IBUs) are a measure of the amount of bittering alpha acids in your beer. At one end of the spectrum, you might find and American Standard Lager such as a Budweiser in the range of 5-20 IBUs. Samuel Adam's Boston Lager might fall in the middle somewhere in the range of 20-40 IBUs and a heavily hopped Pale Ale such as Michigan Brewing Company's High Seas IPA that we sent you a couple of months ago was a whopping 70 IBUs. Hope that helps, Billy, ma Boy!

Woof!

Murl.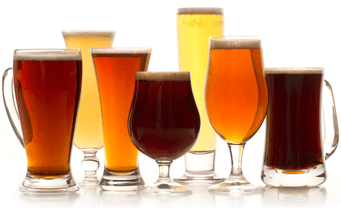 Unmatched Variety by style, brewery & country
Choose from Five different Beer Clubs offering unmatched variety by brewery,
country of origin, and beer style to suit your specific tastes.
DISCOVER OUR FIVE CLUBS