Old Dominion Brewing Company - Old Dominion Stout
ABV:

4.7%

Int'l Bittering Units (IBUs):

22

Serving Temperature:

40-45° F
Old Dominion Stout is brewed with a combination of 2-row pale, Carapils, Chocolate, & Caramel malts. Jerry hops this tasty treat with Perle hops up front to add a slight bitterness and then later with Willamette hops for their aromatic contributions. Immediately note a deep rich roasted nose indicative of the full-flavored, creamy dark brew that is to follow. Old Dominion's Stout is brewed in the style of an Irish cream stout. The complex flavor is mellow and well balanced, with chocolate and coffee notes throughout. You're gonna love it!
Jerry Bailey's homebrewing career ended when he started Old Dominion Brewing Company in 1990. His emphasis at Old Dominion has always been on making the best beer possible. Old Dominion has invested in the best brewing equipment, purchased the finest ingredients, and used the most appropriate brewing techniques to make world-class beers. "I don't know of a single thing we could do that we are not doing to make better beer," Jerry says.

Old Dominion sold their first beer in May 1990. By 1992 they were selling about 6,000 barrels of beer a year and they have continued to grow every year since then. They now have seventeen full-time employees: a brew master, a brewing engineer, four brewers, two brewery representatives, three delivery persons, a production supervisor, three production assistants, an office manager, and the company president.

For more information about the brewery and scheduled tours, call (703) 724-9100 or check out their web site at www.olddominion.com.
Barbecued Old Dominion Pasta Sauce

6 medium tomatoes
1 green pepper
1 sweet red pepper
1 hot banana pepper (optional)
2 medium onions
2 Italian or Macedonian sausages (roughly 1 lb)
1 cup Old Dominion Stout
1 5-½-oz can tomato paste
1 large clove garlic
1 tbsp dried oregano
½ tbsp dried basil
½ tbsp parsley
salt and pepper to taste

Lengthwise halve the tomatoes peppers and onions and barbecue them, along with the sausages, on a medium flame until the vegetable skins are slightly charred and the sausages cooked. (The sausages may be parboiled in advanced of barbecuing if time is a consideration.) Remove the vegetables and sausages from the grill and allow them to cool until they can be comfortably handled.

Peel, core and crush the tomatoes in a medium-size pot and stir in the tomato paste and stout until you have a deep reddish-brown sauce. Mince the garlic and add it to the sauce along with the seasonings. Stir well. After peeling the onions and peppers, chop them and the sausages into medium-sized pieces (except the optional hot pepper, which should be finely diced) and add them to the pot. Simmer the sauce for at least 30 minutes, adding more stout as necessary and adjusting the seasonings to taste. Serve over al dente linguini or other pasta and WOW! you're gonna be happy! Feeds 4-6 normal adults, 2 large dogs, or my little brother Jimmy.
THE REAL BEER PAGE - Tsingtao to buy 3-5 breweries by year end. Tsingtao Brewery Co. of China plans to purchase three to five breweries by the end of the year to extend its distribution network and increase production. Chinese breweries are trying to boost output as the Chinese beer drinking market expands and competition increases. Foreign brands brewed in China, such as Budweiser and Asahi, have put more pressure on domestic brewers in the tough premium beer market. Tsingtao purchased Nanjizhou Brewery Group, Rongcheng Brewery and Anqiu Brewery earlier this year. At exactly what point did Budweiser enter the PREMIUM beer market?

BEER NOTES - World beer production in 1999 increased 1.6% from a year earlier to about 133 million kiloliters, up for the 14th consecutive year. The biggest five producing countries are the United States (up .05%), China up 5.3%), Germany (down 2.7%), Brazil (down 0.3%) and Japan (up 0.5%). Russia, eighth in output, showed the biggest growth rate of 24.6% thanks to increases in consumption among women and young people. Increases in areas such as China, Taiwan and Japan reflect growth of U.S. domestic brands such as Budweiser (perhaps the world's largest contract brewer) and international brands like Heineken that are brewed under contract license by beer manufacturers in those countries. Great…Now we're gonna have to re-educate the entire world about good beer!

THE CELEBRATOR BEER NEWS - Although official statistics reported German beer sales were down another 2.6% in the first half of 1999, breweries indicated they are not particularly concerned. They said hot weather in July sent people flocking to the beer gardens and that they don't expect the slide to continue. German beer consumption has declined steadily in recent years. Still per capita consumption is 127 liters per year, with only Czech beer drinkers consuming more per capita. Erich Dederichs, spokesman for the Federation of German Brewers, said brewers are trying to woo back drinkers by offering specialties such as beer/lemonade mixtures and more outlandish concoctions such as beers brewed under a full moon. Erich needs to strongly reconsider her approach on the beer/lemonade thang!

ROCKY MOUNTAIN BEER NOTES - An Australian pub owner has been fined $20,000 (Australian) as a result of a drinking competition in his pub that caused the death of the winner. Allan Taylor, a 33-year-old computer technician, died after drinking 34 glasses of beer, four bourbons and 17 tequilas in 100 minutes in a Sydney bar in 1997. The courts learned that Taylor died within hours of the competition. A post-mortem revealed a level of 0.353 grams of alcohol per 100 milliliters of blood, compared to the legal limit for driving of 0.05. The court fined Brian Whelan of the Strathfield Hotel because he failed to exercise his license in the public interest when his staff failed to stop Taylor from drinking. Wow. I'm at a loss for words. That's a lot of booze.
Dear Murl,

I went into a bar the other night and asked for a black and tan. The bartender said he would give it to me but wanted to let me know that the Guinness doesn't float on top. I never bothered to ask why because I was under the impression that Guinness always floats to the top when mixed w/bass. Can you give a possible explanation as to why Guinness would not float?

Christina Manney

Chicago, IL

Yo Christina!

Well, for starters, because your bartender is a LAMO… that should restricted to tasks such as placing the beans in a Taco Bell Burrito Supreme or perhaps folding napkins in a not-too-complex pattern as he obviously has a severely limited knowledge on the art of pouring a proper Black and Tan. Really! This kind of stuff gets my furred standing on end. I get all frothy and bothered when I hear that there's a clueless lass or laddy, there to serve good, hard working patrons such as yourself, masquerading as a bartender and spreading disinformation about my favorite malted beverage! And in Chicago of all places. Do you know another city with more Micks in it than Chicago. The Irish would be ashamed. Truly ashamed.

In any case my dear Christina, If you mix Guinness and Bass the right way…it will indeed separate. If this delicate operation is performed incorrectly, it will take some time to separate and sometimes it will never happen. Here's what you gotta do. Fill the glass half full with Bass Ale (Avoid a lot of head – advice I rarely give!), Next pour Guinness over a spoon slowly until the glass is full. The best spoon to use is one that has been bent, to allow the spoon to be placed closer to the Bass Ale. Hope that helps. Go show that "bartender" what's up, will ya? I gotta trot. Got a slice of pizza stashed in the couch I need to get to.

Woof!

Murl.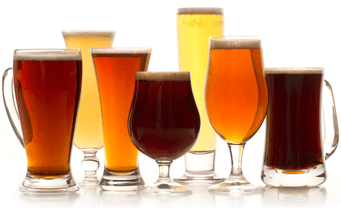 Unmatched Variety by style, brewery & country
Choose from Five different Beer Clubs offering unmatched variety by brewery,
country of origin, and beer style to suit your specific tastes.
DISCOVER OUR FIVE CLUBS