Oldenberg Brewing Company - Old Premium Verum
ABV:

3.8%

Int'l Bittering Units (IBUs):

14

Serving Temperature:

38-43° F

Oldenberg's Old Premium Verum is a traditional German amber lager brewed with a combination of two row pale, Munich, and Black Patent malts. Old Verum is hopped with both Czechoslovakian Saaz and Cascade hops. Look for good head retention is this amber colored, medium-bodied, filtered lager. Note a caramel malty nose and body with some floral hop character evident as well. We found this amber lager to be well-balanced, clean and very flavorful. Overall, a great interpretation of a style that is rarely brewed in America.
The Oldenberg Brewery, founded in 1987 as a private venture, is located 5 miles south of Cincinnati, Ohio in Fort Mitchell, Kentucky. In November, 1995, Oldenberg Enterprises, Inc. offered 800,000 shares of Oldenberg stock for public sale and raised $1.96 million for the operation and expansion of the newly formed Oldenberg Brewing Company. By January 1996 all of the offered shares had been purchased by slightly more than 2,000 enthusiastic beer lovers. In 1998 the brewery produced approximately 7,890 barrels of distinctively flavored, high quality beer for distribution throughout the Ohio Valley area. The Oldenberg Brewing Company consists of the Oldenberg Brewery Restaurant chain, the Holy Grail Brew Pub in Cincinnati, Ohio and the Oldenberg brewery itself.

Brewmaster, Ken Schierberg, has been employed by the brewing company from the very beginning in 1987. He hired on as an Assistant Master Brewer, and in 1990 was promoted to Master Brewer. Prior to 1987, Ken clocked over 11 years in the brewing industry in the Wiedemann brewing division of the G. Heleman Brewing Co. and with the Hudepohl Brewing Co. of Cincinnati where he served in quality control and brewhouse supervisor positions. Ken is a member of the Master Brewers of America and is a professional judge each year for the Great American Beer Festival.

For more information about the brewery and scheduled tours, call (606) 341-7223 or check out their web site at www.oldenberg.com.
Kick Strauss Chili

Karl Strauss would probably have preferred we list some kind of sausage/sauerkraut/potato German recipe to make use of his Amber Lager, but hey, we didn't tell him how to brew his beer and this is America Baby... Where mass consumption of Beer, Burgers and Chili is the order of the day at any Red-blooded BBQ! On that note, here's a list of food. When you mix it all up and cook it, it tastes real good. Be sure and save a beer or two from your shipment to cool your engine.

2 lbs kidney beans
2 ½ lbs hamburger
1 onion
1 green pepper
1 TBS salt
1/3 cup sugar
6 cloves garlic
3 TBS chili powder
1 ½ TBS dry mustard
24 oz. Karl Strauss Amber Lager
12 oz. tomato paste

Soak beans in water 12 hours and then simmer over medium heat until tender. Lightly brown beef and caramelize onion in same pan. Discard fat (or donate it to your local McDonald French fry cooker). Combine sugar, garlic, chili powder and mustard with 12 ounces of brew and simmer for 15 min. Add tomato paste to beans and combine with all of that other stuff we just had you do. Simmer for 2 hours adding remaining 12 ounces of beer during the last 10 minutes. Roll up your sleeves, fill a big bowl with the stuff and maybe schlapp a sizable dollop-o-sour cream smack dab in the middle of it all.

Source: Great American Beer Cookbook, Candy Schermerhorn, Brewers Publications, Boulder, CO.
THE CELEBRATOR BEER NEWS - You don't have to attend medical school to become a doktor. Each year, thousands of people throughout the country receive Beer Doktor awards at Oktoberfest celebrations in such places as Frankenmeuth, Michigan; Kitchener, Ontario; and Munich, Germany. A Beer Doktor Award is presented to anyone who can drink a "humpen" (23.5) of beer without taking their lips from the glass. Although the title of Doktor is indeed prestigious, the compensation is not nearly as rewarding as the real deal!

ALL ABOUT BEER - To publicize the opening of a nightclub in Hamburg, Germany, a public relations firm came up with a promotional idea right off the top of their heads. They invited all of the city's barbers to a special party. Within a month the new club was booming. The talkative barbers, as expected, had told all their customers about the evening. And everyone was especially well-groomed after the event.

BEER: THE MAGAZINE - Billy Carter, the late brother of former U.S. President Jimmy Carter, had a beer named after him. In recognition of the "Billy Beer" honor, he said, "For me the beer thing was a natural, 'cause I know a good beer better than anybody. Who knows? Maybe I'll become the Colonel Sanders of beer." Following Billy's death in 1988, an ad appeared in a New York newspaper, advertising six-packs of Billy Beer for the incredible sum of $9,000 each! Ever try the stuff? Nasty. Figures I tossed my beer can collection in '82.

MIDWEST BEER NOTES - The owner of a Fort Lauderdale laundromat took the drudgery out of doing the wash by selling beer and wine. He added another twist when the "suds" were flowing, a topless dancer. The Helpy-Selfy Laundromat didn't have a cover charge but the cost of draft beer went up 35 cents a glass while the show was on. Local men were later found to have increased the number of times of doing their wash from once a month to twice a day.
Dear Murl,

What is the difference between 2 row malted barley and 6 Row malted barley? What would happen if there were a slight mix of the two types of the malt and would it affect the taste of the beer? Your answers to these questions would be much appreciated.

Anonymous.

Dear Anonymous,

What's up with the Anonymous Pal? I hope you're not embarrassed by the stupidity of your question or anything. Har Har. Just pullin' your chain my friend. What the hell is that supposed to mean anyway... "pulling your chain". Is it some kind of reference to indentured dogs on short leases or what? I don't get it. I had a choker collar for about three hours once and every time they pulled my chain, I sat my ass down and wouldn't move. Never saw it again.

Anyway, it's actually a great question. Of course, any question that I think I might be able to answer qualifies in my book as a "great" question. Generally speaking, two row malted barley is considered amongst brewers to be a higher quality grain primarily as it provides better yields per quantity used than 6 row grains. Two row grains, as the name indicates only have two rows of grain on each stalk and the resultant is larger grains and thereby more malt/starch and less husk per kernel. Six row is about 10% cheaper and is used more by large breweries and inbred backward-ass hillbilly still owners with names like Billy-Fred and Timmy-Jo. Mixing two and six row shouldn't alter the flavor profile enough to notice, though it may throw off your recipe quantities if it calls for one or the other. Hope that clears it up for ya Big A.

Woof!

Murl.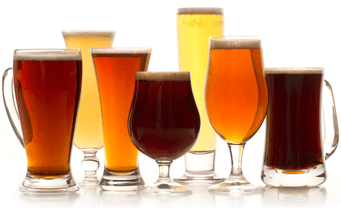 Unmatched Variety by style, brewery & country
Choose from Five different Beer Clubs offering unmatched variety by brewery,
country of origin, and beer style to suit your specific tastes.
DISCOVER OUR FIVE CLUBS