Otter Creek Brewing Company - Oatmeal Stout
ABV:

5.90%

Int'l Bittering Units (IBUs):

40

Serving Temperature:

55° F

Malts:

2-Row, Roasted Barley, Munich, Caramel

Hops:

Hallertauer, Magnum, Cascade
The rich, coffee-like aroma and flavor of this fine Dark Bavarian style lager beer is derived from a precise blending of three different specialty barley malts: chocolate, black patent, and Munich malt. Munich malt is also added to bring about the creamy body of this malty brew. The most impressive aspect of this brew is the tight balance between the specialty malts and Mt. Hood hops. This is a medium-bodied beer that is loaded with smoky, peaty aromas and flavors. While there is clearly a hop bitterness to it, there is also plenty of malt to balance the beer. The finish is quite notable, progressing in three distinct stages: bitter up front, running to slightly sweet, smooth and mellow, with the bitterness returning very prominently at the end. The Beverage Testing Institute recently awarded this beer a Silver Medal and in April of this year, the United States Beer Tasting Championship recognized Eastside Dark as the Midwest Regional Champion in the Dunkel Lager category. This is a great beer to have over a spicy lobster dinner or smoked salmon.
The Otter Creek Brewing Company is located in the quaint Vermont town of Middlebury. They shipped their first keg of beer back in 1991 and in a mere four years outgrew their original site and moved into a state-of-the-art brewery. The Otter Creek Brewing Company was conceived of by founder & brewmaster Lawrence Miller in 1989. Larry had become an enthusiastic homebrewer while attending Reed College in Portland, Oregon, and ultimately traveled to Europe after graduation to learn more about the science of brewing. What better place to research the old world brewing techniques of Germany and Belgium than in those very countries? He completed his research in Europe in early 1989 and settled in Middlebury, Vermont where he devoted himself full-time to the planning of a new brewery. Middlebury was chosen as the brewery site as much for its quality of life as for its excellent water, obtained from the natural, clear Vermont water that runs down Otter Creek (hence their name). In 1998 they began a partnership with the Panorama Brewing Company, producing Wolaver's Certified Organic Ales, in a move that made them the largest producer of certified organic beers in the nation. The Panorama Brewing Company was founded by Morgan and Robert Wolaver in 1997 and was inspired by the Wolaver family's farming history. Their rich farming heritage spans three generations—right back to the early 1900s when Robert and Morgan's grandfather, Oliver "Wolly" Wolaver, began farming the family's land in Tennessee. For nearly 100 years the Wolaver family has cultivated a harmony with nature and embraced qualities such as hard work, pride and respect for the earth. And today's generation of Wolavers has taken their concern for the planet to the next level by creating the Wolaver's line of organic brews. Dedicated to small-batch brewing and committed to supporting sustainable agriculture, they remain determined to promote the values and traditions embodied by their grandfather. Morgan and Robert sought to develop a craft beer that would draw attention to organic farming practices and help increase demand for organic products. So they created an amazing line of beers, which has raised awareness and in the process sustains the practice of organic farming itself—the company donates 10 percent of their annual profits to community organizations that promote sustainable agriculture. So what does organic farming and brewing mean exactly? Well, the vision that guides the process is not complicated: sustainability. The folks at Otter Creek Brewing Company Brew in a way that is sustainable, meaning they can keep on brewing and drinking great beer as long as they want to without disrupting the natural resources of the land. Organic farmers grow their crops without the use of synthetic chemicals and pesticides, which means that the earth is not being sterilized and water remains unpolluted. The Otter Creek Brewing Company supports organic farming and sustainable agriculture through their purchase of organic materials including malts and hops. Hey, even their business cards are printed on 100% recycled paper! And how's this for the sustainable brewing and farming equation: the spent grains used in the early stages of brewing (where the barley is heated in water to extract the sugars needed for fermentation) are not wasted. After the sugars have been extracted, the typical brewery will filter the spent grains out and discard them. When these guys are through with them, a farmer takes them and they are fed to cattle. The cattle in turn help to fertilize the fields, and bingo… the loop is closed. In May of 2002, the Wolaver family purchased the Otter Creek Brewing Company. Otter Creek remains a family owned Vermont company and produces all Otter Creek and Wolaver's brands for distribution throughout the country. The Wolaver's line is excellent overall. We had the pleasure of trying out the beers reviewed here, as well as their India Pale Ale, Brown Ale and Belgian-style Wit Bier. All were fantastic and knowing the whole while that by drinking these brews we were supporting organic farming and a healthier environment for us all, well, it made us even more inclined to drink our share… and then some… uh, oh… we may have run in to a slight "sustainability" issue… better call the brewery for some more samples! For more information about the brewery and scheduled tours, call (800) 473-0727 or check out their web site at www.wolavers.com.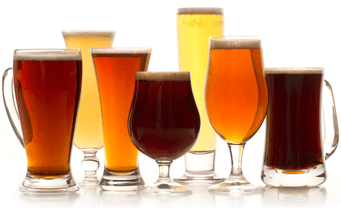 Unmatched Variety by style, brewery & country
Choose from Five different Beer Clubs offering unmatched variety by brewery,
country of origin, and beer style to suit your specific tastes.
DISCOVER OUR FIVE CLUBS