Otter Creek Brewing Company - Pale Ale
ABV:

4.8%

Int'l Bittering Units (IBUs):

23

Serving Temperature:

40-45° F
Otter Creek's Pale Ale is a filtered, golden-amber ale brewed with pale malts and huge doses of Cascade hops. Immediately note a big, almost exotic raw hop character in the nose which dominates any malt undertones. We found the body to be much more balanced than the nose would indicate, offering both a sweet maltiness balanced nicely with a slightly citrus, floral hop character. Note a slightly sweet, dry, clean finish. Consider pairing this up with a Pork Tenderloin in Garlic Sauce or Spicy Italian Sausages with peppers and onions and you won't be disappointed!
Otter Creek Potato Salad

¾ cup mayonnaise
¾ cup sour cream
¼ cup Otter Creek Oktoberfest
6 cups cooked potatoes, peeled and cubed
½ cup onions, chopped
¾ cup celery, chopped
½ pound bacon, cooked and crumbled
salt & pepper to taste

Blend mayonnaise, sour cream, and beer. Toss lightly with potatoes, onion, and celery. Garnish with crumbled bacon. Salt and pepper to taste. Chill for three hours or place in slow oven (275 degrees) for 20 minutes for a warm potato salad.
Dear Murl,

I've got a bet going with me mate that there's a beer going by the name of "Piss" beer and we've got a month of the beer club riding on your answer! He says "No Way" and I know betta. I used to live in Melbourne and I've had the stuff before. But he wants to see it in print. Thinks it's not official unless you say so. So what's it going to be fuzz butt?

Pearle Ropert

Stockton, CA

Yo Pearle!

Wassup with the Fuzz butt comment? Okay so you got me. My butt is in fact fuzzy. But I've been told by many a lass and one Lassie too, that it's a pretty fine behind! See us Aussies have that long crimped llama fuzz butt thang going on and I've gotta tell you…It's a babe magnet. Did I ever tell you about that time I was dating the French Poodle twins? All I'm gonna say is that the Fonz went to school at the Murl Institute of Babeology if you get my meaning. That's right baby.

So, from Kangaroos to Asparagus then is it? Stockton is where they do the biggest [and most likely the only] Asparagus Festival in the country isn't it? We set up a table in the Beer and Wine tent every year up there woofing everything from deep fried Asparagus to Asparagus Ice Cream to Asparagus Margaritas! Check it out next year.

I did some homework and found out that there is in fact a beer that runs by the name of "Pi55" [www.pi55.com] and you already knew that it's Australian, didn't ya. Some excerpts from their web site illustrate that the boys at Piss have a pretty good sense of humor:

"Aussies have been on the piss, getting pissed, drinking piss, drinking more piss, and, most definitely, taking the piss for nearly 200 years. Our Piss is all natural, cold filtered and preservative free. And, just in case you missed it, Piss takes aim at the propensity of big business to use notions such as 'tradition' and 'technique' to win customers in slick marketing campaigns, while at the same time endeavoring to create the most cost effective products possible, products of the mass market. The Pi55 Beer Co. was established in 1999, after a year of product trials at our pub, the Great Britain Hotel, in Richmond, in inner suburban Melbourne. A conservative title by any measure, we were in fact prohibited from registering Piss as a company name - an ambitious response on the part of the regulator, given that we've not been prevented in any way from labeling our beer or selling it."

Unreal.

Woof!

Murl.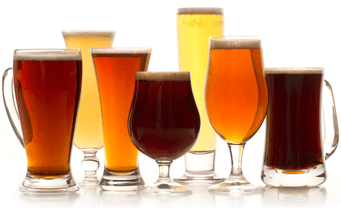 Unmatched Variety by style, brewery & country
Choose from Five different Beer Clubs offering unmatched variety by brewery,
country of origin, and beer style to suit your specific tastes.
DISCOVER OUR FIVE CLUBS