Oxfordshire Ales - Pride of Oxford
ABV:

4.20%

Serving Temperature:

50-55° F

Suggested Glassware:

English Pint Glass
The Pride of Oxford earned the distinction of being the "World's Best Golden Ale" at the 2009 World Beer Awards. It pours a beautiful pale amber color; a very inviting, good looking pub ale with minimal head that has only a collar after a few minutes—perfectly appropriate for the style, since this is going to be only lightly carbonated. On the nose, it smells fresh, and spot on for traditional English real ale. Look for a truly inviting nose of English hops, faint tart fruitiness, subtle apricot notes, minerals, straw and earth. Like a proper pub ale, things only get better as it warms, and really, you should be enjoying this at 50-55°F despite what your American beer-drinking training (indoctrination?) may have thus far told you. On the palate, this real ale goes down very clean and quite toasty, with a lovely, proper pub ale feel in the mouth. Toasty grains are prominent, and the modest carbonation level mimics cask ale drawn from the cellar. Expect notes of citrus, peach, caramel and cellar-like mustiness. Toward the finish, a very present hoppy dryness kicks in, really cleansing the palate, leaving a tea-like note and very earthy hops as the finish fades out. The Pride of Oxford possesses the same alcohol content as a Bud Light, but good heavens it is so much more flavorful. This is Britain's everyday beer (or at least, it used to be—as one of the only countries to have held strongly to ale as its primary beer instead of lager, this adherence has come under threat since at least the 1970s). Pair with a ploughman's lunch.
We often think of Britain as a stronghold of highly esteemed pub drinking culture, especially in contrast to our own beer drinking customs, particularly the "culture" associated with the 95% of the US market who are not regularly reaching for good beer but instead opt for pointless ghost-pilsners (you know who we're talking about). Instead of the ubiquitous pilsner, the world's most popular style by a long shot, the Brits managed to opt out of the trend toward ever paler lagers that began in the mid-to-late 1800s, instead making Ale their brew of choice. But the popularity and commonplaceness of lager, aided in no small part by the rampant consolidation of breweries throughout Europe into a few mega-corporations, did bring threat to hundreds of years of British drinking tradition. Even though ale remained the primary pub beer, not only was lager always breathing down its neck, the packaging and serving methods associated with mass-produced lager beer began to cast a shadow on ale's traditions. You've heard about it—the British drinking their beer "warm" and "flat." Is it true? Not quite. By comparison to kegged, artificially force-carbonated fizzy beer that is typically dispensed in US bars as close to freezing as possible, and often, in an ice-cold glass, then yes, England's properly served pub ales will seem warm and flat to you. Of course, the only reason that mega-brand beers have to be served so cold is that temperature actually suppresses your ability to taste the beer by dulling your sense of taste. Truth is, a well made beer should taste just fine, and oftentimes better at 45-55°F+, where the palate is awake and aroma compounds are buzzing around instead of sitting catatonic in an icy tomb. So you can imagine if the norm was to enjoy a naturally carbonated beer in the pub, drawn from a wooden cask kept in a cellar beneath the bar (where it would be in the neighborhood of 50-60°F or so), that cold, artificially-fizzed beer would not be well-liked. That's exactly what happened in the UK in the 2nd half of the 20th century—people realized that their traditions and their beers were under threat, since by the early 1970s, most beer in Britain was keg beer, filtered (which removes most of the live yeast), pasteurized (which kills the yeast), and artificially carbonated by the injection of carbon dioxide gas instead of letting the yeast do that job in the bottle or other serving vessel. In response to this disturbing development, a grassroots movement, called the Campaign for Real Ale (CAMRA) rose up to protest and reclaim traditional ale and pub culture. They made their terms known, for starters, by defining real ale as "beer brewed from traditional ingredients, matured by secondary fermentation in the container from which it is dispensed, and served without the use of extraneous carbon dioxide." Today, real ale remains under threat all over the world, but those who produce it, especially those based in the UK, announce with pride their status as "real ale" brewers. One such proud producer is Oxfordshire Ales, found on the outskirts of the village of Marsh Gibbon on the Oxfordshire and Buckinghamshire borders. The village has long been known for its beer making, with records of brewing activity tracing back as far as 1850. This brewing legacy provides a perfect backdrop for the traditional brews of Oxfordshire Ales. Sourcing superior ingredients for their beers not only means that Oxfordshire Ales produces a consistent quality ale brew after brew, it also offers them complete control to create something entirely British. They use traditional Warminster Floor Malt, from Warminster Maltings, Britain's oldest working floor maltings. Warminster uses British barley grown on the Hampshire chalk lands specifically for their use. To bestow just the right hint of bitterness and bring out its characteristic aroma, the brewers add a balanced amount of Styrian and English Golding hops. Live yeast are left in every bottle to permit natural carbonation through secondary fermentation, proudly qualifying as traditional, pub-appropriate real ale. Hoist a "warm" pint of the stuff and enjoy!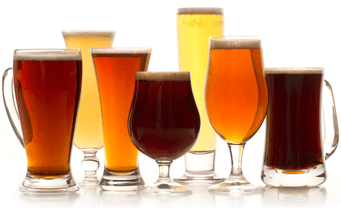 Unmatched Variety by style, brewery & country
Choose from Five different Beer Clubs offering unmatched variety by brewery,
country of origin, and beer style to suit your specific tastes.
DISCOVER OUR FIVE CLUBS