Orkney Brewery - Skull Splitter
Alcohol by Volume:

8.50%

Serving Temperature:

45-50° F

Suggested Glassware:

Snifter, Tulip, Oversized Wine Glass
The "Wee Heavy" or "Scotch Ale" style is a robust, in-your-face beer, so it should come as no surprise Orkney chose to name their version after a fearsome Viking figure from Orcadian history, Thorfinn Turf-Einarsson Hauskaluif. But, Skull Splitter is not a one-trick pony; it offers many, many layers of complexity and subtlety, much like a fine spirit. On the pour, expect a somewhat murky reddish brown color with a head that reduces to a persistent collar that drops some lacing as you drink it down. The nose on this brew has a definite vinous character, with bold fruity notes akin to grape and apple, caramel undertones, a hint of smoke, and tea-like hops that come through a bit spicy and somewhat earthy. We found there's much more of a toasted malt flavor on the palate than the nose suggests, and the fruity aromas come through on the palate as well, but counterbalanced in characteristic Wee Heavy style as peaty and smoky notes abound, lending a Scotch whisky quality to the brew. This is also a style in which alcohol is supposed to be obvious, and it is here, providing a drying counterpoint to the rich maltiness. Hops counter as well, presenting an herbal, spicy, woody character. The intense complexity continues with a somewhat citric acidic edge, and a warming, spicy, ginger-like impression. While we usually enjoy this brew on its own as a digestif or nightcap, it will enhance meals made with red meats, spicy food, and, if you can believe it – chocolate.
Off the northern tip of Scotland lie the Orkney Islands, a place that was for many centuries ruled by the Vikings, and is steeped in historical and archeological mystique, attracting visitors the world over who come to gaze upon the perfectly preserved Neolithic dwellings, Norse architecture and beautiful island landscapes. Visitors and locals alike describe the islands' ambiance as mysterious, due at least in part to the unexplained Stonehenge-like "Ring of Brogar" which dates from about 2,000 B.C. It is a circular configuration of 27 standing stones which are inscribed with ancient text, likely of druidic origin, and believed to have been used in secret, ritualistic magic. It is not known how or why the Ring of Brogar came to exist in its location on the Orkney Islands, but some believe it may have functioned as a calendar, while others hold that it fulfilled a more ominous purpose. Thankfully, a couple Orcadians (as residents of the Orkney Islands are known) with no sinister intentions, Roger and Irene White, founded the Orkney Brewery in 1988. It is housed in the former Quoyloo Academy, a Victorian schoolhouse in Quoyloo, located on the west coast of the largest of the Orkney Islands. Since their opening they have produced a fine range beers noted throughout the UK for their quality and earning many prestigious awards. In 1995 the Brewery was extended and new equipment introduced in order to meet the demand for the Brewery's line of beers. In 2006, the brewery was bought by Orcadian restaurateur Norman Sinclair, whose interest in the brewery goes back to when he enjoyed their beers while studying for his degree at RGIT in Aberdeen. Additionally, Sinclair's father actually attended the Quoyloo Academy, so there was quite a personal and local connection for the new owner. Under Sinclair's leadership the brewery has grown, and plans are underway for an expansion and upgrade of the brewery and the establishment of a café – a natural fit for a brewery owned by a restaurateur, and a model that has worked well here in the States – we wish them luck! The Orkney Brewery currently bottles seven beers, including this month's feature, Skull Splitter. It's worth noting that, in an episode that is at once comical and frightening, the brewery was forced to defend Skull Splitter back in 2009 when it came under investigation from a British drinks industry "watchdog" called the Portman Group (which has the power to issue a nationwide ban against the sale of any alcohol product that steps afoul of its guidelines), who commissioned a report that concluded the beer's name and labels were too aggressive. Apparently they felt that drinkers would read the name and then enter into an uncontrolled primal enthusiasm for drunkenness leading to the loss of all faculties except fervent engagement in all manner of ribald, reckless, and destructive behavior. And some good ol' medieval axe-swingin' violence, of course. All this despite the fact that Skull Splitter had been on the market for upwards of twenty years without any reports of villages pillaged by crazed Scotch Ale drinkers. Thankfully, after a massive consumer response from Skull Splitter fans around the world (and there are many for this world-class brew), the Portman Group decided to leave the beer alone, and it remains on shelves across Britain to this day. Cheers to that!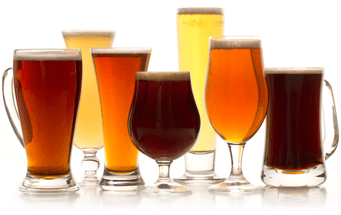 Unmatched Variety by style, brewery & country
Choose from Five different Beer Clubs offering unmatched variety by brewery,
country of origin, and beer style to suit your specific tastes.
DISCOVER OUR FIVE CLUBS