Pioneer Brewing Company - Pale Ale
ABV:

4.5%

Int'l Bittering Units (IBUs):

30

Serving Temperature:

40-45° F
Pioneer Pale Ale is a golden hued, traditional English Ale. To give this pale ale its perfect malt and hop balance, 2-Row Pale and Munich malts are paired skillfully with Perle and Willamette hops. You can't help but note an explosion of hops in this hop-aggressive beer's nose. And thankfully, that brilliant hop sensation carries through to the taste as well! Note wonderful hop bitterness up front, followed by a slightly sweet caramel maltiness and a lingering dry, malty finish. An excellent choice with your favorite spicy food.
Brewhouse Steak Rub

A steak rub is a combination of herbs, spices, and other flavorful ingredients that is rubbed into the surface of meat 30 to 60 minutes prior to grilling or broiling. Equally delicious on beef, pork, or poultry, this zesty amalgam of fruit, beer, herbs and spices is undoubtedly a worthy cause for donating one cup of this month's shipment.

1 ½ cups canned plums, no pits
½ cup extra-virgin olive oil
1 cup Black River Red Lager
1/3 cup firmly packed brown sugar
1 tablespoon liquid smoke
2 teaspoons salt
6 large cloves garlic, mashed
2 teaspoons crushed hot red peppers
scant teaspoon crushed coriander seed
scant teaspoon freshly ground black pepper

Combine all ingredients in a food processor and process until very smooth. Allow to stand 2 hours at room temperature before preparing the meat. Refrigerate remainder.

Source: Great American Beer Cookbook, Candy Schermerhorn, Brewers Publications, Boulder, CO.
Dear Murl,

My boyfriend has been giving me some grief about my weight and says I should cancel my subscription to help me slim down a bit but I don't really think he knows what he's talking about cause beer isn't really fattening is it? Help me build a case here, pal!

Jennifer Salyers

Milpitas, CA

Jenn, Babe, Sweetheart…

May I speak frankly here, my dear? Lose the buttnut. What is this guy some kinda materialistic, shallow Richard Simmons Nazi-boy. Can't appreciate the weight? 'Fraid you gonna kick his skinny butt around the boudoir? Personally, I like a fifi with a little meat on her milk-bones and I'm a picky pooch. All right, I'm not that picky. A pulse and a flea dip and I'm in. But hey, I'm a dog and you're man is missin' the point here. Sorry, on a rant here. Gotta remember I'm not Dear Abbey…not that she's any more qualified.

Back to your question. Beer is only gonna add to your womanly figure if you drink too much of it! But hell, you eat too many alfalfa spouts and pita bread and you'll gain weight too. My point is that although the alcohol and sugars in beer add up to a fair number of calories per frosted mug, it's literally fat-free. And relative to some of the other substances we pump into our personal food processors, it's looking damn healthy. Your basic standard 12-ounce bottle of lager beer or pale ale of normal strength weighs in at about 150 calories – none of which are derived from fat. Beers of other styles vary somewhat with alcohol and malt content, of course, up to 200 calories or more for 12 ounces of a strong beer like a Bock or a sweet beer like an Amber Ale.

"Lite" beers, conversely, range from about 95 to 110 calories, depending on brand. As a side bar, I want you to realize that the difference in caloric content between a regular and a lite beer is the equivalent of one stalk of raw celery. Think about it before you go there next time. Eight ounces of Fruit yogurt has 230 calories and 3 grams fat and one serving of Fettuccine Alfredo, one of my favorite dishes, comes in at 1,498 calories and 62 grams fat! Damn. Anyway, if you must cut back, do it elsewhere and don't deprive yourself of your brew, girl! Hope that helps build your case, counselor.

Woof!

Murl.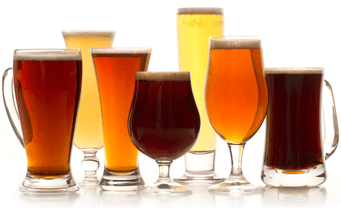 Unmatched Variety by style, brewery & country
Choose from Five different Beer Clubs offering unmatched variety by brewery,
country of origin, and beer style to suit your specific tastes.
DISCOVER OUR FIVE CLUBS