Pony Express Brewing Company - 75th Street Possum Trot Brown Ale
ABV:

5.4%

Int'l Bittering Units (IBUs):

25

Serving Temperature:

45-50° F
Winner of the Gold in the Brown Ale category of the 1997 Great American Beer Festival, Possum Trot, according to Owner Ed Nelson, is a cross between a brown ale and a porter. Brewed with seven malts including Chocolate, Aromatic and Carapil, and three hops: Cluster, Cascade and Willamette, this unusual treat is naturally carbonated and loose filtered. Look for a smooth, malty sweet flavor in this full-bodied, dark and fairly heavy ale. The finish is crisp, sweet and slightly roasted. Overall, it may not fit neatly into any specific style category, but it tastes REAL GOOD! Consider pairing it with a hearty Chicken, Steak or Pasta dish.
"When we first opened the brewpub," said Ed Nelson, owner of 75th Street Brewery, "all the girls that worked here would drink light beer. Within a month, they were all lined up at the bar drinking the Brown Ale." A common reaction to tasting the beer for the first time, Nelson said, is that since it looks so strong and dark, people are surprised by its sweetness and mildness.

The brown ale's nickname -- Possum Trot -- is a name originally bestowed upon Kansas City in the 1700s. Back then, Kansas City was a notoriously bawdy gathering spot for the trappers who worked in solitude for much of the year. They convened at K.C. to trade their furs, dance the Possum Trot, and perhaps most significantly, drink until the daylight hours. Suffice to say that most were simply too embarrassed to engage in a dance called the Possum Trot without being slightly intoxicated.

Pony Express has received numerous accolades for its brews. Its Tornado Ale won the Silver Medal at the Great American Beer Festival in 1997 for the Amber Ale category. And in 1996, it took the Bronze for its raspberry ale in the fruit category. We know you're gonna feel like doing a bit of Possum Trottin' yourself after you taste this nectar! Enjoy!

For more information about the brewery and scheduled tours, call (816) 898-4675 or check out their web site at www.ponygold.com.
Possum Trot Beer-Becued Pork Ribs

We had Murl test drive this recipe before running with it and feedback was that this thick, fruity sauce based on plums, tomatoes, beer, and spices not only has genuine sinus-clearing qualities, but also beats the hell outta Kibbles and Bits or rawhide chewies. We'd suggest not eating the bones though. The well-balanced full flavor of this sauce complements pork so perfectly that it's hard to imagine eating ribs without it. Bone Appetite!

¼ Cup butter, olive, or other vegetable oil
1 large onion, finely chopped
6 cloves garlic, minced and mashed with 1 teaspoon salt
1 cup pitted plums, fresh or canned, or whole cranberry sauce
12 ounces tomato sauce or crushed tomatoes in puree
12 ounces Possum Trot Brown Ale
2 large or 4 small beef or chicken bouillon cubes
1/2 cup red wine vinegar
1 teaspoon bottled liquid smoke
1/2 cup dark brown sugar
1 teaspoon each ginger, cayenne, crushed coriander seed, black pepper, cumin seed, and mustard seed
5-8 lbs. pork ribs, country-style, back or baby back freshly ground black pepper and allspice

In a small skillet melt butter and sauté onion on medium-low until limp and translucent. Add garlic and continue to cook, stirring occasionally until onion is limp, set aside. In a blender or food processor, puree plums and tomato sauce until smooth. In a 3-quart pan heat beer to medium simmer and add bouillon cubes, stirring until dissolved. Add vinegar, liquid smoke, brown sugar, spices, sautéed onion, and plum-tomato mixture. Bring to a slow simmer and cook, stirring frequently, until very thick, 45 min. to 1 hr. Wipe ribs to remove fat and bone particles and keep whole to retain moisture. Sprinkle liberally with pepper and allspice. Let stand at room temperature 30 minutes. Heat coals very hot and set grill close to them. Quickly sear ribs. Remove, raise grill to highest position, and place lightly oiled heavy-duty foil on grill. Puncture for ventilation. Place meat on greased foil, brush liberally with sauce, close lid, and cook until through and tender from 45-75 mins.

Source: The Great American Beer Cookbook, Candy Schermerhorn, Brewers Publications.
ULTIMATE BOOK OF BEER TRIVIA - Egypt and the Middle East, particularly Sumerian and Mesopotamia are the two primary regions generally recognized as the birthplaces of beer. It is estimated that the first beers were brewed there as early as 3000 BC.

BARLEY CORN - Pete's Wicked Red was just one of 55 beers at the 1994 Great American Beer Festival to use the word "red" in its name; 61 preferred the more traditional "amber" moniker. At 1993's festival, however, amber-named beers outnumbered the reds by more than two to one.

BEER: THE MAGAZINE - The Guinness Import Company took advantage of a New York Times article stating that then-president-elect Bill Clinton enjoyed a Moosehead draft at the Nugget Bar & Grill in Santa Barbara, CA. In the ensuing advertisement in the Washington Post and Arkansas Democrat-Gazette, it was pointed out that in this case, the president-elect didn't avoid the draft.

SOUTHERN DRAFT BREW NEWS - Beer makes you smart! Researchers at Indiana University Medical Center in Indianapolis have discovered that moderate drinking may improve memory and problem-solving abilities, according to a report in Health magazine.
Dear Murl,

The last time I tried a wheat beer, some kind of sedimentary residue build up plopped on in my glass at the end of the pour. What up with that, Home-dog?

Robert Alan Rohrer - "Lefty"

Yo Bobby-Ro,

First off, let me rule out a few potentially embarrassing possibilities. Were you by chance eating any mashed potatoes, rice or banana nut muffins while simultaneously enjoying your suds? And, if so, do you drink directly from the bottle? Do you avoid flossing like a Yeti avoids a shower? If you answered "No" to the above questions, I'm quite confident that I can solve your dilemma. What you were looking at was a traditional wheat beer that has had a secondary fermentation in the bottle. That bottom of the fish bowl build up that you were most likely suspiciously eye-balling was the yeast that has settled to the bottom of the bottle of your unfiltered brew. It's nothing to be scared of. Won't hurt ya. Adds lots of flavor to your brew and is well worth the slight inconvenience of pouring your beer more slowly. Try not to be so eager to quaff next time with a slower pour, let the brew settle a bit if you stirred it up and you'll be able to keep that yeast out of your glass.

Woof!

Murl.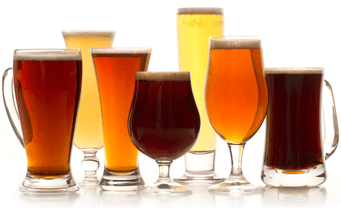 Unmatched Variety by style, brewery & country
Choose from Five different Beer Clubs offering unmatched variety by brewery,
country of origin, and beer style to suit your specific tastes.
DISCOVER OUR FIVE CLUBS