Potomac River Brewing Company - Doublenut Brown Ale
ABV:

4.2%

Int'l Bittering Units (IBUs):

14

Serving Temperature:

42-47° F
Doublenut Brown Ale is brewed with a combination of English Pale, Crystal, Chocolate and roasted malts as well as malted wheat. The brewery hops it up with Fuggles for aroma and Kent Goldings for bitterness. Potomac River's Brown Ale is brewed in the tradition of the great English nut browns. Look for a sweet malty nose in this filtered, medium-bodied beautiful chestnut brown colored ale. We found it well balanced, offering a slightly sweet, nutty flavor up front which continues through the finish. Note a pleasant finish. A bit dry, nutty and somewhat toffee-like. Overall, a great representation of a Classic English Brown Ale! Very drinkable. You're gonna love it!
The Potomac River Brewing Company was founded in Chantilly, Virginia in 1993. Located just outside the Washington, D.C. area, Potomac River brews four different beers, making use of only American grown malts and hops. The brewery purchases hops primarily from the Pacific Northwest.

Potomac's beers feature distinctive paintings by wildlife artist Bill Bolen. Each is a different native Virginia wildlife scene, commissioned in oil on canvas and then adapted for their labels.

This month we're gonna turn you on to their Doublenut Brown Ale! To some, it might not be obvious that Nut Brown Ales don't actually have nuts in them. So we're telling ya right now. They don't! The style gets its name from the mild, almost nutty flavor of the roasted malts used in the brewing process. Nut Brown Ales are malty sweet and generally very mild. They are characterized by their low hop bitterness and mild smoothness.
Doublenut Brown Ale Meat Loaf

1 19-oz can of stewed tomatoes
1 lb lean ground beef
1 medium onion, diced
1 celery stalk, diced
1 egg
1-1/2 cup cornflakes
salt and pepper
1/2 cup doublenut brown ale

Place the stewed tomatoes into a sieve and gently mash them with a wooden spoon, releasing all their juices into a bowl beneath the sieve and saving the liquid for other uses.

Put the mashed tomatoes into a large bowl and, using your hands, mix in all the ingredients except for the beer. When everything is thoroughly mixed, add the ale and thoroughly mix it in. Place the mixture into a 9- x 5-inch loaf pan and bake for 1 hour at 350 F (180 C). Feeds 4 persons, 1 rabid possum, or Elvis in the later years.
True Brew Facts (250-425)

BEER WIRE - Beer is almost certainly older than wine; in fact, it was the first fermented beverage. Prehistoric hunters in central Africa may have drunk the fermented stomach contents of grazing animals they killed-a sort of ruminative beer, if you will. (Yum.) The oldest recorded reference to human brewing of beer from grain is found on a 6,000-year-old clay tablet from Babylon. "The Oxford Companion to Wine" dates ancient wine making to the city of Ur in Mesopotamia at around 2750 B.C. "The Oxford Companion to Wine" goes on to say that, "...by the first millennium, BC wine was as widely used as beer, at least in privileged circles." (italics: I wanna try some of that Dead Animal Gut Ale!)

REAL BEER PAGE - Court Bans "Sexist" Beer Ads - Venezuela's Supreme Court has ruled that a series of beer advertisements are sexist and encourage infidelity and ordered that they be withdrawn. The advertising campaign by Cerveceria Regional included television commercials and roadside billboards depicting a scantily-clad blonde woman who says "I'm the other one. If you try me, you'll stay with me." Regional calls its beer "the blonde" and "the other" in an effort to distinguish itself from market leader Polar, which controls about 80% of the Venezuelan beer market. "In the publicity messages of Regional, one can easily detect the continual reference to infidelity as something positive or at least amusing," the court ruled. The court said the advertisements were "offensive to public morals given the numerous psychological incitement to depersonalize women and transform them into a sex object." (italics: Upon further review, it was determined that the country's Supreme Court needs to lighten up and have a beer!)
Dear Murl,

I was kicking it back with some of my fellow engineers at Boeing the other day having some deep thoughts about jet streams, airflow, propulsion and other noteworthy subjects when we abruptly changed the subject to a much lighter discussion of Beer, and more specifically, just where are the breweries located across the U.S. So we put away our pocket protectors, slide rules and took off the propeller beanies long enough to contemplate some matters of serious consequence. We figured that you might only answer 2.47 questions and that the possibility of you not answering our questions at all, assuming that you receive 4.7899 questions per week, was just less than 43 % if we submitted more than three questions. So this is what we came up with. Which state has the most breweries? Who's got the least? And how the heck did you get a name like Murl!?

Michael Meekin

Santa Rosa, CA

Yo Meekster!

Although I can certainly appreciate your need to focus your gray matter on things that make planes go, me and my pals would like you to consider a few other often overlooked details when your laying down the specs for the next 747. Ever consider pumping a little music down to the cargo area where the pets are forced to fly? A little window would be cool. And is it asking to much to have a stewardess drop in every half hour or so to make sure the complimentary St. Pauli Girls are flowing freely? Right. Now we've got that cleared up, back to your other profound thoughts on breweries…

The nifty folks at the Institute for Brewing Studies in Boulder, Colorado, have compiled some both interesting and revealing factoids about the subject matter at hand. Most number of breweries? California baby! That's right. At a total of 208 combined breweries and brewpubs, simply put…We rock! We've also got a lot of hotties with bodies by Nautilus, brains by Matel and breasts by Dupont too. And movie stars and shit. Don't forget the movie stars. Colorado was second with 93. Not a bad turnout for the Rocky Mountain State, but you have to consider the fact that one of those 93 is Coors and therefore the state should be docked 5 points for harboring a beer producing imposter. Who's got the least? Take a guess. I was thinking the South. Maybe Kentucky or somewhere else where you know names like Milwalkee's Best, Stag, and Old Style are both honored and respected. But North Dakota was a sleeper coming in at just 2 breweries. One per each citizen.

I'm not done with you yet Propeller Beanie Boy! Wanna know who has the most breweries per capita? Give ya a hint. Think long ass nights. Think remote. No cable. Alaska you say? Good guess. They have one brewery per 34,417 every residents. And to disprove your highly educated guess that I will answer all three of you questions, I defer you to your encyclopedia Britannica to look up specific breeds of Australian Sheep Dogs to determine how I acquired my fine name!

Woof! Murl.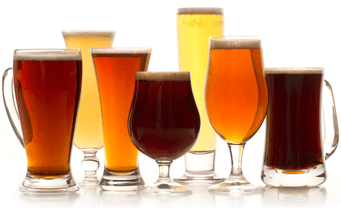 Unmatched Variety by style, brewery & country
Choose from Five different Beer Clubs offering unmatched variety by brewery,
country of origin, and beer style to suit your specific tastes.
DISCOVER OUR FIVE CLUBS