Primátor A.S. - Hefe-Weizen
ABV:

5.0%

Bottle Size:

330-ml

Serving Temperature:

45-50° F

Suggested Glassware:

Weizen Glass
Pouring a very hazy golden color topped by a voluminous head of bright foam, this hefeweizen, or weizenbier, certainly looks the part as it sits in our tall weizen glass. Despite not being a particularly common style among Czech brewers, this brew delivers all the classic Bavarian yeast-driven notes we look for in the style: banana esters, clove and coriander spice, and bubblegum impressions. A wheaty, bready note underlies it all, while noble hops add more spicy, herbal character with hints of lemon and earth. Look for all these notes to come forth on the palate, too, as tangy wheat and pale malt offer plenty of structure while, in concert with the yeast and proteins in suspension, provide a creamy, satisfying mouthfeel. Herbal clove-like character, banana tones, and citric brightness add complex dimensions. Primátor recommends pairing with roasted duck or pork, sausages, meatballs, seafood, and soft cheeses. For us, fish & chips or lemon-spritzed whitefish or shellfish are always a go-to with weizenbier. Cheers!
The Bohemian beers we're featuring this month are the work of artisanal Czech brewers who hold an appreciation of beer not like many others. After Czechoslovakia split up in 1993, the Czech Republic (a land area just a bit smaller than South Carolina) achieved a significant distinction in the beer world: number 1 in beer consumption per capita. (Apparently wine is more popular among many Slovaks, who brought the per capita average down prior to the split. Those darn Slovaks!) Indeed, the conclusion from a study conducted by the German Brewers Association in 1998 showed the Czechs were not just at the top of the rankings; they were on top by a lot. Per capita, the Czechs drink around 334 US pints every year – about one beer daily for every man, woman, and child. Considering most of the kids are probably not tossin' back a whole lot of those beers, that's a huge amount for the adults!
The popularity of beer in this region of the world goes back a long way. The agricultural conditions are perfect for hop farming, and their growth in Bohemia is documented as far back as the year 859. These Bohemian hops were sent down the Elbe River for export to Germany in 1101, where they were sold in the hops market in Hamburg. Bohemian Saaz hops are still coveted to this day.
Accounts of home brewing in the Czech region are chronicled as early as 1088, with the first Czech brewery opening in 1118, in the town of Cerhenice. In terms of longest-running breweries, Prague's U Fleku microbrewery has been making beer since 1499 – just seven years after Columbus discovered the New World! Our featured beers this month come from Primátor A.S., a brewery founded as recently as 1871 (which makes it relatively "young" in terms of old-world breweries). Located in the small town of Náchod, they used to go by the name Pivovar Náchod (pivovar is the Czech word for brewery), until recently changing their name to match their famed beer brand. This is a fairly common occurrence as the industry evolves over time; in the past, breweries were often more associated with their local regional markets than with a brand name. In modern times, as transportation has become easier, many breweries have supplanted their local brewery name with a more recognizable brand.
Building a brewery can take time, especially in the 19th century, so it was about two years after the brewery was founded that the first beer flowed to the local townspeople. Over the next 50 years, their beer gained popularity steadily, and the brewery was enlarged between 1925 and 1930. Unfortunately, after the German invasion of March 15th 1939, many Czech citizens found themselves conscripted to labor in steel mills, coal mines, and munitions factories. As production of consumer goods was curtailed in favor of German military production, eventually culminating in the prohibition of all non-war-related industry, the brewery's (and the whole brewing industry's) development was delayed until after the war.
Unfortunately, with Czechoslovakia under Communist control after the war, very little capital or ingenuity was invested into the nation's breweries. The good news, however, was that beer was pretty cheap (even if largely lackluster). This fact was crucial in establishing beer consumption as arguably the most popular hobby for Czech men. One of the country's most famous beer drinkers, the protagonist in Jaroslav Hasek's 1923 satire "The Good Soldier Svejk," stated that a government that increases the price of beer would fall within one year. Well, the Communist government raised the price of beer by almost 100% in 1984, and though it took five years until the Velvet Revolution, the Good Soldier's forecast came true.
In the present day, Czech beers are in high demand worldwide, and they command top dollar from the various countries to which they're exported – which has had the effect of keeping prices low for the locals. Additionally, the craft beer renaissance in the U.S. has reached overseas to Europe, too, influencing many producers of traditional European styles to branch out and put their own unique spin on foreign styles. Primátor is one such brewery; in addition to their lineup of classic Czech lager styles, Primátor brews a number of unique takes on foreign ale styles such as Stout, English Pale Ale, and even IPA. This type of innovation and experimentation promises to broaden the beer horizons of even the most established beer lovers in the Czech Republic, and here in the U.S. Cheers to that!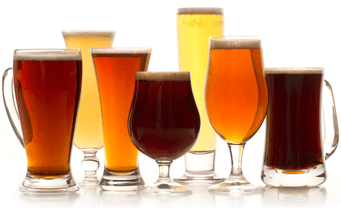 Unmatched Variety by style, brewery & country
Choose from Five different Beer Clubs offering unmatched variety by brewery,
country of origin, and beer style to suit your specific tastes.
DISCOVER OUR FIVE CLUBS