Privatbrauerei Bischoff - Black Lager
ABV:

5.20%

Serving Temperature:

45-50° F

Suggested Glassware:

Flute Glass, Pilsner Glass, or Seidel/Mug
A Gold Medal winner in 2010's World Beer Championships with a 95 rating from the Beverage Tasting Institute, this beer is Bischoff's interpretation of a "schwarzbier" (literally "blackbeer"). The style tends to trip up those who haven't experienced it before; newbies often think because it's dark in color that it must be heavy with a lot of bitter roastiness. But the reality is that schwarzbiers are very easy drinking lagers that embrace the maltier side of things without sacrificing refreshment. Bischoff's black lager pours a rich, dark, reddish brown (rarely are schwarzbiers actually an opaque black color) with a very robust head of fluffy foam. On the nose, the distinct German lager yeast jumps out along with notes of noble hops. Blindfolded, one might not suspect a dark beer, except for an underlying caramelized, malty sweetness that hangs out beneath the other, brighter aromas. Look for the hops to offer some herbal grassiness with a hint of citric acidity. The warmer the beer is served, the more obvious the malty aromas, as notes of brown bread, brown sugar, and light cocoa come forth with more intensity. On the palate, we found it a very well balanced beer with lightly toasty, bready malts accompanied by a nicely acidic hop bitterness that provides a good balancing counterpoint. As we expect for the style, this black lager is not heavy on the palate; it's medium-bodied at most, tasty, and easy to drink. A versatile beer for food pairings, we recommend dishes like grilled salmon, Madeira steak tips, pork loin smothered in brown gravy, bean soups, venison, or any number of barbecued meats. Cheers!
The movement towards better beer in the U.S. is still quite young in the scheme of things. The majority of craft breweries in this country are less than 25 years old, with just a few being older. Germany, on the other hand, has a brewing culture dating back many hundreds of years, and is home to many breweries that mark their milestone anniversaries not with mere years or decades, but with centuries. In this light, this month's featured international brewery – though ancient by our standards – is quite the youth at the age of only 145 years. Regardless, it's obvious after sampling their beers that it's been plenty of time for the Bischoff brewery to get the whole brewing thing down pretty darn well. Privatbrauerei Bischoff was founded in an area called Nordpfalz, within the region generally known as the Palatinate (or "Pfalz" in German) in southwestern Germany. It is here that the impressive Donnersberg ("Thunder Mountain") rises imposingly over the land, and the Palatinate Forest joins the forests of France's Vosges region, forming one of the continent's largest contiguous wooded areas. It's within the town of Winnweiler that one finds Bischoff Brewery, in a part of the Palatinate that enjoys a markedly cooler climate than the territory to the north. While vineyards and wineries can be found all along the Deutsche Weinstrasse (German Wine Route) to the north, Winnweiler and the surrounding area is well-known for barley farms, traditional maltsters, and, naturally, fantastic beer. The Winnweiler area enjoys an extraordinary bounty of natural resources, not the least of which being the pure, clear, spring water that Bischoff uses for all of their beers. This amazing water joins locally-farmed barley, regionally-sourced hops, and yeast from Weihenstephan as the building blocks that the Bischoff family brewers have used to craft their beers for the last five generations. It was on the 7th of December in 1866 (at a time when the territory was still part of Bavaria) that founder Christian Bischoff sold the brewery's first beer. Now, almost one and a half centuries later, Bischoff is the only brewery in the Nordpfalz to have remained in the hands of its founding family since its inception. Though the brewery was originally built in a humble small barn, the family has updated the brewing equipment and expanded the brewery generation after generation, and have added new beers to the brewery's lineup. Now lead by Dr. Sven Bischoff, the great-great-grandson of Christian, the brewery currently resides in a 27,000 square foot building and is home to top of the line computer-controlled brewing equipment – quite the step up from a converted barn! 2006 was the 140th anniversary of Bischoff's founding, and it was in that year that they brought home an impressive batch of hardware including 2 Gold and 3 Silver Medals from Germany's DLG Test Center – the country's esteemed independent food and drink testing association. How about that for a birthday gift! The ten expert DLG beer judges sampled both fresh and older samples of each brew in order to most accurately judge the purity of flavor, fullness of body, freshness, and flavor stability during storage. However, unlike a standard beer competition, the beers are judged not only on flavor; they're also subject to a rigorous chemical analysis in a lab. Clearly the Germans take their beer VERY seriously! If you read German and would like to learn more, visit
www.bischoff-bier.de
. Prost!!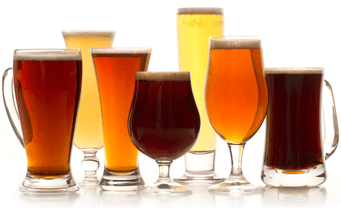 Unmatched Variety by style, brewery & country
Choose from Five different Beer Clubs offering unmatched variety by brewery,
country of origin, and beer style to suit your specific tastes.
DISCOVER OUR FIVE CLUBS