Privatbrauerei Bischoff - Falkensteiner Ur-Weisse
ABV:

5.20%

Serving Temperature:

45-50° F

Suggested Glassware:

Weizen Glass
You may have noticed "Ur" as a prefix that shows up quite a bit in beer names, particularly those hailing from Germany and the Czech Republic. Ur is a German prefix that can mean "first," "prime," or "original," but the term is sometimes loosely applied to mean older or traditional. Clearly, Falkensteiner Ur-Weisse is not the original or first German hefeweizen, but it is brewed to emulate the traditional, older styles of hefeweizens brewed in Bavaria. In appearance, it pours a turbid honey amber with a very white, creamy head. On the nose, expect traditional hefeweizen notes: characteristic clove and mild banana esters. Look for a touch of floral, noble hops with notes of lemon zest and honey. There's also a dilute orange note and hint of grassiness. A feature that really sets this wheat beer apart from others is the extremely lush, velvety smooth feel in the mouth—it's downright creamy in texture—almost like Guinness in terms of mouthfeel, very uncommon for this style of beer. On the palate, expect the traditional banana notes to be subdued, with biscuit and bread character rising to the top of the flavor profile, rounded out by a touch of clove-like spice. Note a citrus-peel fade (think lemon without the intense sourness). Through the finish, things dry out effectively, with a light bitterness leaving you ready for another thirst-quenching sip. Overall, a very easy-drinking beer that delivers suave drinkability and an unexpectedly luscious body. Wonderfully refreshing, this is a thirst quencher from the get go.

Note: many people reflexively add a lemon wedge to their hefeweizens. Please resist the temptation, at least until you've had at least one of these without the fruit and can sample the true flavor—there's plenty of it to stand on its own. Plus, we're pretty sure that when this beer took home the 2006 DLG Tasting Center's Gold Prize, it was served sans lemon.
Most of the "oldest" U.S. craft-brewed beers in production today aren't even 40 years old yet. The vast majority of domestic craft-breweries are less than 25 years old. Contrast this with our featured international brewery, which turns 142 this year. Yeah, they've had some time to get the whole brewing thing down pat… The Privatbrauerei Bischoff is located in a region of Germany known as Nordpfalz, part of the area commonly referred to as the Palatinate (Pfalz is German for Palatinate). The area is home to Germany's largest coherent forest—and is well-regarded for its attractive natural landscape, including the dominating Donnersberg ("Thunder Mountain") which marks the region's highest point. Privatbrauerei Bischoff resides in the town of Winnweiler. This area of the Palatinate has a significantly cooler climate than that found just north; whereas grapevines and German vintners thrive along the northerly Deutsche Weinstrasse (German Wine Route), this territory is better known for its barley farmers and traditionalist maltsters (not to mention beer!) The region's natural resources provide crystal-clear spring water which is used in all of the brewery's beers. It is this water, along with locally-grown barley, regional hops and yeast sourced from the famed banks of Weihenstephan that have been used by five generations of Bischoff family brewers. Back on December 7, 1866, when this area was still a part of Bavaria, Christian Bischoff poured the first commercial batch of Bischoff beer. Through the generations, his establishment has been the only Nordpfalz brewery to have remained in the same family since its founding. From the time of its humble beginnings in a small converted barn-turned-brewery, Christian's descendants have repeatedly updated Privatbrauerei Bischoff's brewing equipment and expanded their lineup of beers. In 2001, his great-great-grandsons, Drs. Sven and Erik Bischoff, joined the team. The brewery marked its 140th birthday with an impressive cache of prizes awarded by the prestigious DLG Test Center, Germany's independent drinks and food testing society: 2 Gold and 3 Silver Prizes. The DLG's 2006 competition saw 552 beer entries from no less than 158 international breweries. Unlike most formal competitions, DLG's testing & evaluation subjects entrants to stringent laboratory tests in addition to the typical sensory appraisals. Yes, they take their beer VERY seriously in Germany… Presently, the brewery has an impressive line up of 17 beers. Unfortunately, we can't bring them all to your door, but we did pick two of our favorites for this month's international features. Prost! For more information about the brewery (in German only), check out their website at www.bischoff-bier.de.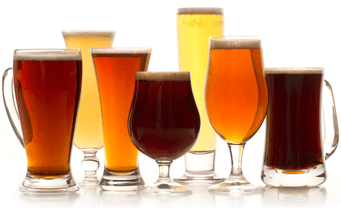 Unmatched Variety by style, brewery & country
Choose from Five different Beer Clubs offering unmatched variety by brewery,
country of origin, and beer style to suit your specific tastes.
DISCOVER OUR FIVE CLUBS