Privatbrauerei Eichbaum - Steam Brew Imperial Stout
ABV:

7.5%

Bottle Size:

500-ml

Serving Temperature:

50-55° F

Suggested Glassware:

Pint Glass or Mug
So, the first thing you'll notice is this brew comes in a can, which is nothing new – we've featured cans before; in fact, it's almost impossible not to given the wild and growing popularity of cans in the craft beer space in the US and beyond. What is novel is the large 500-ml size. Frankly, that's just how Eichbaum does it over there in Germany. The Germans certainly like to enjoy their beer in volume, and many German breweries simply don't bother with sizes any smaller. A lot of US craft brewers are following this trend, with 4- and 6-packs of 16-oz cans becoming a common sight in better beer stores across the country. So, don't be surprised to see similarly sized German brews in the future; there's a lot of good stuff out there that only comes in 500-ml, and we're certainly not going to complain about the extra ounces.
This steam-punk themed stout presents a deep brown hue with a thick cap of well-retained foam that laces nicely as it drops. On the nose, look for notes of coffee and cocoa, with plenty of toasted and roasted malt notes, a bit of nuttiness, some undertones of dark fruit, and a hint of earthy hops. These notes carry over well to the flavor which offers plenty of toasty notes, impressions of dark roasted coffee, moderate char and hop bitterness, some intriguing dark fruit notes akin to fig or perhaps even a bit of dark berry, and a spicy hop contribution. This unusual German-made stout is lighter in body compared to the viscous, motor-oil-like imperial stouts we generally encounter here in the US, and at just 7.5% ABV it's right at the threshold between a standard American or English stout and what we normally consider an imperial stout. But nevermind trying to shove it into a category; this stout is nicely balanced, subtley complex, and satisfyingly drinkable – and it's from Germany of all places. For pairing options, try grilled smoked sausage, braised beef short-ribs, or roasted pork tenderloin with a stout beer and brown sugar glaze. Prost!
We've been doing this whole beer club thing for a long time (since 1994 to be exact), but we still get amazed by how far back the roots go for so many of our featured German breweries. For Eichbaum, the story starts back in 1679 when a Wallonian immigrant named Jean de Chaine obtained a license to open a brewpub in Mannheim. He named the brewpub, which was in his home, Zum Aichbaum (later to be spelled "Eichbaum", or "Oak Tree" – a nod to his French name Chaine, or Chêne, meaning "oak"). Sadly, just ten years later, Mannheim was largely destroyed by the French in the War of Palatine Succession, also known as the Nine Years War, among other names.
In 1717, the original pub license was acquired by Jean Blancard who, like de Chaine, also had a Wallonian connection, having descended from a family of Wallonian brewers. He re-opened the brewpub, this time under the name Zum Grünen Eichbaum. During this time, brewing was a significant business, and in 1723 the Mannheim brewers' guild was formed, consisting of 69 brewers from 50 different breweries (this is in a town of just 9,000 at the time).
Over the next couple hundred years the brewery expanded, beer cellars were built, fields were acquired, and the business thrived, all while Mannheim grew into a significant city. By 1900, the brewery had 147 employees plus 50 horses and 32 carts for local delivery, along with rail cars for long distance distribution. But, as with so many other breweries in Europe, the early 20th century proved to be a time of devastation as well as growth. During WWII, Mannheim was bombed repeatedly, leading to the destruction of three-quarters of all buildings. But, luckily Mannheim is located in Baden-Württemburg, a state in the southwest of Germany, on the good side of the Iron Curtain, so the city rebuilt and the brewery thrived again.
After a variety of different owners over the decades, both private and corporate, the brewery is back in private hands and is among the largest breweries in Baden-Württemburg, as well as the oldest business in Mannheim. Eichbaum produces a variety of different traditional beers including Schwarzbier, Pilsner, Weissbier, Märzen, and more. One of their more intriguing and surprising offerings is this month's selection, which we're happy to have the opportunity to bring to you. Prost!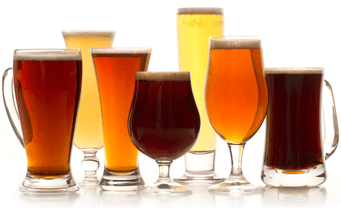 Unmatched Variety by style, brewery & country
Choose from Five different Beer Clubs offering unmatched variety by brewery,
country of origin, and beer style to suit your specific tastes.
DISCOVER OUR FIVE CLUBS