Still Here (RBC Exclusive - Pints for Prostates Annual Collaboration)
Atom Brewing Company — Erie, Colorado
[Barrel-Aged Farmhouse Imperial Stout w/ Sunflower Seeds - 10.5% ABV]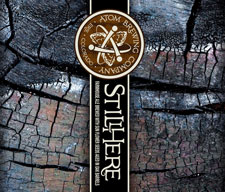 Atom Brewing Co. in Colorado got its start in November 2015 in the backyard of Jeff and Chris Porn-where it remains to this day. Jeff's been brewing for 18 years, Chris previously worked for White Labs, and together the couple converted a 1920s carriage house on their property to be the home base of Atom Brewing. All of their crucial equipment is wooden from custom-made oak fermenters to the many hand-selected used barrels that they use for aging their beers. Each beer is open fermented, using one of the brewery's house yeast blends of up to nine native strains. In general, most of their beers are aged for a period of up to 3 years and allowed to develop for as long as needed. The quickest beer they make takes around 8 months! Each of their beers is unfiltered and packaged by hand.
Still Here is an exclusive release between Atom, The Rare Beer Club, and Pints for Prostates, and is the 10th such annual collab we've been a part of with PFP, with proceeds from every bottle sold going towards supporting the organization's outreach activities. Based off their previously made Stillness, Still Here swaps oats in favor of sunflower seeds, and is made with 100% Coloradan ingredients. This beer was put into relatively neutral, used red-wine barrels at the end of January and packaged into bottles seven months later, resulting in a super-smooth stout.
Still Here is intentionally packaged uncarbonated to best showcase the core flavors (hence its name!), with lots of chocolate and roasted notes along with leather plus light nuttiness from its sunflower seeds. There's a touch of a tart-cherry bite (a combo of the native yeasts and that time spent in red-wine barrels) providing welcome acidity, plus subtle notes of oaky vanilla and tannins, and a dry earthiness. One of the most intriguing imperial stouts we've tried.
Pissenlit
Brasserie Fantôme — Soy, Belgium
[Strong Saison w/ Dandelions - 8% ABV]

Brasserie Fantôme has come to represent unabashed creative freedom of expression and earned itself a reputation for being, well, borderline insane. Between the ghost stories, the wild variation from beer to beer, being exceptionally guarded about what spices have been used in the recipes, or experimenting to the point of acute eccentricity, you can maybe understand why some people think there may be a madman involved. Well that madman is brewer Dany Prignon, who uses local ingredients and herbs, spicing his numerous farmhouse ale variants with such skill and panache that people have been taking notice since the brewery was founded in 1988.
Dany almost never gives up the ingredients list to Fantôme releases, but at least we can say for sure that Pissenlit prominently features dandelions (pissenlit is French for 'dandelion') which have been foraged from the fields surrounding the brewery. Bright, though well-hazed, and golden-amber in color, this brew offers the charismatic Fantôme yeast character immediately in the aroma: vibrant citrus and fruit, lots of pepper and doughiness, and subtle acidity and funk. On the palate, there are solid levels of lifting carbonation, and that firm core structure of hay and citrus and subtle sourdough funk sets the foundation. With a little more time in the glass, one catches the subtle earthiness of that dandelion addition: an herbal bit of flair that goes great with the rustic expressions of the rest. Lots of white pepper and fruity esters, with everything leading to a crispy and firmly dry finish. A delicious saison.