Chloe (RBC Exclusive)
Broken Bow Brewery — Tuckahoe, New York
[Coconut Baltic Porter aged in Rum Barrels - 9% ABV]

We're super-excited to showcase this up-and-coming brewery to our thirsty Rare Beer Club members. Founder Mike LaMothe started homebrewing around 20 years ago, back in Stamford, CT, and his serious brewing interest culminated in the opening of Broken Bow in August 2013. Today many of Mike's family members work in different parts of the company, including his parents and siblings. Distribution of their core line has been slowly expanding across New York. We've been digging everything so far from these folks, especially their barrel-aged stuff, and are excited to have worked with them to bring you an exclusive offering just for the club.
Chloe, a delicious and unique rum-barrel-aged coconut Baltic porter, pours a rich brown-sugar color and offers up a whole lot of aromatics from first pour: dried fruits and caramel and a touch of candied apple, a vibrant ripeness of fruit keeping things light. As this warms a bit, we start to get more charred character from the rum barrels, along with the roast and malty sweetness of the base porter. On the palate, it's malt-focused but never heavy, packed with an abundance of fruit, caramelization, and toast. Medium-light levels of carbonation lend themselves well to this beer, and it's rounded and sweetness-focused but streamlined with a subtle, vinous alcohol warmth. This is dense, big, but poised overall and layered in a manner that's super smooth and explorable. The ripe red fruits counterpoint the caramelized sugars, toasty barrel char, and sweet vanilla. Coconut's a secondary element for Chloe, contributing almost as much to the texture of this beer as the flavor, and there's an overall vibe of toasted almond.
Ancient Vortex (RBC Exclusive)
Strange Roots Experimental Ales —Millvale & Gibsonia, Pennsylvania
[Belgian-style Dark Ale w/ raw cacao & candi sugar, conditioned on cacao beans - 9.2% ABV]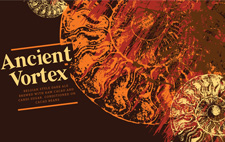 Strange Roots Experimental Ales will be a new name to many of you, but some of our members will recall their mixed-culture Agent Orange with persimmons and apricots which we featured in 2018, or this Pennsylvania brewery's previous name: Draai Laag Brewing Co. Dennis Hook started Draai Laag back in 2011, self-engineering an $800 brewing system and bootstrapping an operation that focused heavily on complex sour ales and bringing in local ingredients and microflora. The brewery became Strange Roots in March 2018, and Dennis is still doing amazing things with small batch beers featuring foraged yeasts, bacteria, and fruits.
Strange Roots' Ancient Vortex is another Rare Beer Club exclusive: a Belgian-style dark ale, much like a quadrupel, brewed with raw cacao and candi sugar, and conditioned on cacao beans. Generous aromatics are present from the first pour: expressive caramels, burnt sugar, and plenty of dried dark fruits with a pleasant chocolate undertone and touches of char, licorice and bitter clove, providing a nicely bitter edge to counterpoint the core malt focus. Like the best Belgian-style quads, on the palate this big beer feels especially light and vibrantly textured as a whole, offering layered caramels and toffee, bringing forth a huge amount of darker malt character-without stepping into that full-on roast and coffee of a stout. There's a pleasant underpinning of vinous, fruity alcohol that helps streamline the feel here as well, along with those bittering elements mentioned in the aromatics: clove, even a touch of peppery phenols, burnt sugars, and maybe even a hint of oak tannins. With warmth we found all sorts of additional details: candied orange, spice cookies, hints of licorice and char and toast... It's a brilliant beer from Strange Roots: one of the most unique quad-ish beers we've ever tried.