Grande Cuvée Weizenbock
Les Trois Mousquetaires — Brossard, Québec, Canada
[Weizenbock (dark wheat ale) - 10.5% ABV]

This month, we're pleased to introduce our Rare Beer Club members to arguably the finest beer we've had from these folks thus far: a dark wheat ale in the form of their Grand Cuveé Weizenbock. It's brewed with 100% Québec malt and Northern Brewer hops-and it's one of our more cellarable features in recent memory (for those looking for a little something to tuck away for a while).
Les Trois Mousquetaires' Grande Cuvée Weizenbock is a 10.5% ABV dark wheat ale that perfectly showcases what this brewery is up to when it comes to crafting traditional German beer styles. Weizenbocks, for those not familiar, combine copius amounts of wheat to the complex maltiness of a bock or doppelbock. The net result, more often than not, proves to be surprisingly drinkable beers often weighing in at 8+% ABV, with lush layers of detailed maltiness tempered by the soft texture and underlying toastiness of the wheat. Les Trois Mousquetaires' Weizenbock is one of the tastiest we've ever found, with complex aromatics and a deft layering of flavors. This pours a deep golden-brown, almost the color of maple syrup, with a bit of viscosity to it. There's some body here, for sure, and some residual sugars. The off-white head readily dissipates, leaving the dark nectar beneath it. The aromas, combining aspects of German hefeweizen yeast and the rich maltiness of a doppelbock, spill out of the glass. There are plump raisins, dried caramel, fruit leather. A nice balance is struck by the accompanying yeast-based notes, offering clove and pepper. Everything's well tuned.
Black Metal
Jester King Brewery — Austin, Texas
[Farmhouse Imperial Stout - 10.8% ABV]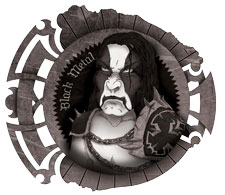 Jester King's Black Metal currently sees very limited distribution, with only about 20 cases sold in the U.S. in 2018. This year's limited run will be predominantly heading to our Rare Beer Club members, with around 50 to 75 cases left over for distribution solely in Texas. Jester King Black Metal is brewed with a variety of malted barleys and rolled oats, English-style hops, aerated and filtered Texas Hill Country well water, and fermented with a mixture of traditional brewers yeast and locally harvested native yeast and bacteria (and black metal music played to the beer during fermentation, of course). It's essentially pure black in color at first glance—it's actually a super dark brown when held to a penetrating light source—blanketed by a very thick, brownish head. There's a show on display here as cascading effects fizzle down the side of the glass at the interface of the liquid and foam formation.
Expect big notes of roasted barley from the start, with quite a bit of coffee, anise, and even some toffee, plus a little suggestion of the hefty 10.8% ABV, at least when this is served on the lower end of the suggested serving temperature (the alcohol does start to reveal itself with added temp). From the aroma alone, it seems like this beer might have been played a softer, gentler kind of black metal during fermentation, with comforting notes of treacle-ish, singed syrup and deep chocolate. But while it starts with some sweetness, this is quickly dried up by the unleashing of coffee (espresso, esp.), burnt currants, vinous warmth, scorched raisins and charred wood. Esters are perceived as low, but they are there if you look for them, offset by a bit of fruity impact from the alcohol. Black Metal finishes with heaps of coffee and treacle, and ends quite dry for the style, thanks to a very high attenuating traditional yeast strain. The sudden flash of citrus rind and earthy hoppiness contribute on the bitterness side, working nicely with the malt-derived bitterness from this beer's specialty malt additions. Make sure the beer is served at the correct temperature—cold is its only known weakness!