Sour Blonde with Lemon & Rosemary (Rare Beer Club Exclusive)
Hi-Wire Brewing – Asheville, NC
[Sour Blonde Ale with Lemon & Rosemary - 6.2% ABV]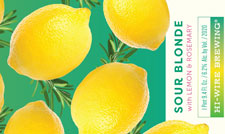 Hi-Wire Brewing got its start in the summer of 2013, founded by Adam Charnack and Chris Frosaker, and it quickly became one of the fastest growing craft breweries in North Carolina. Their bread and butter has been in creating well-balanced core beers like the Hi-Wire Lager, Bed of Nails Brown, and Hi-Pitch IPA, and their main production facility-affectionately known as The Big Top-opened up in 2015. Their other Asheville location, the South Slope Specialty Brewery & Taproom, focuses more on their wild and sour ale offerings. Hi-Wire has picked up a number of key awards over the years for their various creations, including being named the Best New North Carolina Brewery of 2013 by RateBeer, as well as winning gold at the GABF in 2016 for a German-style märzen, in 2019 for a sour brown ale aged on Palo Santo wood, and in 2021 for a Japanese Dry Rice Lager with Ben's American Sake Koji.
This month, we're excited to bring you a Rare Beer Club exclusive, produced especially for our members: Hi-Wire's Sour Blonde with Lemon & Rosemary, which is the happy culmination of over 15 months of fermentation, barrel aging, and bottle conditioning. This stunning brew pours a hazy golden yellow with thick pillowy white foam. In the aroma we get fresh lemon zest and fresh rosemary, leading into notes of candied lemon peel, floral lemon blossom, and a hint of lemon leaf. There's a subdued amount of barnyard type funk woven in, as well as hints of hop spice and ginger-like aromas. The mixed cultures working in the neutral oak barrels bring out a lactic vibe, with a hint of woodiness and vanilla, along with secondary citrus aromas of mandarin, yuzu, and minneola.
On the palate, we're greeted with delicate tartness and subtle sourness. The fresh lemon zest is perky and fruity, lasting from start to finish. The rosemary is more subtle initially, but as we dive in further, the freshness it adds is quite pleasing. The balance of citrus and herbs are complimented by the yeast and mixed cultures and bring out the spice flavors we experienced in the nose. The 2-row pale malt profile is lightly bready and cracker-like, and easy on the palate with light toastiness, allowing for woody notes and earthy flavors to come through. Medium bodied and smooth with a light, prickly mousse, and a long, tart, mouthwatering finish, this keeps inviting us back for more.
Corsendonk Agnus Tripel
Brouwerij Corsendonk (Brasserie Du Bocq) – Turnhaut, Belgium
[Belgian Tripel Ale - 7.5% ABV]

The roots of Corsendonk go way back to the founding of the Priory of Corsendonk in 1398 in the Flemish town of Oud-Turnhaut. The monks here brewed beer for almost 400 years until the monastery closed in 1784. But, the Corsendonk beers experienced a restoration when Sir Henricus Keersmaekers founded a new brewery in Oud-Turnhaut in 1906, and kept the abbey beer tradition alive. Eventually his grandson, Jef, partnered with another family brewery, Brasserie du Bocq (founded by Martin Belot in 1858), to brew the Corsendonk beers in 1982. Today, the Keersmaekers family has taken over the brewery from the sixth generation of the Belot family, producing all the du Bocq brands alongside the Corsendonk beers. A traditional Belgian brewery, all du Bocq's beers are bottle-conditioned, experiencing a secondary fermentation in the bottle to naturally carbonate the beer.
Very little of Corsendonk's impressive Agnus Tripel makes its way across the pond to our shores, and what little distribution it sees is limited to just five states. This traditional abbey-style tripel pours a bright pale golden amber with a hint of haziness beneath a thick pillowy white head. On the nose, there's a full spectrum of classic spice and fruit notes including subtle white pepper giving way to coriander and fennel seed, the impression of vanilla beans, and dried field herbs and garden flowers, with a secondary wave of candied lemon rind, hints of tangerine, crushed white grapes, and freshly peeled banana, all backed by a third wave of toasty malt.
The first sip brings all the aromas together in a tightly layered complex fashion. White pepper is noted but not pronounced, backed by coriander and fennel seed, subtle vanilla, touches of dried herbs, and a slight grip of piney hoppy bitterness. Candied lemon rind and fleshy tangerine add a perky citrus acidity that keeps our senses heightened, while the slightly underripe freshly peeled banana ushers in the vinous crushed white grape flavors. Toasty malt and lively yeast drive home the quality of this medium bodied beer, along with its delicate, finely bubbled mousse, and long, clean, dry finish.