Bux Tripel (RBC Exclusive)
Brouwerij Biermaekers Driemasten — Gullegem, West Flanders, Belgium
[Tripel - 8.5% ABV]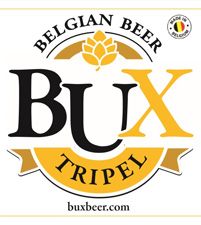 The Bux lineup of beers hails from West Flanders, a flat lowlands region known for, among other things, its especially fine production of grains and hops. Bux beers are brewed with the best Belgian hops that brewmaster Dieter Van Biervliet is able to source, and he stays in close communication with the brewery's hop growers throughout the year-keeping track of hop quality evolution and exchanging ideas about how to best attain various hop flavors and aromatics from each annual harvest.
This month we're excited to offer you Bux Tripel, which represents the first time that the bottled-conditioned version will be making it stateside. Aside from a very limited amount previously available on draft in Florida, this beer is new to the U.S., and we are importing it exclusively for our Rare Beer Club members.
Brouwerij Biermaekers Driemasten's Bux Tripel is one of the most satisfying Belgian tripels we have tried in quite a while. Fruity, spicy, and herbaceous, it was brewed with locally sourced ingredients and various classic hops: Cascade, Northern Brewer, Centennial, and 7784 (a unique variety that was initially discovered growing wild in Belgium). Fruit and spice lead the aromatics, emphasizing notes of honey, toastiness, and white pepper. Great mixture of fruity and phenolic elements: ripe pear and apple, the slightest hint of banana, plus vibrant pepper and clove adding some welcome bitterness. On the palate: medium-full body with restrained sweetness, with the alcohol well hidden. Lots of honeyed maltiness, alongside fresh fruit like apple, pear, and subtle berry notes. The Belgian yeast impact brings a ton of that fruit presence forth, plus pepper and subtle cloves, all atop a toasty, bready core of rounded malt. The hops gain emphasis near the finish, providing welcome bitterness, grass, and herbaceous notes. A brilliantly executed tripel overall, closing with almond, toast, and a crisp mineral bitterness.
Ferre (RBC Exclusive)
Brouwerij Maenhout — Pittem, West Flanders, Belgium
[Quadrupel - 10% ABV]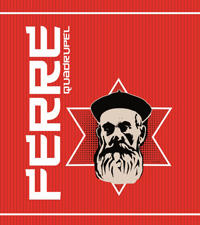 Brouwerij Maenhout is an artisanal brewery located in the municipality of Pittem in the West Flanders province of Belgium. The brewery got its start towards the end of 2009, founded by Thijs Maenhout and Birgit De Rammelaere, and their core releases are generally focused on Belgian style staples, including a 6.5%-ABV blonde ale called Blinde Mol as well as an 8.5% tripel called Koeketiene. The brewery's one-off releases have included renditions of traditional Belgian styles like saisons, witbiers, dubbels, and Belgian pale ales. This month we're excited to be able to offer our favorite of the brewery's core releases: their Ferre quadrupel, which, like the Bux Tripel, has thus far only appeared in the U.S. in very limited quantities, seeing minimal draft-only distribution to select markets in Florida. The bottled version has never before been sold in the U.S., and we're having this imported exclusively for our Rare Beer Club members.
Ferre pours a dark, orange-amber color, though on the lighter side compared to a lot of other quads, and capped by a finely bubbled foam that leaves solid lacing. Generous aromatics provide a clear sense of where this beer's headed overall: deep, potent maltiness with a ton of accompanying red fruits, subtle vinous warmth, and touches of caramelization thoughout, with a subtle clove-like spiciness from the Belgian yeast. Perfect carbonation keeps this feeling light on the palate, and that focused impact of sweet, caramelized malts and red fruits is immediate. For being 10% ABV, this quad is super nimble and an absolute pleasure to drink. Alcohol stays tucked away throughout, contributing fruity, wine-like elements but showing restraint even after this has warmed up fully. Layers upon layers of toffee, caramels, and ripe fruits, while the Belgian yeast keeps sweetness in check, provides a hint of clove-like bitterness, and just makes this massive beer so easy to dig into. A truly delicious take on the quadrupel style.