Nelson Sauvin
Anchorage Brewing Company — Anchorage, Alaska
[Saison w/ Brettanomyces and 100% Nelson Sauvin hops, fermented in oak foudres - 6.5% ABV]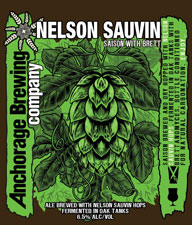 We first featured the esteemed Anchorage Brewing Company shortly after they'd opened, right around the time that they were taking the #1 slot on RateBeer's 2012 Top New Brewers In The World list. They haven't exactly disappointed in the time since, with assertive release after assertive release hitting shelves in limited spots. Founder Gabe Fletcher has been a serious force in craft brewing in Alaska for well over a decade. After much success as head brewer for Anchorage's Midnight Sun Brewery, Gabe decided to strike out on his own to pursue his passion for brewing unique beers, aging them in wood, and experimenting with Brettanomyces yeast and other "critters" to produce flavors unexpected and exceptional. This month's Nelson Sauvin is one of his masterpieces.
Anchorage's Nelson Sauvin sees only limited production & distribution, with only about 200 cases sold throughout the U.S. in 2018. We'll be taking the majority of the 2019 release for our Rare Beer Club members, without only around 50 to 75 cases to be sold outside of the club. The aromatics from this golden-straw colored saison are super generous, overflowing with tart lemon, pomelo grapefruit, tropical notes and pithy citruses from lemons and limes to green mango and kumquat. The Brettanomyces yeast and Nelson Sauvin hops merge into an incredible expression of tart fruits and herbaceous character. That lemon-lime combo comes through with a whole bunch of vibrancy on the palate, alongside a peppery cracker note. An initial punch of tartness is followed by a satisfyingly smooth hit of grassy hops, and there are smooth, toasty oak undertones offering almond and vanilla hints. There's so much to love about this beer, and it's possibly the most eminently drinkable beer we've ever had from Anchorage.
Guldenberg
Brouwerij De Ranke — Dottignies, Wallonia, Belgium
[Hoppy Tripel - 8.5% ABV]

Brouwerij De Ranke was founded in 1994 by two good friends, Nino Bacelle and Guido Devos. Their story is a classic in Belgium, where the very best craft brewing usually begins as a passionately pursued hobby, not an occupation (a similar tale is told again and again in the US as well). For Nino and Guido, brewing was literally a weekend obsession. For a few hours on Friday and Saturday each week, the historic, turn-of-the-century Deca Brewery in West Flanders was turned over to the De Ranke brewers, who made small batches of what many consider the best specialty beers of Belgium. Their beers are robust and flavorful, and known for their atypically (in Belgium) massive hoppiness, which comes from the best Hallertau and Brewer's Gold varieties. In 2005, after 11 years of brewing at the Deca Brewery, they built their own. Not bad for a weekend hobby.
It's hard to classify this outstanding beer. Is it an example of the Belgian Strong Pale Ale? Generically speaking, yes. Though it doesn't really fit neatly into that category, and the label actually states that it's a Tripel, the heavy-handed addition of hops takes it to Belgian IPA territory. Set the styles aside for a moment and just enjoy! Expect this unfiltered beer to pour a hazy butterscotch, honey-gold color, topped with a massive, thick, meringue-like head. The aroma smacks of honeyish malts and some tropical fruit tones as well as a lemony zest and ample hops. Overall, the nose is bigly fruited and flowery, with flourishes of mandarin oranges and a twinge of pear skin. Complexity looms as even more notes emerge in the bouquet: honey, herbal, grassy hop tones, and a minor note of spicy phenolics and cloves. The beer goes down with yeasty and hoppy spiciness coming to the forefront. The hops not only add a spicy bite, they also have a rather drying, bitter character. Look for prominent orange flavors, with cloves, slight hints of cinnamon, and some woody notes. This is a yeast and fruit bomb! Expect the beer to finish with a lengthy arc of flowery bitterness. So complex. So rewarding. Somehow, the hoppiness does not lead to imbalance; it's all tied together very well. Floral, fruity, yeasty, hoppy… this beer has a little something for everyone, and a whole lotta something for fans of innovative Belgian beer. World class. This beer is massively complex, and it changes as it warms, so a food pairing is a bit overkill, but pairing with whole boiled lobster served with drawn butter and lemon is a tasty combo. The rich meat and butter are cut by the sharpness and gentle acidity of this beer, and the lemon is a nice complement to the beer's herbal hoppiness.