Righteous Son (RBC Exclusive)
The Lost Abbey —San Marcos, California
[Barrel-Aged Old Ale - 10.75% ABV]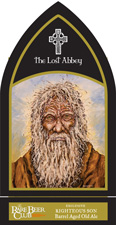 Most of our Rare Beer Club members will instantly recognize the names "Port Brewing" and "The Lost Abbey" and "Tomme Arthur"-the gifted brewer associated with both. All three have come to mean excellence in brewing and envelope-pushing, boundary-testing beers. We've had the good fortune of working with Tomme previously on several Rare Beer Club exclusives, and we're excited to bring yet another one to our members this month. The world's greatest beer writer, and Rare Beer Club founder, the late Michael Jackson, was a big fan of Tomme's beers, and we know he would have loved this month's Rare Beer Club exclusive: Righteous Son.
Lost Abbey's Righteous Son pours a deep, dark caramel-brown color, and offers prominent aromatics of dried dark fruits and dark caramel, alongside some ripe red fruits and berry character. The aroma never overwhelms, bringing plush amounts of fruit and heat and restrained caramel throughout. Hints of plum and wine grape emerge as this warms. On the palate, there's a nicely enlivening presence of fine-bubbled carbonation to this old ale, giving more vibrancy and presence overall. Generous degrees of dried red and dark fruits are a key pillar, providing a luxurious, fruit-leather-like undertone that brings together notes of caramel, licorice, sherry, nuttiness, toast, and the subtly sweet vanilla and almond of the barrels. As lux as a Belgian quad or abt, there's just a ton of layers to dig into with this beer, but it remains super drinkable and deliberate in its expression overall.
Snake Eyes
West Sixth Brewing — Lexington, Kentucky
[Imperial Stout - 11% ABV]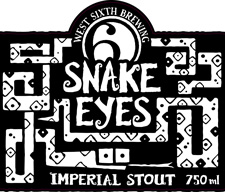 West Sixth Brewing hit our radar pretty early on after they were founded in 2012, and this sustainability-minded brewery in Kentucky has been making some exceptional beers that see very modest distribution. From their core year-round IPA (packed with Cascade, Centennial, Citra, and Columbus hops) to more occasional offerings like their exceptional Christmas Ale and imperial stout releases, West Sixth has been continually knocking it out of the park. The brewery distributes solely in its home state of Kentucky and nearby Cincinnati, Ohio, but the local emphasis has also helped them grow in leaps and bounds over the past seven-ish years.
We love tracking down delicious imperial stouts that manage to stand out from the sea of them, and the West Sixth Snake Eyes just brought a ton of complexity along with an overall malt expression that felt like it occupied a lesser-explored part of the imperial-stout spectrum: leanly packed with cocoa and baker's chocolate and deeply roasted coffees, avoiding the sweeter terrain of milk chocolates and caramels. A lively amount of CO2 provides a good degree of lift, and, working with the overall dryness of this hefty stout, keeps it an absolute pleasure to drink. Lots of cocoa and dark chocolate form the crux of the initial landing, and this remains lightly bitter despite not having a particularly overt hop presence. It's appealing, burnt-bread-crust bitter. There's a toasty, dry-chocolate core that serves as the baseline to this stout, and (as noted) Snake Eyes avoids a good bit of the sweeter territory of other stouts in favor of deeper cocoa and berry terrain. A ripe cherry/currant note emerges clearly as this warms, beside some fruity, vinous heat, plus a fair bit of coffee and roasted nuttiness.