Land Van Mortagne (RBC Exclusive)
Brouwerij Alvinne — Moen, West Flanders, Belgium
[Amber Quadrupel - 12.8% ABV]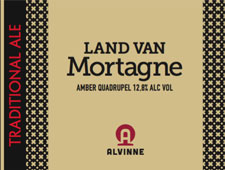 Since their founding in 2004, Alvinne's developed a very strong reputation among beer geeks for their barrel-aged beers and traditional Belgian-style releases. Brouwerij Alvinne, perhaps most importantly, has its own proprietary yeast called Morpheus that is used throughout their lineup of beers-including Land Van Mortagne-and features heavily in their mixed-fermentation sour ales as well. Their resident yeast whisperer Marc De Keukeleire, head of yeast management and special projects, isolated the wild yeast from collections in the French Auvergne region and cultivated it into their now highly regarded strain-helping them to produce exceptional, highly unique sour and non-sour offerings alike. Alvinne only makes about 1,000 U.S. barrels annually, making all the releases quite limited, and this month we're excited to offer their full-boded amber quadruple, Land Van Mortagne, as a club exclusive - imported just for our members!
Brouwerij Alvinne's Land Van Mortagne is a delicious, full-bodied, amber-colored Belgian quadrupel packed with specialty-malt character and tempering mineral bitterness. Initial aromatics provide generous, plush red and dark fruitiness (emphasizing cherries, currants, strawberries) beside restrained caramelization and some significant pepper and clove from their Morpheus yeast. We found fruit leather, maraschino cherries, and well-restrained sweetness despite how malt forward this is. Medium-full to full body on the palate, it leads with a generous display of ripe red fruit: cherries, currants, apples-all counterpointed by welcome peppery notes and clove from the core yeast. Some warming alcohol is definitely tucked in here, but its surprisingly subtle, keeping the overall body lean and serving to balance out the core expression of generous maltiness. That clove, pepper, and vinous warmth serve as useful counterpoints, keeping this exceptionally easy to dig into despite a 12%+ ABV; there's definitely a wine-like feel overall, with impressive early sherry and deep fruitiness apparant.
This is a vibrantly fruity, phenolic-driven quadrupel, where so many other beers within this space lean more strongly on a caramel and heavier specialty-malt presence.
Tripel (RBC Exclusive)
Hof Ten Dormaal — Tildonk, Flemish Brabant, Belgium
[Tripel - 8.0% ABV]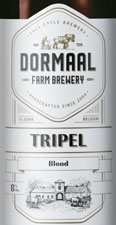 The farm brewery Hof Ten Dormaal is situated in the fields of Tildonk, Belgium, on an old farm estate that dates back to at least the 13th century or so. Farming and brewing remain closely linked at the brewery, as the current owners, the Janssens family, overseen by father Andre Janssens and two brothers, Jef and Dries, pursue their goal of creating unique and innovative beers made almost exclusively from ingredients grown on-site. They grow their own hops and grains in the brewery's surrounding farmland, and the brewery even has its very own maltery-described as the smallest in all of Belgium. The brewery's main releases include a number of traditional Belgian styles that incorporate the farm brewery's locally produced ingredients-including this month's featured Tripel, which is another Rare Beer Club exclusive, also being imported to the US just for our club members.
Hof Ten Dormaal's Tripel is brewed with barley malt, wheat, and sugar, the brewery's house yeast strain, and a combination of Magnum and Hersbrucker hops. It's a beautifully handled tripel showcasing the farm brewery's exceptional locally grown ingredients. This tripel pours a bright, hazy golden-yellow color capped by a significant mousse-like head, demonstrating excellent retention and lacing. Aromatics show plenty of honey, white pepper, and a range of tree fruits from the initial pour. Nicely toasty and rounded malt presence, and the yeast character is lemony while providing peppery, saison-like vibes to this beer throughout. Lightly sweet almond and vanilla notes add further depth. Medium-full to full in body, there is plenty of accentuated golden malty sweetness and honeyed notes from the start. But there's also some really nice bitterness here courtesy the Magnum and Hersbrucker hop additions: herbaceous, minerally, and providing a subtle underpinning that results in a solid balance to this beer's construction overall. Alcohol stays nicely tucked away throughout. The expressive yeast offers notes of white pepper and clove, which work well alongside additional core notes of almond and hints of vanilla. There's a lasting finish of pepper, toasty malts, and a lingering herbal bitterness.