Golden Sour + Dry Hop (Rare Beer Club Exclusive)
Westbound & Down Brewing Company (Idaho Springs, CO)
[Barrel Aged Golden Sour Ale Dry-Hopped w/ Nelson Sauvin – 6.2% ABV]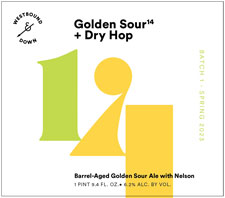 Westbound & Down is based in the historic town of Idaho Springs, Colorado, in Clear Creek County. The brewery was founded back in 2015 by a group of friends who wanted to start a brewery making high-quality beverages with deep Colorado roots. 2019 really put them on the map when they took home two silver medals at the GABF for their Westbound Double IPA (using Vic Secret, Galaxy, Mosaic, and Cryo Mosaic hops) in the super-competitive Imperial India Pale Ale category, and Double Barrel Louie (a barrel-aged English-style barleywine aged in port-finished rye barrels and finished in Breckenridge bourbon barrels on whiskey-soaked peaches) in the Wood- and Barrel-Aged Strong Beer category. The brewery was also named the 2019 GABF's Midsize Brewpub of the Year. Production tops out at just 1,560 barrels of ale each year.
This month, we're pleased to bring our members Westbound & Down's Golden Sour + Dry Hop, which is being exclusively released through the Rare Beer Club outside of a limited amount available at their brewpub. The beer is a blend of 18 and 24 month old golden sour ales aged in a variety of red wine puncheons and dry-hopped with Nelson Sauvin. Pouring a faintly hazy deep golden amber, this brew offers up a delightful combination of fruity, floral, funky, and citrusy aromas, complemented by inviting souring notes. With tart acidity, the flavor profile is complex and refreshing. Grapefruit and tangerine remain in a more subtle tone, but tropical fruit notes, combined with stone fruit, really shine. Hints of passionfruit, apricot, and yellow plum lead into lightly grapey flavors, which in turn are supported by a good amount of barrel funk and light malt. Light field herbs also come into play as do citrus blossoms and light grassy notes. The barrel aging brings out a dry earthiness and a bit of tannin, adding structure and depth. Medium bodied and effervescent, Golden Sour + Dry Hop offers a long finish with tartness and a touch of bitterness lingering on.
Barrel Aged Standhope Doppelbock (Rare Beer Club Exclusive)
Sawtooth Brewery (Hailey, ID)
[Dark Lager aged in Pinot Noir/Whiskey Barrels – 8.0% ABV]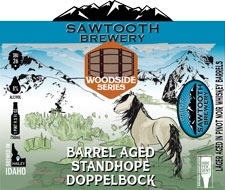 Sawtooth brewery was established in 2011 by friends Paul Holle and Kevin Jones, who have dedicated themselves to brewing locally inspired beers that reflect the beauty of the recreational and wilderness areas of Sun Valley, Idaho. Paul brought his extensive home brewing experience while Kevin added his business acumen to make Sawtooth the leader in the region's craft beer culture that it is today. They put their passion to work opening the Public House in Ketchum and the Hailey Brewery and Taproom, plus offering catering, running the Outpost Food Truck, and an eight-tap draft trailer. Their success has led them to produce over 1,000 barrels of delicious craft beer per year and expand their distribution throughout Idaho.
We're excited to have the opportunity to bring you an intriguing beer this month from Sawtooth's limited-run Woodside Series. The Barrel Aged Standhope Doppelbock is being offered only through the Rare Beer Club, with limited amounts available at Sawtooth's Taphouse and Public House. The beer is a wonderful German-style double bock lager that was uniquely aged in Tonnellerie Ô French Oak barrels which had previously been filled first with California Pinot Noir, then with Westward American Single Malt Whiskey for two years, before maturing Sawtooth's Standhope Doppelbock for 11 months in Hailey, Idaho's dynamic temperature environment.
In the aroma, this deep reddish amber brown brew offers us rich toasty caramel, toffee, hints of malt balls and chocolate, with some jammy berries, charred vanilla, and sweet smoke. Hints of candied orange peel appear with warmth. In the flavor: rich caramel with a supporting cast of vanilla, chocolate, and malt. The toasty French oak accentuates the Pinot Noir flavors of ripe and jammy strawberry, crushed red currants, and bramble-like blackberry, and provides a wide platform for the whiskey, which doesn't overpower the base beer, only lifts it and drives the flavors forward. We encounter notes of brown sugar, dried dates and figs, hints of leather, slight herbal bitterness, and hints of candied citrus. This beer is smooth, creamy, warm and inviting, with lots of nuances from start to finish.