The Whole Sum Parts. (RBC Exclusive – Pints for Prostates Collaboration)
Garden Path Fermentation — Burlington, Washington
[Hoppy Blended Amber Ale ("A Skagitonian Montage" blend of four beers) - 5.3% ABV]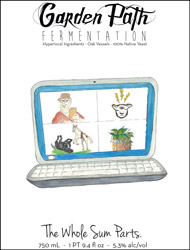 Founders Ron Extract and Amber Watts may be familiar names to some of you, as both are coming from positions at Jester King Brewery in Austin, Texas. The pair wanted to realize a brewery with their own unique vision at the core, and Skagit Valley has proven to be optimal for them realizing the kind of hyperlocal, native-yeast-driven brewery they wanted to build. Everything that Garden Path does is typically blended to taste, with batches often separated into different fermentation vessels before being re-blended afterwards.
For our annual collaboration with the Pints for Prostates organization, we've worked with Garden Path on a very special beer for this Rare Beer Club exclusive. This is a four beer blend, that falls broadly within the saison and bière de garde tradition. The inclusion of Ron's Not Bitter., the brewery's riff on a traditional English bitter, in combination with Amber Dreams of Electric Sheep., their take on an amber bière de garde, The Little Horse Around., a hoppy table saison, and a single barrel that was aggressively dry-hopped with Ekuanot hops, make this blend especially unique and enjoyable.
The Whole Sum Parts. pours a deep golden-amber hue. An immediate honeyed-malt aroma brings with it some of the fruit and herbaceous character of the Ekuanot hops, as well as the subtle funk and spice from Garden Path's native yeast. We found berries and fresh apples upfront, along with lightly tart citruses and hints of melon and eucalyptus. Expressive fruit and bitter herbs throughout this beer.
This dry-hopped, blended beer from Garden Path proves to be quite substantial overall: with firm but delicate underlying bitterness. Its bitterness and subtle acidity (plus barrel impacts) provide much of the key underlying structure. There's firm fruit, subtle tropical notes, plus layered bitterness and blended character that takes this beer well beyond one's normal expectations for an amber ale. Subtle acidity upfront is complemented by the expansive, herbal impacts from the Ekuanot hop, appearing almost lemon-lime in context, with engagingly bitter herbs.
Pinot Noir Barrel Aged Scotch Silly
Brasserie De Silly — Silly, Wallonia, Belgium
[Strong Scotch Ale aged in Pinot Noir barrels - 10% ABV]

Belgium's historic Brasserie de Silly dates back six generations. The brewery was founded all the way back in 1850, in the small village of Silly, 25 miles southwest of Brussels. Brasserie de Silly remains family-owned and their traditional, high-quality techniques and ingredients remain of the utmost importance, as demand for this Belgian brewery's classic beers continue to grow worldwide. As the brewery puts it: "Brewing at Brasserie de Silly has not changed substantially since 1850-the process is still very traditional." U.S. availability of this month's featured selection from Brasserie de Silly-an incredible Scotch ale aged in Pinot Noir barrels-was particularly small, with 2020's allocation expected to be limited to Rare Beer Club members.
Each year, a limited barrel-aged offering of the brewery's famous Scotch Silly ale gets aged in a particular type of barrel, the variety of which varies each time. We have recently seen the likes of Bourbon-, Bordeaux-, and Cognac-barrel-aged versions. But this latest one, aged in Pinot Noir barrels, was something special. It combines the rich, caramelly impact of its Scotch Silly base with fruity, vinous counterpoints from that residual barrel character.
For fellow fans of Pinot Noir, there's a lot of familiar elements to dig into in this release, as bright red fruit and plum emerge immediately from the aromatics. Plus, the initial pour itself is a vibrant, deep garnet, with golden-brown edges and an off-white edging of resilient foam. There's also some firm, engaging oak presence here, with notes of vanilla and almond and toast throughout-even a nudge of structure from tannins. But that delicious base beer is still never forgotten, and rounding out the barrel complexity is a velvety, caramelized base of the Scotch Silly, adding mellowing notes of sweeter caramel, leather, and generous toffee.
The aromatics here are generous in fruit and barrel elements, with tempered cherry and deep berry notes mixing with that oaky interior of Pinot Noir barrels: lightly charred, but mellowed by those above vanilla-almond notes. The nose of this Pinot-influenced Scotch ale is smooth and super-friendly. It's incredibly easy-drinking for the amount of stuff going on here-with smooth texture, an effervescent underpinning of bubbles, and just a touch of warming, vinous alcohol making everything feel a bit more lean. Even beyond the dense aromatics, the flavor takes that cherry/red-fruit scale and seems to expand it in a huge way, bringing in notes of strawberries, fruit leather, candied oranges-even sweet, rich dates.