Two Rivers Blanc (Rare Beer Club Exclusive)
Logsdon Farmhouse Ales — Washougal, Washington
[Tart Farmhouse Ale w/ Riesling & Chardonnay Grapes - 8% ABV]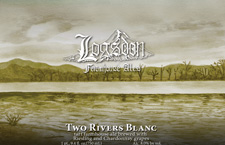 Founded by David Logsdon and Charles Porter back in 2009 in Hood River, Oregon, Logsdon Farmhouse Ales quickly became known for their skill producing rustic, yeast-driven, farmhouse-style ales, which was no surprise given David was also founder of Wyeast Laboratories, Inc., one of the country's main yeast companies, where he worked for 25 years before starting a brewery of his own. When David retired in 2015, John Plutshack and Jodie Ayura assumed the management duties, and the successes have continued. Logsdon has taken home numerous medals from the Great American Beer Festival, Oregon Beer Awards, and World Beer Cup. In 2018, Logsdon moved into a space out in Washougal, Washington (they'll be moving into a new Portland location this summer), which offered them the opportunity to expand their range while also producing farmhouse-style ales year round.
Logsdon's Two Rivers Blanc is a tart, blended farmhouse ale-and it's one of our absolute favorite Logsdon releases to date. It features a blend of various saisons and saison-like beers that have been aged with 1.5 pounds per gallon of Riesling and Chardonnay grapes. On the palate, there are lots of lively, effervescent bubbles, with that initial sip packed with intense, tangy, tart citruses, highlighting lemon and lime zest and sweet, rounded grape notes from the special additions. Those Riesling and Chardonnay grapes offer honeyed, apricot-like fruitiness throughout, alongside grapefruit, subtle salinity, and toasty texture from the time spent in oak. Nicely blended, packed with layered fruit and white-wine complexity, while keeping on the lightly sweet side of things courtesy its mixed-culture fermentation. Saison-like peppery and sourdough notes provide welcome bitterness and perceived dryness. Lasting finish of lemon-lime tartness, toasty breadiness, pepper, and lemon zest. A delicious, refreshing Logsdon beer, packed with citrus and grape complexity. Besides a handful of kegs, and a few cases heading to Denmark and China, bottles of Two Rivers Blanc will be exclusively available through the Rare Beer Club.
Tropical Cloudlifter
Zipline Brewing Company — Lincoln, Nebraska
[Hazy IPA w/ Passion Fruit & Pineapple - 8% ABV]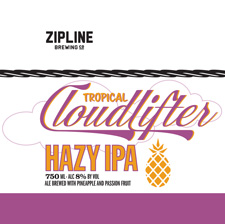 Since opening in 2012, Zipline Brewing Company has quickly grown to the full capacity of its production system. While the brewery started with founder Marcus Powers as the company's lone employee, Zipline has since grown to about 40 employees and a distribution focused in the Midwest. This is our second feature of Zipline, and we wanted to get the heart of what these folks are up to. A huge focus for the brewery is their evolving IPA lineup, and some of our Rare Beer Club members will fondly recall their exceptional DAAANG! IPA, which we featured a few years back. This month we've managed to snag their limited Tropical Cloudlifter (packaged in 750s specially for the club), which is a slightly higher-ABV riff on their popular Cloudlifter hazy IPA, with passion fruit and pineapple added to complement that base beer's delicious focus on pineapple and orange from its hops.
Tropical Cloudlifter hazy IPA is a one-time beer that's a slightly higher ABV version of their year-round Cloudlifter hazy IPA dosed with loads of passionfruit and pineapple. It's made with Sultana, Mosaic, and Amarillo hops, as well as pilsner malt, wheat, and oats. The special additions serve to further enhance the juicy, pineapple and orange-y character of the base beer. Lots of tropical, juicy elements lead in the aromatics, highlighting fresh pineapple, oranges, and the light tang of passionfruit, with nice grassiness at the edges. This is a nicely bitter hazy IPA emphasizing vibrant core orange and pineapple notes, with ripe red fruits and berries alongside welcome bitterness that's piney, fruity, and hugely satisfying. The 8% ABV stays well tucked away behind everything, lightly vinous and fruity, and overall Tropical Cloudlifter stays exceptionally smooth. Its hop presence is impactful throughout, as lemony and bright orange notes play out alongside the secondary impact of the passion fruit; tropical notes extend into fruit expressions like papaya and guava. Beyond our allocations for the Rare Beer Club, Tropical Cloudlifter should see very limited distribution across Zipline's six-state distribution footprint.