Silver Lining (RBC Exclusive)
Brau Brothers Brewing Company — Marshall, Minnesota
[Imperial Milkshake IPA w/ Mango - 8.9% ABV]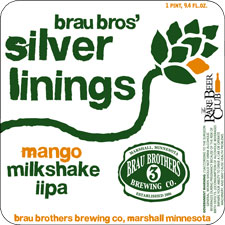 Straight out of college in 1999, Dustin Brau and his wife, Mary, bought a restaurant in the small town of Lucan, MN, which they named BrauHaus. The duo decided to begin offering their very own BrauHaus beers made on-premises, thus turning their homebrewing hobby into a legitimate microbrewery. Their tiny 2-barrel system was barely enough to keep up with the demand of their restaurant, so in 2006 they moved their beer production to a larger building in Lucan. Dustin's brothers, Trevor and Brady, joined the enterprise, along with their father, Dale. Fast forward to the present day, and Brau Brothers enjoys 37,000 square feet of space in a new facility in Marshall, MN, 3,500 of which is devoted to barrel-aging. It's been three years since we've featured these talented brewers, so we're excited to have had the chance to work with them again this month - this time brining you an exclusive brew available only through the club and the brewery's tasting room.
Silver Lining uses two types of oats for enhanced body and mouthfeel, along with vanilla, lactose, and mango. The beer's hop blend incorporates the new Samba hops, which were specifically developed as a heavily tropical hop for hazy and milkshake IPAs. We sample a ton of IPAs, and we can assure you the aromatics on this one are something else. The fresh, tropical character is just huge, accompanied by lychee and pear and even a bit of mint along the edges. This beer's fresh, vibrant, loaded up with fruit. And that sweet mango is just turned up to a whole other level, bringing mouthwatering tropical notes accompanied by pine and pith, with a touch of caramelized sugars and cotton candy. The overall mouthfeel is just wonderfully rounded, plush, and fruit-packed throughout. Alongside core expressions of mango, pineapple and pear, there's still tons of additional fruit: passionfruit, papaya, tangerine… A minimal show of malt throughout, staying mostly tucked away aside from the light candied orange at the core.
Alice
Green Bench Brewing Company — St. Petersburg, Florida
[Golden Sour Ale fermented in an Oak Foeder & aged in Wine Barrels - 5.5% ABV]
Green Bench owners Steven Duffy, Nathan Stonecipher, and Khris Johnson started up Green Bench, Saint Petersburg's first microbrewery, back in 2013. Green Bench currently produces around 12,000 barrels each year, and in early 2019, the brewery opened Webb's City Cellar, a second tasting room that also includes a barrel-aging facility for producing their mixed-culture sour and wild ales. We're pleased to be able to offer you one of these beers this month: Alice, a one-off creation from Green Bench which has only seen about 25 cases of distribution over the past year. And, while it's possible the brewery could bring it back at some point, they're pretty sure the base beer is completely gone by now, such that the earliest next release would be 2021.
We've gotten to sample some amazing IPAs and complex sour ales from Green Bench over the years, but Alice stood out as arguably the best release from the Webb's City Cellar barrel-aging program we've sampled to date. There's a vibrantly tart aroma right from the beginning, with impressions of lemon, ripe tangerine, and a hint of salty cheese, with some subtly funky undertones that had us thinking of lambic. The impact of the foeder and wine barrels provides layered oak, with vanilla and almond supporting the core citrus and tropical fruits. On the palate: firm acidity and citrus from the start, with clear expression of lemon curd and tangerine. This is bracingly tart with that first sip, but quickly expands into all different areas, packed with complex underpinnings of toasty oak, vanilla, almond, custard, and pear. There's a ton going on here in terms of oak, wine-barrel impact, and tannic structure. Modest carbonation and acidity keep this seeming quite lean, but still properly rounded overall. There's some subtle lambic-like funk throughout, accompanied by bunches of peaches, apricots, and pith. A beautiful, expansive golden sour ale from one of the best breweries in Florida.