Grandma's Coffee Cake Imperial Porter [RBC Exclusive]
Maui Brewing Company — Kihei, Maui, Hawaii
[Imperial Porter w/ Coffee, Cinnamon, Brown Sugar, Lactose, and Grandma's Coffee Cake - 9.0% ABV]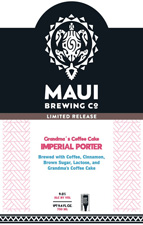 Maui Brewing Co. got its start back in 2005, starting as a single brewpub and small restaurant making its own beer locally. We've been fans of Maui since we first started seeing their beer here stateside. The coconut porter in particular always stood out as being something special, and this month we've got something that's also a porter… but also significantly bigger. As a Rare Beer Club exclusive this month, we're pleased to offer Maui Brewing's Grandma's Coffee Cake Imperial Porter, which will be available exclusively through the Rare Beer Club and the brewery's tasting rooms. It's one of the best beers we've tried all year, and we can't wait to show off what Maui's put together for our club members.
Brewed with Maui-roasted Origin Coffee, this is one of the most satisfying coffee beers we've had in a long while. And it also incorporates another famous local institution on Maui: Grandma's Coffee House, which was founded over a century ago and is well-known for their incredible pastries. Maui literally added Grandma's coffee cakes to the mash, as well as some subtler additions of cinnamon, vanilla, and brown sugar. The aromatics on this are huge from the initial pour, leading with expressive cinnamon and vanilla-tinged coffee cake. In the flavor, the imperial porter base brings substantial milk chocolate, roast, and subtle licorice. Nicely integrated CO2 provides some lively texture to this full-bodied imperial porter, with generous roasted coffee and cinnamon and milk-chocolate notes leading the charge. The porter base serves as a firm foundation, with the coffee cake and other special additions adding in vanilla and pastry-like flourishes. Sweetness is kept in check by the roast and bitter specialty malts. Overall, it's a perfect showcase for both the Origin Coffee and the coffee-cake additions, and even that underlying imperial porter gets to show off its stuff: rich milk and dark chocolate, effortless nuttiness and roast, all syncing up well with the specialty additions.
Scaldis Noël
Brasserie Dubuisson — Pipaix, Wallonia, Belgium
[Strong Dark Belgian Ale - 12.0% ABV]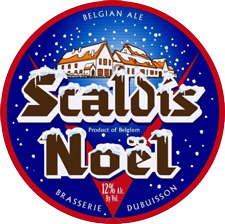 Brasserie Dubuisson is the oldest brewery in Wallonia, and has been brewing continuously since 1769. Today led by Hugues Dubuisson, the eighth-generation family member to direct the business, Brasserie Dubuisson is still located in the province of Hainaut, the richest agricultural region in Belgium. Notably, Hugues co-founded the Belgian Family Brewers Guild, dedicated to highlighting the contributions made by independent brewers, and making it easier for all consumers to identify authentic independent Belgian brews.
Scaldis Noël is one of our favorite Belgian winter beers, brewed especially for the holidays, and was first introduced to the world all the way back in 1991. This famous Belgian brewery has seen relatively sparse U.S. distribution over the past 10 years after their previous importer shut down, and only about 250 cases of Scaldis Noël ended up being sold across the U.S. in 2019. We think this classic winter beer deserves more regard.
Scaldis Noël pours a deep, honey-golden amber capped by firm tan foam. Generous aromatics lead with nutty caramel, cola, and sweet banana. Touches of phenolic, pepper- and clove-like spices throughout-but all the spicing seems to be coming from Belgian yeast expression, rather than any sort of special additions. A deftly executed aroma, with the periphery offering hints of pineapple and dried dark fruit. Nicely rounded expression from the first sip, with subtle underpinning carbonation from the bottle conditioning. Vibrant red fruitiness as well as significant caramel and cola lead the first impact. The Belgian yeast character is beautifully developed and brings forth bananas, some red-apple fruitiness, and clove-like spice. Given a bit warmth, that central caramelization and fruit expression (cherries, dark berries, etc.) continue to build with generous sherry-like notes and dense toffee and nutty core malt character. A vibrant amber-malt expression, layered and velvety smooth, permeates every aspect, while the carbonation keeps it feeling quite nimble, as does the subtle, vinous warmth. The long-lasting finish continues the dense fruit expression, cherry especially, alongside lingering toastiness and peppery clove from the yeast.