Imperial Satan's Pony (2021 Pints for Prostates Benefit Brew)
South Street Brewery — Charlottesville, Virginia
[Bourbon-Barrel-Aged Imperial Red Ale - 9% ABV]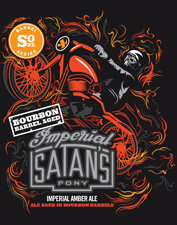 For our annual collaboration with the Pints for Prostates organization, we've worked with the folks over at South Street Brewery to bring our members Imperial Satan's Pony ($1 per bottle sold will go to Pints for Prostates on behalf of Rare Beer Club and South Street). South Street Brewery holds an extensive tradition as Charlottesville's longest-running brewery and pub, and they had new life breathed into the operation when the brewery was purchased in 2014 by Blue Mountain Brewery. Blue Mountain Brewery in Virginia has already made quite a name for itself within Virginia's craft beer scene, including bringing home eight Great American Beer Festival medals since opening up in 2007. Master Brewer Taylor Smack's barrel-aging experience stretches way back, including a stint at Goose Island that started in 2000, where he was in charge of producing their iconic Bourbon County Stout. We're excited to bring you South Street's Imperial Satan's Pony - a Bourbon-barrel-aged, amped up version of the brewery's Satan's Pony amber ale. Outside of the club, this beer will see limited distribution only in Virginia.
The original Satan's Pony amber ale is one of Virginia's longest-running beers, and its imperial counterpart uses twice the malt bill and twice the hops, while aging the outcome for two months in freshly emptied bourbon barrels. Very much into barleywine-like territory, but especially smooth overall. Generous aromatics of dried dark fruits (dates, raisins…) and caramels lead, though this stays fresh and vibrant overall. Plenty of plush red fruits and cola character, plus hints of maple syrup and an enjoyable, satisfying bourbon presence that never overwhelms the base beer. Burnt sugars, spicy malts, and some modest char from the barrel. It's exceptionally smooth on the palate, emphasizing a robust, toasty amber core and the streamlined, focused impact of its time spent in bourbon barrels. Ripe red fruitiness, lightly salted caramel, a hint of high-ABV Zinfandel… We unpacked enormous amounts of core maltiness overall, with pinpoint texture and effortless drinkability. Its bourbon-barrel impact never oversteps, offering spicy, toasty, oaky primary notes that work hand in hand with the imperial red base.
Panil Barriquée (2016 vintage)
Birrificio Torrechiara - Torrechiara, Parma, Italy
[Oak-Aged Sour Red Ale - 8% ABV]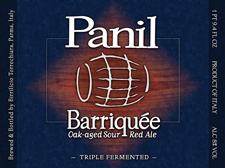 In 2001, Renzo Losi persuaded his father to let him put his homebrewing talents to work at their family winery in Torrechiara, Italy, and he's been producing game-changing beers under the name Panil ever since. According to Renzo, he is the first Italian brewer in modern times to use barrel fermentation. The result is an interpretation of Flemish Red Ale brewed in the style of Rodenbach that has earned critical acclaim as a truly remarkable beer. This is one of the most authentic versions of the style available from Europe, and to our palates, easily one of the best. Only a couple hundred cases of Panil Barriquée typically make it stateside each year, and this lingering special allocation of their 2016 vintage has been aged to perfection.
Panil Barriquée is an oak-aged sour ale that's triple-fermented: once in stainless steel, then for 3 months in used Cognac barrels from Bordeaux, and, finally, in the very bottle you now have. Pouring a dark, clear amber, expect a vibrant, vinegar-like and lemony acidity to strike the nose; one gets immediate refreshing tartness. Deep plum and unripe peaches play a key role, as do SweeTarts candy, faint impressions of oak and smoke, and subtle spiciness. In the flavor, that firm tartness comes through on the palate, lean and focused. This feels leaner, more focused, and more acidic than fresh bottles we've popped recently. There are biscuity notes in that malt framework, with fruity, vinous qualities (think Chianti), black raspberries, suggestions of clove, and some spicy plum notes. A wonderful complexity comes from the cognac-barrel aging, and this imparts, as one might imagine, very subtle notes of cognac. As it warms, distinct notes of kaffir limes emerge, supplemented by flashes of sour cherry and berries. Giving a good swirl conjures up notes of bitter oranges. It finishes with a wine-like flourish of grapes and tannic, oaky complexity. Look also for a ghostlike impression of stiff liquor along with mild vanilla notes and dry, woody oak character. We've sampled many vintages over the years, and this 2016 is truly exceptional five years on.