The Garden Paths Led to Flowered
Garden Path Fermentation — Skagit Valley, WA
[Hoppy Blonde Skagitonian Ale bottle-conditioned w/ Blackberry Honey - 7.3% ABV]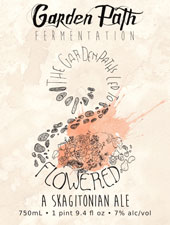 Garden Path's founders Ron Extract and Amber Watts may be familiar names to some of you, as both are coming from positions at Jester King Brewery in Austin, TX. The pair wanted to realize a brewery with their own unique vision at the core, and Skagit Valley has proven to be optimal for the kind of hyperlocal, native-yeast-driven brewery they wanted to build. Additionally, they use open fermentation and oak foeders, and everything they offer is typically blended to taste, with batches often separated into different fermentation vessels before being re-blended afterwards.
The Garden Paths Led to Flowered is a deftly executed hoppy blonde ale brewed with local Skagit Valley ingredients and the brewery's house culture of native Saccharomyces. It combines two batches fermented together in a open-top foeder, then split to be aged in either an oak puncheon or stainless steel, before being re-blended to taste. Inspired by dry, delicately bitter Belgian ales like Brouwerij De Ranke's XX Bitter, this beer's brewed with Skagit Valley Malting pilsner malt and white wheat, and dry-hopped with Willamette and Cashmere hops. Lightly hazy and honeyed yellow, this lush brew is a brilliantly streamlined hoppy blonde: filled with herbal and grassy hops, and expanded on by the softly bitter pepper and mellow clove phenolics of its yeast. There's subtle oak, with vanilla and toast. There are waves of evolving bitterness, alongside secondary notes from minerals to pepper, to hints of red fruits. Like all Garden Path beers, it has seen only a slight degree of distribution, predominantly concentrated in Washington. Our Rare Beer Club members will get first access to the upcoming release.
Rodenbach Vintage 2016
Brouwerij Rodenbach — Roeselare, Belgium
[Flanders Red Ale aged in Oak Foeders - 7.0% ABV]

There is perhaps no more famous brewery in all Belgium than Brouwerij Rodenbach, the pioneer and benchmark of Flanders Red Ale, considered by many to be the most vinous, or wine-like, of all beer styles. The standard Rodenbach is a blend of approximately 75% fresh and 25% 2-year aged ale, while Rodenbach Grand Cru incorporates much more aged beer (approx. 66%). Rodenbach's annual Vintage releases are 100% aged beer, matured at least 2 years, and the entire release is drawn from a single large oak foedre (whose number appears on the bottle), many of which are upwards of 100 years old. Production is, therefore, very limited. We're thrilled to have been able to work with Rodenbach to secure enough bottles for our Rare Beer Club members, and at least one bottle in every shipment has been personally signed by brewmaster Rudi Ghequire.
This world-class example from West Flanders pours a deep reddish brown that's pretty clear, but with an intensity of color that speaks of its barrel time. Tart cherries and fresh apple land as initial aromatics, leading a sweet-tart impact of generous fruitiness and underlying caramel. The richness of cherries is a key highlight in the aroma: brilliantly ripe, lightly boozy, like the pinnacle of cherry beer. Fruit intensity gets softly tempered by the presence of oak, with light vanilla and almond. On the palate, it's velvety, with a delicate underpinning of tiny bubbles as waves of rich fruit-raspberry, cherry, strawberry, currant-build alongside just enough of a rounded caramel and candied malt sweetness. Though there are many flavor parallels to Oloroso sherry, a vibrant carbonation and superb ripeness of fruit make this an absolute pleasure to drink. Rich, honeyed malts offer up notes approximating the juiciest of Sauternes and German Reisling options. It's sweet-tart perfection.