Monteur de Houblon (RBC Exclusive)
Yazoo Brewing Company — Nashville, Tennessee
[Barrel-Aged Dry-Hopped Saison - 6.7% ABV]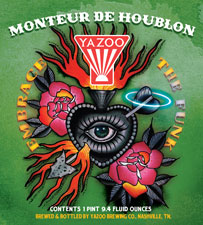 Founder and brewmaster, Linus Hall, opened Yazoo in Nashville in October of 2003, and picked up a GABF Gold medal for their Hefeweizen just a year later. Bottling began in 2005, though much of their production (and particularly, some of the low-volume special releases in their Embrace The Funk lineup) remain keg-only. Yazoo started up their Embrace The Funk series in mid-2012, bringing in local writer and wild-beer specialist, Brandon Jones, to focus on wild yeasts, funky bacteria, and a whole range of barrel treatments. We're very excited to be able to share their most recent Embrace The Funk release with our RBC members as an exclusive offering just for the Club.
Monteur de Houblon is a barrel-aged, dry-hopped saison aged for 10-ish months in neutral white oak barrels that had previously held the brewery's grisette, and has a bit of the brewery's foudre-aged sour blonde blended in (around 20% of the total). It's dry-hopped with Citra, Mosaic and Amarillo, and even employs some tangerine peel. The result is super complex, brilliantly citrusy and funky, with firm salinity and a well-layered acidic structure. Modest carbonation and welcoming oak-barrel character provide a great framework for digging in, with subtle oak and almond and a touch of light tannins, while a core saison framework of white pepper and sourdough add more layers. The Citra and Mosaic fit in seamlessly with the citrus-focused acidity, providing additional notes of grapefruit and tart passion fruit and mango elements that take that tart citrus into the stratosphere. This is a deftly composed barrel-aged saison that's dry, zippy and bright. We absolutely love barrel-aged saisons here at The Rare Beer Club, and Yazoo's Monteur de Houblon is one of the tastiest we've been lucky enough to sample.
Vignette (RBC Exclusive)
Dovetail Brewery — Chicago, Illinois
[Spontaneously Fermented Blended Sour Ale (lambic/gueuze style, aged up to 3 years in oak) - 6.5% ABV]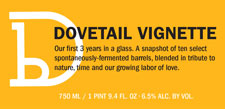 Not long after opening in June 2016, Dovetail was named one of Beer Advocate's Best New U.S. Breweries. Founders Bill Wesselink and Hagen Dost are both from Chicago, but first met while working on their Master Brewer Certifications at Doemens Institute in Munich. Not surprisingly, they share an appreciation for the traditional brewing methods of Europe. As such, Dovetail has built a highly customized brewhouse toward these ends, including their copper kettle from the millennium-plus-old Weihenstephan brewery, a custom-built and -designed coolship, and custom water processing and malt handling systems.
As a Rare Beer Club exclusive offering this month, we've managed to secure bottles of the brewery's Vignette, which combines ten spontaneously fermented barrels that vary in age, up to 3 years, in the tradition of Belgian Gueuueze. The aromatics are full-on gueuze from the start, with tart lemons and grapefruit, a mélange of sourdough and expressive funk, just a bit of salinity around the edges, hints of tangerine, and very subtle oaky vanilla from its time in barrels. Flavorwise: Lots of vibrantly tart fresh lemons and assorted citrus, with complex tartness and a toasty underpinning of subtle white pepper and sourdough. It could very well pass for traditional Belgian gueuze at first sip, firmly funky and lemony and sour, but those secondary notes of sourdough and pepper, even some limes and tangerine, bring Vignette into a very unique expression of blended, spontaneously fermented beer. It avoids an onslaught of sourness in favor of the superb drinkability of great gueuze, while a subtle blend of less-traditional citrus character and yeast presence fits in seamlessly here. It's incredibly well blended for a U.S. take on gueuze, and would hold its own beside some of our fav Belgians.