Scaldis Noel
Brasserie Dubuisson – Pipaix, Belgium
[Strong Dark Belgian Holiday Ale – 12% ABV]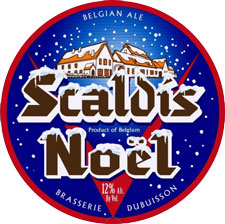 Brasserie Dubuisson has been brewing continuously since 1769, when it was founded as the brewery of the estate of Domaine de Ghyssegnies, across the road from its present location. To put that into context, that was before Belgium was a country, and before the famed Trappist breweries of Belgium. It has been in the Dubuisson family since at least the 1890s. Today led by Hugues Dubuisson, the eighth-generation family member to direct the business, Brasserie Dubuisson is still located in the province of Hainaut, the richest agricultural region in Belgium. It comes as little surprise that the Scaldis beers tend to feature complex and fresh orchard-fruit notes, as well as crisp, nutty maltiness.
Scaldis Noël is one of our favorite Belgian winter beers and the Rare Beer Club has obtained most of the cases imported for 2023, making it very hard to come by. Scaldis Noël pours a deep, honey-golden amber in the glass, capped by firm tan foam. It showed touches of phenolic, pepper- and clove-like spices throughout— with all the spicing coming from Belgian yeast expression, rather than any sort of special additions. The first sip was nicely rounded, with subtle underpinning carbonation from the bottle conditioning. Vibrant red fruitiness as well as significant caramel and cola lead the first impact. The Belgian yeast character is beautifully developed and brings forth bananas, some red-apple fruitiness, and clove-like spice that contributes some significant welcome bitterness overall, balancing out this beer's sweeter elements. We found generous sherry-like notes present, along with dense toffee and nutty core malt character. A vibrant amber-malt expression permeates every aspect of this, while the underpinning of spritzy carbonation from being refermented in the bottle keeps it feeling quite nimble, as does the subtle, vinous warmth courtesy this beer's 12% ABV. The long-lasting finish continues the dense fruit expression, cherry especially, alongside lingering toastiness and peppery clove from the yeast. A classic Belgian holiday release, this beer just keeps on going.
Straffe Hendrik Tripel
Brouwerij De Halve Maan – Bruges, Belgium
[Belgian Tripel Ale – 9% ABV]

The current location where Brouwerij De Halve Maan sits has been in operation as a brewery for five centuries. Leon Maes, aka Henri I, became the owner of Brouwerij De Halve Maan in 1856. After many "Hendriks," fifth generation brewer Veronique Maes, being one of the first female brewers in Belgium at that time, enters in 1981. That same year, being dedicated to making exceptional beer which captured the heritage and history of the brewery, she brewed the first Straffe Hendrik, an homage to all the brewers before her. Straffe Hendrik became the most important beer the brewery made and set the course for the next four decades and beyond. We're proud to bring you a very special beer from a world class brewery and one of our favorites, Brouwerij De Halve Maan, the Straffe Hendrik Tripel. This is a very lightly distributed beer throughout the United States and the Rare Beer Club's allocation is the largest portion of what was imported for 2023
We enjoyed the deep gold-to-amber hue and its dense, creamy, long-lasting head made of tightly packed bubbles. The aromas were of fruity esters including banana, apple, pear, and quince, with candied orange peel, lemon zest, apricot, and ripe peach. Spice notes emerged with clove and white pepper followed by coriander, ginger, a hint of anise, bubblegum, and honey. The aroma of Saaz and Styrian hops and lightly toasty caramel malts, give a well-rounded and balanced impression. The first sip showed toasted bread, hints of white cherry, and golden raisins, adding to the layers unveiled in this beer. Each sip confirmed the aromas as pronounced flavors. The Straffe Hendrik Tripel was very well balanced between the semi-sweet malts and the contrasting bitterness of Saaz and Styrian hops, which also contributed their own earthy, spicy, and herbal flavors. This beer exhibits a round mouthfeel and has a rich, full-bodied texture, with a luxurious and creamy mousse. Its finish is long, smooth, and delicately layered leaving our palates ready for the next sip.