Adriaen Brouwer Oaked (Rare Beer Club Exclusive)
Brouwerij Roman — Oudenaarde, Belgium
[Oak-aged Belgian Strong Ale (aged in Sherry & Whisky barrels) - 10% ABV]

Brouwerij Roman, with brewing roots tracing back at least as far as 1545, is the oldest family-owned brewery in Belgium and a member of the Belgian Family Brewers association. From the founder, Joos Roman, to the current owners, Carlo and Lode Roman, 14 generations of the Roman family have crafted traditional Belgian ales in Oudenaarde, Flanders. We've been fans of this brewery for many years, and are excited to have the opportunity to bring you their sherry and whisky barrel aged Adriaen Brouwer Oaked, a very rare sight on this side of the pond. Only about 50 330mL cases of this were sold across a handful of Florida markets over the past couple years. This 750mL packaging of Oaked was created exclusively for Rare Beer Club members.
Adriaen Brouwer Oaked pours a deep cola-brown color, like that of super-dark caramel, capped by some well-formed off-white foam with mousse-like texture. Mouthwatering red and dried dark fruits land first and foremost within a gorgeously oaked aroma, packed in with a multidimensional barrel character. The combination of sherry and whisky barrels offer a brilliantly warming, oak-forward impact from the start. The presence of sherry and whiskey character appears secondary, providing exceptional spirit and burnt-sugar elements.
On the palate: vastly detailed dark fruits, tons of esters, and nicely integrated clove and spice phenolics to balance, while the full-bodied mouthfeel comes through with lush, velvety texture. This brew delivers of the most compelling oak-barrel qualities of any beer we've had in a long time. Top notes of vanilla and almond proceed to open up to that berry-tinged sherry character as well as some spicy, caramelized, burnt-sugar aspects from the whisky. All of the pieces here are positioned perfectly, though: a rich, deeply oriented base beer, the nuanced impact from the sherry and whisky barrels, and harmonious integration that makes this beer a pleasure to dig into.
Kollusion (Rare Beer Club Exclusive)
Brouwerij Maenhout (w/ Boom Island Brewing Co.) — Pittem, Belgium
[Russian-style Imperial Stout w/ Roasted Coffee Beans & Belgian Chocolate - 11% ABV]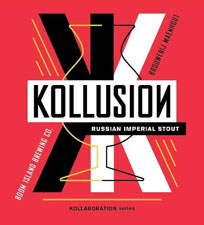 Brouwerij Maenhout is an artisanal brewery located in Pittem in the West Flanders province of Belgium. The brewery got its start in 2009, founded by Thijs Maenhout and Birgit De Rammelaere, who began with a tiny 5-hectoliter brewing system. As demand outpaced their capacity, they decided to relocate to a larger building with a larger system in 2014 and they've been growing ever since, offering Belgian-style staples, including a 6.5%-ABV blonde ale called Blinde Mol, an 8.5% tripel called Koeketiene, and one-off releases including saisons, witbiers, dubbels, and Belgian pale ales. This month we're excited to be able to offer our favorite of Maenhout's releases to date: an incredibly detailed imperial stout done in collaboration with Boom Island Brewing Co. based in Minnetonka, Minnesota. Until recently this beer was only available stateside in kegs in a limited number of Florida markets. We managed to get Kollusion packaged into 750mL bottles exclusively for our Rare Beer Club members.
The result of collaboration between Belgian and American breweries, Kollusion is a Russian-style imperial stout made with wheat and barley malt, as well as special additions of roasted coffee beans and Belgian chocolate. To balance, this stout further includes coriander along with Cascade and East Kent Goldings hops. Beautifully packed aromatics showcase the roasted coffee character particularly well here. Deeper dark malts, touches of caramel and burnt sugar, dense elements of chocolate and licorice. A lot of deep, serious maltiness here-black licorice, cocoa, dark berries…-but the aromatics stay super engaging and soft to land in, with hints of vanilla and marshmallow throughout.
There's a full, beautifully rounded mouthfeel, generous dark chocolates, immense levels of roasted coffee, and a smooth underpinning of caramelization. This is a very well-balanced imperial stout overall, with tons of dark maltiness and chocolate character balanced by some firm mineral and herbal hops, plus some bitterness from the dark specialty malts. The coffee character really takes this to a whole other level, with those Belgian-chocolate elements bringing everything together seamlessly.