Imperial Small Arms Dealer (RBC Exclusive)
Broken Bow Brewery — Tuckahoe, NY
[Imperial Pilsner - 8% ABV]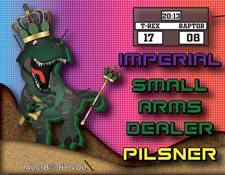 Broken Bow founder Mike LaMothe started homebrewing around 20 years ago, back in Stamford, Connecticut. The homebrewing interest sparked a business idea around building a brewery within the family, and Broken Bow Brewery opened its doors in August 2013. We've been digging everything so far from these folks, from the core Broken Auger Lager and Broken Heart Stout to their barrel-aged stuff and more potent offerings like their GABF medal winning Old Split-Foot strong ale. This month, we are able to offer up a Rare Beer Club exclusive from Broken Bow, showcasing what we think they do particularly well, with their Imperial Small Arms Dealer imperial pilsner, an amped-up take on their highly popular German-style Pilsner. It seemed a perfect high-impact summer beer from this impressive brewery in the Hudson Valley.
Broken Bow's Imperial Small Arms Dealer is a Rare Beer Club exclusive, available only to our club members and through the brewery's taproom in Tuckahoe. Aromatics definitely hint at an amplified German-style pilsner, with breadiness and crispy malt toastiness leading, along with some lemony-herbal hops. This imperial pilsner shows a medium-full body with a lively cushion of carbonation. Tiny bubbles and a slight effervescence provide welcome lift. Initial sips highlight an impactful, bracing bitterness that the aromatics didn't quite capture. Extensively toasty, bready, honey-laden notes alongside crystalline sugars form the structure of this beer, while that bitterness from the firm hop character keeps this fresh overall. While there's a layered malt character increasingly apparent as we allow this to warm, there's always welcome hop bitterness and spritzy carbonation balancing things out. A nicely-made, well-appointed imperial scale-up of their German-style pilsner, Small Arms Dealer, preserving a ton of that drinkability, balance, and crispness.
Gentle Giant (RBC Exclusive)
River Horse Brewing Company - Ewing, NJ
[Imperial Witbier w/ lemongrass & orange peel - 8% ABV]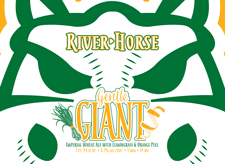 River Horse was originally founded by three brothers, who saw it through one rise and fall of the craft beer tides before it was purchased by Chris Walsh and Glenn Bernabeo in 2007. They redid all the packaging, branding and beer lineups, while keeping the original name intact. They were joined by Head Brewer Chris Rakow, who signed on around 2008 after brewing school and time at Harpoon Brewery. In 2013, they were able to move into a facility two and a half times larger than the last one. James Evans recently took on the role of header brewer in November of 2020, having been the lead brewer at 21st Amendment. River Horse has also added a canning line, as well as been developing brewery-exclusive sours and their Barrel Aged Series, expanding their range.
River Horse's limited-release Gentle Giant will be featured this month as a Rare Beer Club exclusive, only available to our club members and through the brewery's taproom. We wanted to do a big witbier with the folks at River Horse, and the end result is perfect for the summer months-coming in at 8% ABV, brewed with sweet orange peel and Citra hops, plus a firm lemongrass addition to amplify the citrus. The aromatics provide vibrant citrusy lemongrass and hints of that sweet orange peel from the beginning, presenting an expansive citrus character. The house Belgian yeast strain comes through predominantly with dry pepper and cloves, staying away from overly fruity esters. Some lively, effervescent carbonation lands with the first sip, and Gentle Giant lands heavily with a citrusy, not-super-sweet approach, following the aroma. Medium-full body, very light on the sweetness, with some nice bitterness from the hops and yeast. There's just a touch of bubble gum and caramelized sugars, plus some banana-like esters and lemon verbena. But it really gets steered by that lemongrass addition and the citrus, tropical presence of the Citra. Those two components take this imperial witbier to a whole other level, without relying upon fruity yeast esters or sweet core malts. A delicious, and crisp, imperial witbier.