Making the Turn (RBC Exclusive)
Jolly Pumpkin Artisan Ales – Dexter, Michigan
[Barrel-Aged Wild Stout with Juniper Berries and Chocolate - 6.5% ABV]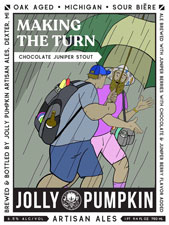 This month, we're proud to bring you a very special beer brewed exclusively for members of The Rare Beer Club by one of our favorite breweries, Jolly Pumpkin, and its founder and brewer, our friend Ron Jeffries. This is the latest in a number of Jolly Pumpkin exclusives we've had the pleasure of featuring over the years, and this one is sure to be as intriguing as ever-a mildly sour wild stout brewed with juniper berries and unsweetened chocolate that's been aged 12 months in oak barrels. This release will be available exclusively through the club, with limited amounts at the brewery's tasting room.
This wild stout was brewed with an array of specialty malts to impart deep complexity, and juniper berries to give a distinct gin-like fruitiness. It spent 12 months in oak barrels before the addition of unsweetened chocolate which added character and depth to the flavor. It's a complex beer with the aromas and flavors of a fruited and spiced chocolate stout and characteristics of a Bière Noire des Flandres. Shades of Finnish Sahti come to mind, too, but with a far darker, chocolatey, character.
Pouring an opaque, deep, dark, chocolatey brown to black, Making the Turn offers up pronounced deeply toasted and roasted aromas, along with cocoa, caramel, hints of chocolate, pronounced juniper notes, and savory wild yeast with notes of rye, citrus, and berries. Dark, rich, and earthy aromas follow, giving way to notes of black peppercorns and roasted barley. On the palate: mouthwatering tartness with savory, unsweetened chocolate, fine underlying bitterness, and opulent juniper berry. There's a concentrated and silky full bodied mouthfeel as dark chocolate bitterness with light acidity showcases the rye malt and roasted barley backbone, while the juniper berries are enveloped in roasty malt, dark coffee, and sprucy, piney flavors. It all adds up to a complex, intriguing, and extremely delicious experience.
Sucré 2014 (RBC Exclusive)
The Bruery – Placentia, California
[New American Oak Aged Old Ale - 14.5% ABV]

Once just a confusingly named, obscure little brewery from a curiously named little Southern California town, The Bruery is now known to the majority of beer geeks across the country and beyond, and needs little introduction. Since their founding, they've continued to develop their extensive barrel-aging program, launched the Bruery Terreux line of wild and sour ales, and ultimately become one of the most respected breweries in the nation. This month we're excited to have the opportunity to bring you their 6th anniversary ale from 2014, Sucré. The Rare Beer Club has exclusively procured a small number of cases of Sucré from deep within The Bruery's library and we're honored to continue our long-standing relationship with them.
Sucré's creation pays homage to the rich English-style Old Ale tradition and the solera blending method. A part of each annual anniversary ale is meticulously preserved within The Bruery's oak barrels, seamlessly blending with the forthcoming year's production. This process imparts unrivaled complexity and an evolving character that only deepens with the passage of time.
Presenting a deep amber to dark brown, Sucré delivers a wide range of malt-derived aromas co-mingled with pronounced brand-new American oak barrel notes including vanilla, caramelized brown sugar, toffee, and dark fruit, with secondary notes of molasses, plump raisins, chewy figs, luscious dates, toasted coconut, and crushed dried dill. Flavorwise, we get pronounced notes of toasted vanilla, caramelized brown sugar and toffee, hints of whipped molasses, raisins, figs, and dates. A dollop of bittering hops adds a bit of balance to the sweetness, offering a welcome hint of dried fruit blossom. Exhibiting a full-bodied mouthfeel with a creamy, finely bubbled mousse that leads to indulgent overall richness and a velvety finish, this beer is tremendously satisfying as each sip unveils a different layer of flavor. The combination of malts and use of barrels produced refined sweetness, palate coating textures, and unforgettable lasting impressions.