Who Needs an Occasion? - RBC Exclusive
Jolly Pumpkin Artisan Ales — Dexter, Michigan
[Barrel-Aged Wild Stout with Cherry and Blackberry - 8.5% ABV]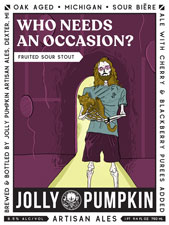 This month, we're proud to bring you a very special beer brewed exclusively for members of The Rare Beer Club by one of our favorite breweries, Jolly Pumpkin, and its founder and brewer, our friend Ron Jeffries. This is the latest in a number of Jolly Pumpkin exclusives we've had the pleasure of featuring in recent years, and this one is sure to intrigue-a mildly sour wild stout that spent nine months in oak barrels then was further aged on blackberries and cherries. This release will be available exclusively through the club and the brewery's tasting room.
Who Needs an Occasion? pours an opaque, deep, dark, chocolatey brown, with dark red hues towards the rim, capped by a tan head. Pronounced deeply toasted and roasted aromas rise from the glass as it's poured, with cocoa, caramel, and hints of coffee, followed by tart cherries and blackberries. As it settles, savory wild yeast aromas abound with dried herbs, toasted nuts, funky oak, and a slight balsamic concentration. Dark earth, mushroom, and leather appear in the background with hints of brown butter, and a slight jammyness from the cherries and blackberries. Sipping this beer, one finds a mouthwatering tartness with savory, lightly sour flavors, tangy and defined dark fruit, and underlying bitterness. The liquid is somewhat concentrated and silky, with a finely bubbled mousse, and round, full bodied mouthfeel. Dark cacao bitterness with light acidity showcases the specialty malts and yeast cultures that make this beer unique. Sour cherries and tart blackberries are enveloped in warm toasty caramel, nutty brown butter, deeply roasted grain, and crushed herbs, with a distinct woody tannin from the barrel aging.
Partridge in a Pear Tree (2020)
The Bruery — Placentia, California
[Belgian-style Quadrupel Ale w/ Spices - 11.3% ABV]
Once just a confusingly named, obscure little brewery from a curiously named little Southern California town, The Bruery is now known to the majority of beer geeks across the country and beyond, and needs little introduction. Since their founding, they've continued to develop their extensive barrel-aging program, launched the Bruery Terreux line of wild and sour ales, and ultimately become one of the most respected breweries in the nation. Starting with 2 Turtle Doves in 2009, The Rare Beer Club proudly partnered with The Bruery to bring our members every one of their annual 12 Days of Christmas releases-but, much to our regret, we missed the first beer, Partridge in a Pear Tree. This month we're very excited to correct this issue, as The Bruery has graciously offered our members an allocation of their very limited 2020 vintage re-release of Partridge in a Pear Tree. And it does not disappoint.
Inspired by a certain red wine poached pear dessert known as Poire à la Beaujolaise, this Belgian-influenced quadrupel ale features loads of brown sugar and caramels in the aromatics, alongside some expressive Belgian-style yeast character including cloves and white pepper, which melds seamlessly to the spice additions. There's a full-bodied mouthfeel with some nicely integrated carbonation. We found tons of malt-focused depth present that never feels overly heavy, and the spice along with the clove and pepper of the Belgian yeast character keep this feeling super approachable and reasonably balanced throughout. Its core caramelization and rich specialty malt additions very much satisfy on the Belgian-style quadrupel expectations, and the delicate spice additions make this extra-perfect as a holiday beer. Definitely inspired by spiced Belgian holiday ales, this American take does a beautiful job of following through on the generosity of those seasonal releases. This is exceptionally handled throughout, with a long-lasting finish of caramelization, toffee, subtle clove-focused spice, and touches of white pepper.