Mash & Coconut (2017)
The Bruery — Placentia, California
[Imperial Brown Ale aged in Bourbon Barrels w/ Toasted Coconut - 13% ABV]

The Bruery needs little introduction to many Rare Beer Club members and those among the beer cognoscenti. As a result of their unbridled creativity and skilled barrel-aging practices, The Bruery's beers are some of the most highly coveted out there. Over the years, they've continued to develop their extensive barrel-aging program, launched the Bruery Terreux line of wild and sour ales, and ultimately become one of the most respected breweries in the nation. This month, we're excited to feature a vintage selection from The Bruery's archives that we think has developed beautifully over these past few years. Brewed with around 400 pounds of toasted coconut per batch, this beer is reaching its prime right now, with that toasted coconut addition working beautifully alongside the natural coconut-like elements derived from extensive aging inside bourbon barrels.
In Mash & Coconut, the hefty addition of toasted coconut serves to amplify the coconut-like qualities derived from its long bourbon barrel aging, and the overall experience is decadent maltiness and deep coconut throughout. Generous aromatics point to brown sugar and deep caramel, with ripe red fruit and the beachside smoothness of the coconut. This lands like toasted marshmallow at times, or the top of crème brulee. On the palate: Rich coconut, brown sugar, and toffee lead, backed by ripe cherries, oak, and bourbon, with the complex caramelized sweetnesses tempered by touches of vinous, berry-tinged alcohol and oak tannins from the barrel time. A long-lasting finish leaves continued toasted coconut and dark maltiness, along with hints of oak and mineral bitterness. Beautiful, toasty ending. Our favorite sort of big beer: super generous, perfectly textured, lots of depth.
El Cedro
Jester King Brewery — Austin, Texas
[Hoppy Cedar-Aged Ale w/ Native Yeast & Bacteria - 7% ABV]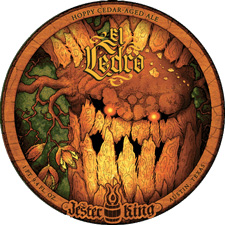 Located on a ranch in the Texas Hill Country, the Jester King Brewery is run by folks who have opted out of the "safe and careful approach," deciding instead to brew anything from authentic, oak-aged farmhouse ales made with wild Texas yeast harvested atop the brewery's rooftop, to a monstrous double stout, to a 3% ABV English dark mild ale named Commercial Suicide. They have a passion for marrying the extreme with poise-which means some of their beers are made using techniques such as open fermentation, whisky barrel aging, and bottle-conditioning with wine yeast. We've long been fans of Jester King's attention to detail, the passionate commitment to unleashing unconventional beers on the marketplace, and the drive to source and use local, organic ingredients. This month's feature, El Cedro, represents the first batch brewed since 2019, and besides light availability in TX and just 70 cases that have gone out to CA, NC, and WI, the rest of this new batch has been available just through Jester King's tasting room.
El Cedro is brewed with Hill Country well water, malted barley and wheat, and fermented with a mixed culture of brewer's yeast along with native yeast and bacteria. This complex beer gets hopped with an assortment of piney, tropical hops (including Amarillo, Centennial, and Simcoe) and gets aged on spirals of Spanish cedar. Pouring a deep, orange-golden color and nicely hazed, there's lots of effervescent carbonation here. The lead aromatics are piney, fruity, and tropically tart, combining appealing, zesty, hoppy aspects alongside the more lemony, bready impacts from this beer's mixed fermentation. Expressive hop character comes forth in the flavor, focusing on herbaceous, earthy, pithy-citrus sitting seamlessly beside complex, modestly tart acidity. This one's lightly funky, with a lean, mineral, lemony-citrus yeastiness, and the impact from the cedar provides an oak-like, tannic quality and some welcome almond and herbal woodiness, and there's also lots of vibrant tropical character-lemons, limes, passionfruit, mango… It's a great beer to spend some time exploring.­