Rare Beer Club 6-Bottle Selections - January 2018

---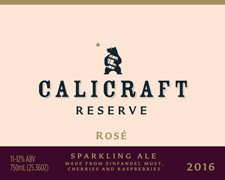 Reserve Series Rosé [Rare Beer Club exclusive]
Calicraft Brewing Company — Walnut Creek, California

[Strong Sparkling Ale w/Zinfandel Must & Raspberries - 10.5% ABV]
Calicraft Brewing Co., in Walnut Creek, California, may be a completely new name for many of our members. The brewery's been around for a bit over five years, opening up in May of 2012. It's the only brewery we can think of that started with a sparkling ale as its flagship. We're excited to be able to offer up an exclusive release from Calicraft to our Rare Beer Club members, and the latest addition to the brewery's family of finely tuned sparkling ales-the rare Calicraft Reserve Series Rosé.
If beer had been invented in California, what might it look like? Here, their approach to the question involves raspberries, cherries and California Zinfandel grapes. Reserve Series Rosé pours a slightly hazy, copper-orange color with reddish tints, with those effervescent, miniscule bubbles resulting in a sturdy off-white foam that persists. We poured our samples into a Champagne flute, as suggested, and we'd be hard-pressed to find a better vessel for this particular beer. The core aromatics are a generous combo of ripe raspberries, strawberries and candied grapes, with a subtle core caramelization adding a really interesting gloss. There's boldly expressed fruit, chewy emergent maltiness, and a hint of white pepper. Quiet wine-yeast contributions help to carefully amplify the overall fruit impressions, while there's an underpinning of vanilla and sourdough. The brewery suggests cellaring the Reserve Series Rosé for up to two years, but recommends checking it out fresh. This beer starts especially fruit forward, emphasizing the vibrancy of its special additions, though you can expect it to become more malt-centric with a bit of time in the cellar, with additional notes of caramel and dried cherries steering things away from that initial wine-like approach.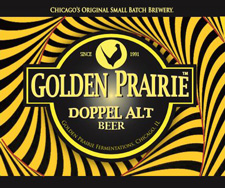 Doppel Alt [Rare Beer Club exclusive]
Golden Prairie Fermentations — Chicago, Illinois
[Imperial Altbier - 9% ABV]
We're excited to showcase Golden Prairie's Doppel Alt this month as an exclusive offer to our Rare Beer Club members. This new release from Golden Prairie is going to be especially limited, with the first ever distribution of it going straight to The Rare Beer Club. The original Golden Prairie Brewing Company got its start back in the early 1990s, stationed along Elston and Webster Streets in Chicago, producing an altbier as its core flagship brand: Golden Prairie Ale Altbier. The brewery distributed kegs to North Side bars and restaurants, along with a handful of other accounts, as Golden Prairie and its founder Ted Furman were able to make a name for themselves as pioneers of that early Chicago craft beer industry. Today, the Golden Prairie beers are produced at Argus Brewery in the south side of Chicago, where Ted now serves as brewmaster of both Argus' lineup and the beers of Golden Prairie Fermentations: the new home of the Golden Prairie line.
This pours a bright, generally clear but deep orange-burgundy color, capped by fine-bubbled off-white foam that lingers, leaving some modest lacing behind along the perimeter. There's a strong start of bright red fruits and dates in the aroma-candied cherries plus burnt brown sugar. When cold, there's a whole lot of candied dimensions dominating, but allowing a bit of time to warm up broadens the aromatics significantly, as generous notes of cotton candy, red licorice and vinous alcohol warmth contribute to additional layers. Malt focused with a fruit-forward yeast character, we found the full depths of that malt complexity super impressive. This is incredibly smooth from the outset: lots of rounded red and dried dark fruits emerge from the core of this, never overly sweet but very generous in the breadth of malt character. There's a subtle, noble-like hop bitterness present that provides a gentle edge to the beer, very traditional in execution, offering mineral, spicy, and muted herbacous notes-never overshadowing the malts, but fully supporting them. While drinking great right now, the hefty ABV on this gives it some cellaring potential. We'd go easy on the aging though, as the delicate balance of this beer will likely tilt in the direction of full-on sweetness if the core caramelization increases too much.

Click here to read or download this month's full newsletter.
As always, if you have any questions or want something different from what we have listed above, please contact our Customer Service Team at 800-625-8238 and we will do what it takes to make it work.
Cheers!
Kristina Manning
Customer Service Manager