Rubus Black [RBC Exclusive]
Brau Brothers Brewing Company — Marshall, Minnesota
[Blackberry Imperial Porter - 8.5% ABV]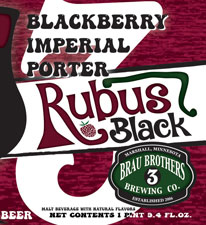 Straight out of college in 1999, Dustin Brau (a truly fantastic surname for a brewer) and his wife, Mary, bought a restaurant in the small town of Lucan, Minnesota, and soon began brewing on a tiny 2-barrel system. It was barely enough to keep up with the restaurant's demand, so in 2006 they moved their beer production to a larger building in Lucan, Dustin's brothers Trevor and Brady (and their dad) joined the operation, and Brau Bros was off and running. In 2013, they moved into an even larger 37,000 sq. ft. brewery, with 3,500 sq. ft. devoted to barrel aging. Long-time RBC members will remember their tasty Silver Linings, an Imperial Milkshake IPA w/ Mango that we featured a few years back. This month we're excited to bring you Rubus Black, a Blackberry Imperial Porter brewed only occasionally since 2006. This batch has been produced especially for the Rare Beer Club, with a limited amount for their taproom. No further batches or distribution will occur for the foreseeable future.
Rubus Black is a robust blackberry imperial porter clocking in at 8.5% ABV and 28 IBUs, with its hop bitterness coming from additions of Target and Goldings. There's a hugely complex range of specialty malts present: Maris Otter, Chocolate and Brown Malt, Biscuit Malt, Wheat Malt, and Aromatic Malt, along with natural blackberry and chocolate flavors-with everything fermented by a British ale yeast. Rubus Black shows a full-bodied mouthfeel, leading with decadent chocolate, caramel, and blackberry elements from the very first sip. The raspberry and chocolate elements are nicely integrated within this imperial porter's malts, adding generous, bright contrasts with the core cereal, toffee, nougat, and rather deep caramelization present. As this warms, we found the complexity of those darker berry notes throughout this beer continue to amplify, while that berry-chocolate-caramel trio works beautifully throughout. Finishes with lasting chocolates and roasted coffee, and underlying nuttiness-a hugely satisfying blackberry imperial porter.
Noble Star Collection: Lunar Interference (2017)
August Schell Brewing Company — New Ulm, Minnesota
[Dark Berlin-Style Weisse Beer - 7.5% ABV]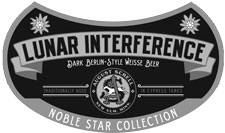 August Schell Brewing Company's eponymous founder immigrated to the U.S. from Germany's Black Forest in 1848, and founded his brewery in 1860. Schell's was the first brewery in Minnesota to produce craft beers in the 1980s, with German-style craft lagers. A wheat beer was added in 1984 ("the first wheat beer after Prohibition"), and by 1990 there were 38 different beers in production. In 2012 Schell's began their Noble Star Collection, inspired by German Berliner Weisse. Cypress wood from brewery tanks dating back to 1936 were repurposed for the project, and Starkeller, Schell's sour-beer-dedicated facility, opened its taproom to the public in 2017. We've enjoyed featuring previous Noble Star beers in the club in years past, including their excellent Solar Evolution, a Flanders-red-inspired Berliner Weisse, and their Basin of Attraction Dry-Hopped Berliner Weisse. This month, we're pleased to bring you their Lunar Interference (2017)-an unsual Dark Berlin-Style Weisse Beer. This vintage is tasting incredible right now, and all of their current remaining stock is being cellared and held for our members.
Lunar Interference goes in the opposite direction of many traditional elements of Berliner Weisses, with a dark and complex malt bill. It sees a more traditional mixed-culture fermentation and is aged for nearly a year in one of the brewery's original, 80-year-old cypress wood lagering tanks. Unfiltered, hand bottled, and bottle conditioned, it offers a medium-full mouthfeel with strong impacts of tart lemons and berries, followed up by the flip side of this beer: malty undercurrents of cocoa and chocolate and brown sugar. Some very nice caramelization is present from the cellaring time that serves as kind of a midpoint: generous toffee and dark caramels broadening those central malt notes. Very refreshing vibe overall, despite the rich chocolate and the number of years behind this beer. The expressive lemony tartness satisfies on a Berliner-Weisse level, with welcome dry, toasty notes followed up by a stronger show of those specialty malts in the mid-palate. If you don't think that a dark German-style Berliner Weisse would work, Lunar Interference makes a very strong counterargument.