Rare Beer Club Special Offer - September 2023
Rare Beer Club Special Offer - September 2023

Over the years, we've had a lot of fun featuring and building our own office cellar with the exceptionally well crafted, monster gravity beers that were released as part of The Bruery's Twelve Days of Christmas vertical series. We got to wondering whether or not they still had some squirrelled away and discovered a cache of very limited quantities of four vintage beers that are for the most part unobtainable… Until now! We're grateful to our friends at The Bruery for allowing us to raid their stash to make these incredible beers available to our Rare Beer Club members.
I know I say it in nearly every offer, largely because that's how I really feel personally, but you're going to want to try each one of these babies! They're really special and not to be missed.
Prost!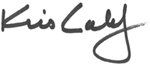 Kris Calef
President
---
For the PDF version of the Special Offer Newsletter, Click Here. The order form follows the beer descriptions below. To jump to the order form now, Click Here.
8 Maids-A-Milking 2015
The Bruery – Placentia, California
Style: Imperial Milk Stout
ABV: 11.3
Serving Temp: 46-54° F
Suggested Glassware: Tulip, Snifter, or Teku Glass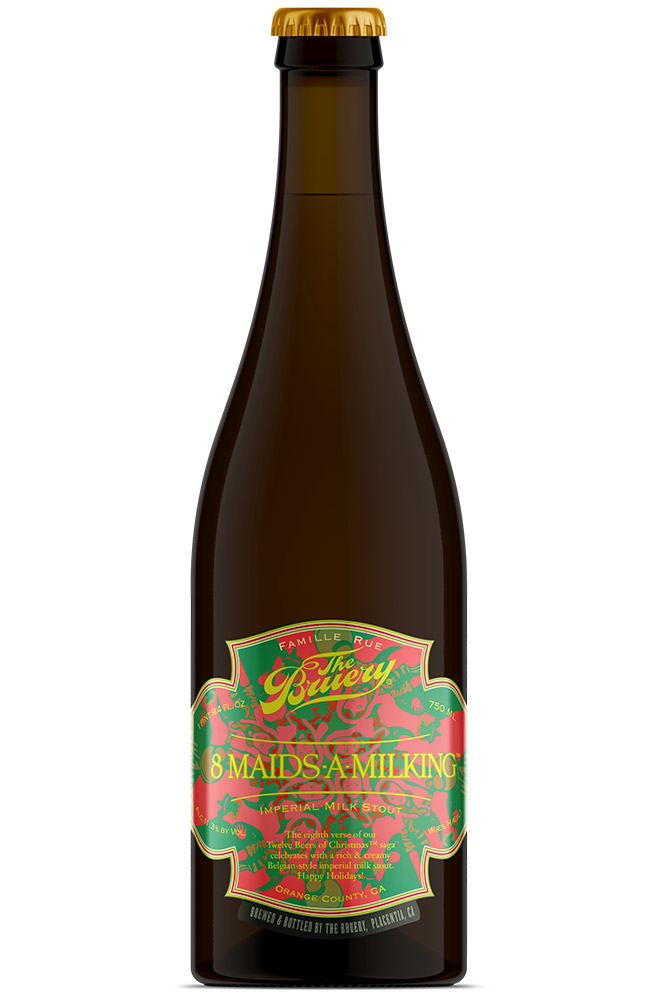 For the first beer in this Special Offer we're pleased to feature 8 Maids-A-Milking 2015: a Belgian-style imperial milk stout. The addition of lactose to a stout-y framework is actually quite traditional, while the "Belgian-style" and "imperial" additions take this into a whole different territory. This one's massive, generous and nails the feel of the Twelve Days of Christmas series overall.
8 Maids-A-Milking pours deep chocolate-brown, topped by a rather impressive light-brown, creamy head that initially seems like it might stick around longer than it does. The aromas coming out of this beer are far broader than the "imperial milk stout" title may suggest, and we were actually quite surprised by how well this stuck, as mentioned, with the overall theme. There's just tons of dried dark fruits here-raisins, dates. Plus: brown sugar.
There's a smooth ribbon of milk chocolate that runs through every part of this beer, certainly solidifying the milk stout aspirations. The Belgian yeast character in the aroma offers up a bunch of cloves and banana-like notes, almost giving the impression of a dunkelweizen. And that red fruitiness, almost like candied cherries, goes seamlessly amidst the other components.
That dunkelweizen suggestion fully plays out here and one can find additional nuance in a lot of directions: pursuing some dark chocolate notes, underlying toffee and bubble gum, plus those endless charms of dried fruits. This is generous, massively appointed (on a number of unexpected fronts) and just delicious.
Aging & Pairing Notes:
The Bruery 8 Maids-A-Milking 2015 has aged beautifully and is very enjoyable now. We also anticipate it will continue to do so for many years to come. For pairing options, the Bruery suggests fare such as baked brie, coffee cake, a plateful of cookies, and/or chestnuts roasting on an open fire.
---
10 Lords-A-Leaping 2017
The Bruery – Placentia, California
Style: Dark Imperial Witbier w/ Ten Different Spices
ABV: 10.8%
Serving Temp: 46-54° F
Suggested Glassware: Tulip, Snifter, or Burgundy Glass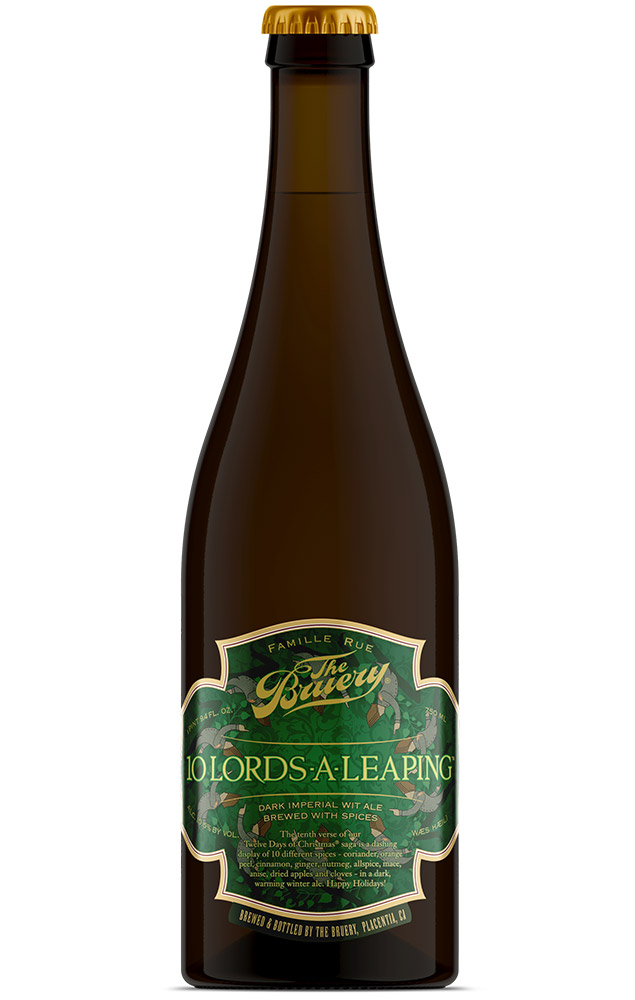 The Bruery's 10 Lords-A-Leaping 2017 was one of our favorites in the series, a full-bodied dark imperial wit brewed with a mellow assortment of 10 different spices to celebrate its original position in the lineup: allspice, anise, cinnamon, cloves, coriander, dried apples, ginger, mace, nutmeg, and orange peel. For the lengthy list, the overall impact is nuanced and warming and perfect for this beer. At 10+%, this one's perfect for sipping on as the weather turns colder.
This pours a deep, dark chocolate-brown color, which gives a good hint as to where this wit is headed. There's proudly formed foam here, a dense and fine-bubbled head that leaves thick lacing as the glass is tilted. Without a doubt, 10 Lords-A-Leaping is a densely rendered imperial wit, as generous clove and banana yeast aspects are already apparent in the nose. An engaging pour.
Upon closer inspection, those yeast-derived aromatics prove to lead the way, with peppery elements present in addition to the banana and warming clove. These generous notes blend seamlessly alongside the other spicing elements of this beer, with cinnamon, ginger, and apple additions showing through. One also gets the impression that this is heading into dunkelweizen turf overall, with some of the subtle toffee and caramelized notes of the darker malt character coming through as well, alongside the spice.
If we were to take a step back and try to describe this beer, amped-up dunkelweizen is what repeatedly comes to mind, as this combines a chewy, almost-hefeweizen-like yeast character with dense caramel and dried-fruit notes from the darker malts. The coriander and orange peel elements of the "witbier" side play out as satisfying secondary notes, helping contribute another layer and a feeling of crisp familiarity. As a whole, 10 Lords-A-Leaping comes together as a smooth, complex stunner.
Aging & Pairing Notes:
10 Lords-A-Leaping has been maturing gracefully for enjoyment now and for an additional 3-5 years, perhaps longer. For pairings, those spice elements (particularly cinnamon and dried apples) have us thinking along the lines of vanilla-bean ice cream and apple-pie-esque desserts, though the overall profile also feels like a promising fit with grilled chicken- or pork-and-apple sausages.
---
Bourbon Barrel-Aged 6 Geese-A-Laying 2014
The Bruery – Placentia, California
Style: Bourbon Barrel-Aged Belgian-Style Dark Ale w/ Cape Gooseberries
ABV: 12.9%
Serving Temp: 46-54° F
Suggested Glassware: Tulip, Snifter, Goblet, or Chalice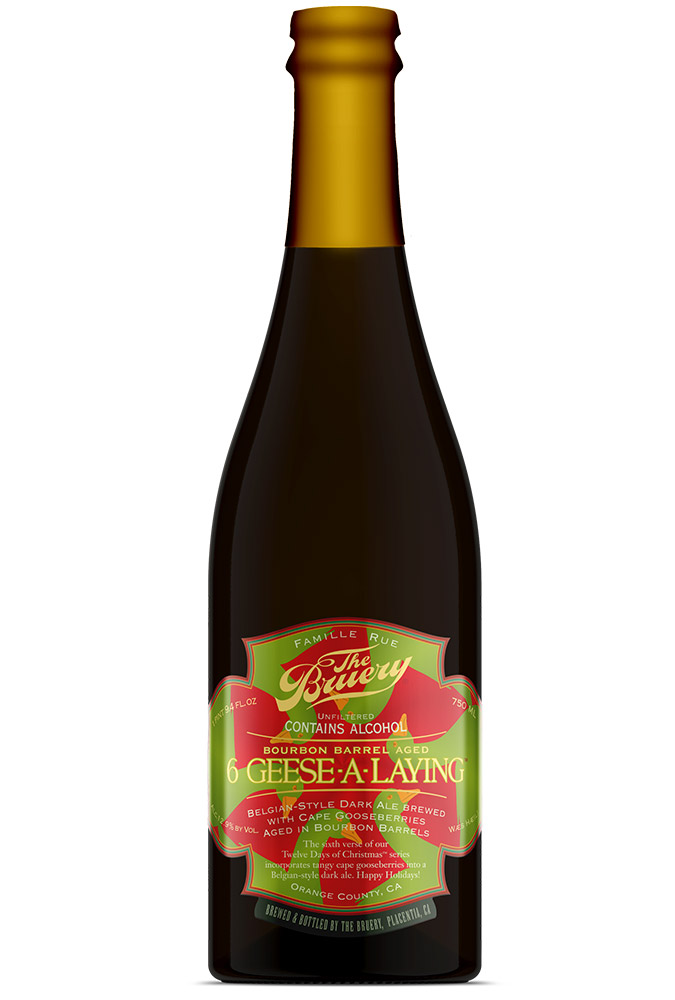 The third feature in this Special Offer to our Rare Beer Club members is the bourbon barrel-aged version of 6 Geese-A-Laying, bottled in 2014. A portion of the 6 Geese-A-Laying, a delicious Belgian-style Dark Ale with Cape Gooseberries produced in 2013, was rested for 12 months in bourbon barrels, adding more flavor and complexity to this already intensely flavorful beer.
The Bourbon Barrel-Aged 6 Geese-A-Laying pours a deep, rich dark brown, drifting towards mahogany with hints of amber. It has a slight haze developed during the 12 months of resting in the barrels and produces a quickly dissipating head of tan foam. The aroma is as complex and inviting as you might expect with the bourbon barrel notes coming to the forefront right away. A warming and slightly sweet character wafts into our noses which carries with it prominent dark fruit aromas of raisins, plums, figs, dried black cherries, and dates. Following this is the brightness and freshness of the gooseberries which are complementary to the intense caramel, vanilla, toffee, brown sugar, and cocoa aromas that we encounter from start to finish.
Upon taking the first sip we experience massive amounts of the bourbon barrel influence, providing layer upon layer of caramel, vanilla, toffee, brown sugar, and cocoa. The next sip is elevated by the gooseberries exhibiting a slight tart character, adding a bit of contrast to the rich raisins, plums, dried cherries, figs, and dates. There is definitely a decadent fruity sweetness here, but the acidity from the gooseberries mellows it, and allows other flavors that weren't noticeable in the nose to come forward such as holiday spices like cinnamon, clove, and a touch of nutmeg.
Given its time in the barrel, the mouthfeel of the Bourbon Barrel-Aged 6 Geese-A-Laying is round, smooth, and full bodied, with a touch of effervescent mousse, providing a pleasant, soothing, and lasting finish.
Aging & Pairing Notes:
The Bourbon Barrel-Aged 6 Geese-A-Laying is drinking execptionaly well for a beer hitting the nine year mark from the bottling date as of this writing, and we expect it to do so for many years to come. This beer paired with desserts incorporating gooseberries is a must, and can also be considered alongside dishes consisting of roasted gamebirds, blue veined cheeses, and charcuterie.
---
Bourbon Barrel-Aged 12 Drummers Drumming 2020
The Bruery – Placentia, California
Style: Bourbon Barrel-Aged blend of Belgian-Style Quadrupel & Old Ale aged in Bourbon Barrels
ABV: 15.4%
Serving Temp: 45-54° F
Suggested Glassware: Chalice, Tulip, Snifter, or Goblet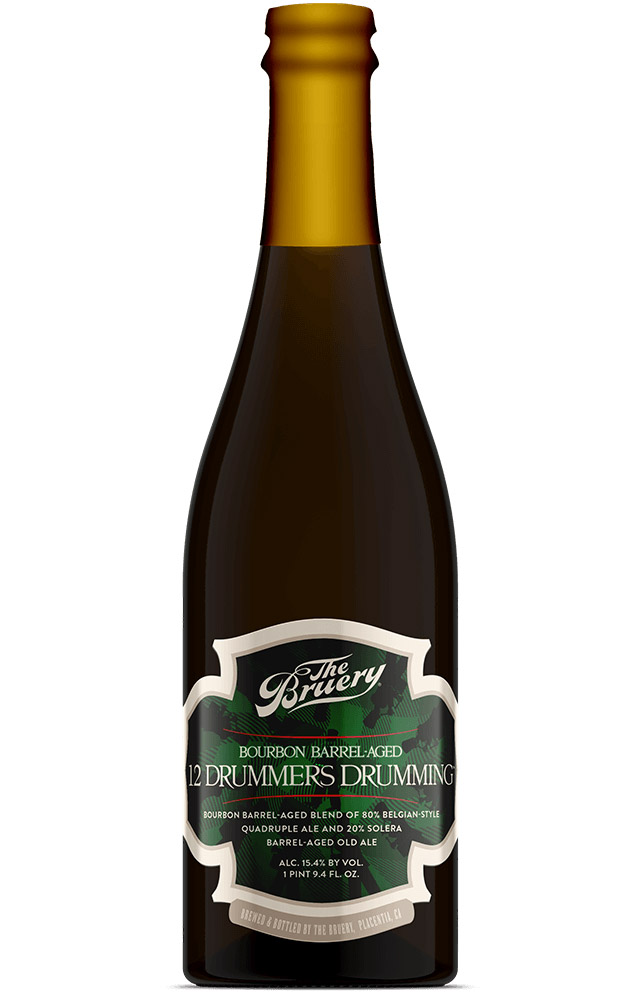 The Bruery finished up their Twelve Days of Christmas series with this final release, which is also the final beer in our Special Offer: the Bourbon Barrel-Aged 12 Drummers Drumming 2020. The original beer was brewed in limited quantities in 2019 and a portion of it was then rested in bourbon barrels for 12 months, bringing an end to a 13 year journey that has helped shape the brewing culture in Orange County, California, and with that, in our humble opinion, the world.
This final release brings everything full circle. This 12 th beer combines a dense, Belgian-style quadrupel base, 80%, with a 20% portion of The Bruery's solera-barrel-aged anniversary ale. While the large proportion of quad firmly positions this beer in line with the Christmas series, that portion of anniversary ale highlights another project that The Bruery's had going on for just about as long: their ongoing series of solera-style old ales, in which a portion of each year's anniversary ale gets held and blended into the next year's batch of anniversary ale-creating an old ale of increasing complexity every year. It's a celebration of two, decade-long efforts, and feels like an ideal end to this release series.
The Bruery's Bourbon Barrel-Aged 12 Drummers Drumming pours a deep mahogany color with modest foam and reasonable lacing around the periphery of the glass. It looks dark, dense, intricately built. The rich aromatics of the boubon barrel and dark fruits land immediately, with quad-like elements of plums, raisins, and well-ripened figs. This beer is better served a bit warmer than fridge temperature to get the full effect. There's a lot of complexity to dig into: the boubon barrel adds tons of complexity in aroma and flavor with toasty oak and vanilla, the Belgian-style quad is full of vibrant toffee, dark fruit, caramel, and brown sugar, and the deeply rich brown sugars and burnt caramel of the old ale bring it all together.
We're particularly taken with how well this overall blend works together, as that first sip puts forth a generous combo of the Belgian-style quad and Solera-method old ale components. It is not a tiny result. Generous layers of dense, dark fruitiness, toffee, and peppery yeast from the quad are met by the abundantly caramelized and Sherry-like depth of the old ale. Overall mouthfeel is quite robust, viscous, and generous on all fronts, with a modest impact of oaky tannins plus a lean current of warming, vinous alcohol providing plenty of lift to the texture overall. There are particularly bold notes of toffee and fig throughout, tuned to the holidays, leading up to a well-rounded finish of caramel and toastiness from the bourbon barrels.
Aging & Pairing Notes:
As with all of the beers in the 12 Days of Christmas series, Bourbon Barrel-Aged 12 Drummers Drummings was brewed to be both ready to drink now and sturdy enough for some additional aging time. Look to heartier fare on the pairings front: the dark fruit and caramelization have us considering brisket burnt ends or a spicy, peppery grilled steak.
---

Click here to read or download the full special offer newsletter.
As always, if you have any questions or want something different from what we have listed above, please contact our Customer Service Team at 800-625-8238 and we will do what it takes to make it work.
Cheers!
Mitchell Glavas
Customer Service Manager