Red Ass Brewing Company - Red Ass Ale
ABV:

5.1%

Int'l Bittering Units (IBUs):

33

Serving Temperature:

45-50° F

Debuted at the GABF last year, Red Ass Ale is a full-bodied amber ale with a kick! Still just a young ass, the beer has already received several awards, including a Bronze Medal and Best Amber Ale in two noteworthy festivals. The brewery uses primarily 6-row pale malts, the remainder a combination of Caramel and Victory malts. Chinook hops are added generously near at the beginning of the 90 min. boil to give Red Ass its bitter profile while Cascade hops are added in the latter stages of the boil for their aromatic characteristics to balance the beer's malty nose. Red Ass is brewed with a lager yeast strain and offers a full-bodied flavor as well as a bitter finish which dissipates quickly.
Notice an amber color, clear appearance and a big head on this beer. Great nose! It's hoppy, spicy, malty, fruity/estery, and has some traces of caramel evident. Look for a fantastic caramel malt flavor with a nice dry and not particularly bitter finish in this very clean, medium-to-full-bodied beer. Overall, a damn good amber ale.
The Red Ass Brewing Co. and its premier product, Red Ass Ale, were both inspired from a truly unusual historical occurrence. The tale of the Red Ass is certainly one to enjoy simultaneously with this robust, richly hopped amber ale.

In the early 1900's, Ben and Ginny Bowman ventured west from a small town in Indiana to Loveland, CO, to explore the new frontier. A carpenter by trade, Ben also took great pleasure in both distilling moonshine and brewing beer, the latter which he simply called 'Ben's Best'. The hobby turned into a full time job shortly after Ben began selling his libations to the locals in town. Enter, Bucky, the Red Ass. One summer evening, when Ben was brewing out by his barn, a small red donkey wandered onto his property, bleeding severely from many large gashes from an apparent mountain lion encounter. Ben decided to nurse the donkey back to health, whom was now referred to as The Red Ass by Ben and Bucky by Ginny and the kids, and credited Bucky's prompt recovery to the fact that he was given a bottle of 'Ben's Best' once a day. The Red Ass reached a new level of notoriety on July 4th, 1919 at a town picnic where Ben was selling his spirits and brew when he began braying incessantly until pacified with a cold one. Soon, people were lined up to by The Red Ass a beer just to watch as he grasped the bottle with his front teeth, wrapped his lips around the neck, and proceeded to drain the entire contents in a matter of seconds. Apparently, Bucky was the original open throater! The Red Ass came down with pneumonia and had to be put to sleep in 1922 and soon thereafter Ben brewed and labeled his first batch of 'Ben's Red Ass Ale' in his honor.

Owner of Red Ass, Andy Short, decided to continue the saga when he opened the brewing company in March of 1994. Red Ass is the only product currently being bottled, however, Andy plans to introduce a Honey Wheat Ale, Buckin'A Pale Ale, and a Bohemian style old world pilsener in the near future.

For more information about the brewery and scheduled tours, call (303) 482-0640.
Hot Oktoberfest Potato Salad

A hearty side dish, this warm salad combines red and white new potatoes with bacon and beer to create a new twist for an old spud.

8 each small new and white potatoes, scrubbed
5 strips lean bacon, coarsely chopped
1 lg. onion or 5 shallots, coarsely chopped
5 scallions, cut diagonally into 1-inch pieces
2 teaspoons caraway seeds
1 cup Frankenmuth Oktoberfest beer
3 tablespoons balsamic vinegar
¼ to 1/3 cup oil or bacon drippings
paprika, salt, and pepper to taste
¼ cup toasted crushed walnuts

Lower potatoes into boiling water to cover. Add a teaspoon of salt and boil just until tender. Drain, cool slightly, and quarter but do not peel. Place in a hot covered pan. In a heavy skillet cook bacon until crisp. Remove and set aside on towels to drain. Remove all but 3 tablespoons of the bacon drippings and sauti onion in drippings until golden. Add scallions and caraway seeds, sauti for 1 min. Add beer to onions and simmer over medium-high until reduced by half. Pour in vinegar and oil and simmer briefly. Adjust seasonings. Add warm potatoes to sauce and simmer 2 mins., turning potatoes gently. Remove from heat and place in serving bowl. Sprinkle with paprika and walnuts. Serves 3-4.

Source: The Great American Beer Cookbook; Candy Schermerhorn; Brewers Publications, 1993.
Dear Murl,

Upon returning home with my take-out order from one of Denver's finer dining establishments, The Big Kahuna, I was most pleasantly surprised to find your beer shipment at my doorstep. I so wanted to wash down my burger with one of your beers, however, they weren't yet chilled. Can you tell me the fastest way to chill a beer so that I can try your shipments as soon as I get them?

Randy Hall

Denver, CO.

Dear Randal,

Unless you've got access to a cryogenic research lab or a steady supply source for dry ice, I'd say you'll be forced to the use of more traditional and attainable components of the Periodic Table of Elements. Lucky for you that I spent some time as a waiter at the Ritz Carton until I was dismissed for mistaking one of my customer's hairpiece for a small rodent. If it wasn't already dead, you can rest assured that it is now, but that's another story for another column. I have a solution for you. (last sentence in italics) Fill a bucket with plenty of ice, water and then the secret ingredient, salt (a small pawful should do). Hold your beer by the neck between your paws and move them back and forth, spinning the beer in your ice bucket. If I can do it without thumbs, I'm sure you'll manage nicely. Anyway, that's what we used to do when we had to chill a bottle of wine rapidly. Should take only 5 minutes or so. Your other option is to just set your beers in the ice water and read about the beers for 10-15 minutes before trying them.

Hasta Luego Randalini!

Woof!

Murl.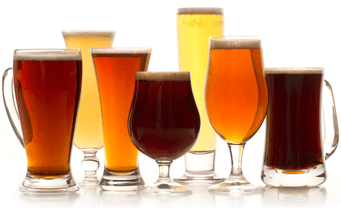 Unmatched Variety by style, brewery & country
Choose from Five different Beer Clubs offering unmatched variety by brewery,
country of origin, and beer style to suit your specific tastes.
DISCOVER OUR FIVE CLUBS