Ridgeway Brewing Company - Insanely Bad Elf
ABV:

11.20%

Serving Temperature:

50-55° F

Suggested Glassware:

Snifter, Tulip, Oversized Wine Glass
So, is this Elf really insane? You bet! And that's just the way we like 'em. At over 11% ABV, this is one serious brew that will definitely keep you warm on a cold winter's night. Described as an Imperial Red Ale (although we think it could easily be considered an English Barleywine), it pours a rich, reddish-amber color with a sparkling, brilliant clarity. On the nose things really get interesting. Look for notes of sliced apples, white grape juice, caramel, and cider. There's a subtle, almost cake-like quality, with a hop profile offering up notes of spice, as well as a floral, herbal quality. Wisps of woodiness appear as well, along with hints of maraschino cherry. Take a sip and immediately enjoy the full-bodied, silky-smooth viscousness of this brew. Look for it to open with a sweet, thick maltiness as fruit notes akin to raisin, prune, apple, and white grape juice rise up, building on the palate while notes of alcohol peak through, cutting the sweetness of the malts. Brown sugar definitely makes an appearance along with some brandy. Finishes smooth and warming, with a raisin-like note in the fade—a fantastic nightcap! In fact, this brew can certainly be aged for at least three years, and likely beyond. Over time, the hop profile will become more subtle with sherry-like notes developing as it slowly oxidizes. Cheers!
Back in 2002, England's landmark Brakspear Brewery was closed and sold off to make room for a luxury hotel. UK citizens and British beer connoisseurs alike were shocked at the travesty; Brakspear, which had been producing beer since 1779, and was the home of the most renowned Bitter in England, had closed its doors for good. It seemed to be quite the sign of the times – yet one more in a string of casualties among Britain's traditional brewers, as the beer world marched on towards "progress." But luckily our story doesn't end here. Determined to keep his craft alive well into the future, Brakspear's brew master, Peter Scholey, set forth on his own. Like a phoenix rising from the ashes of Brakspear, Ridgeway Brewing Company was founded about 30 miles to the west of downtown London, not too far from the location of the original brewery. Ridgeway Brewing Company takes its name from an extremely ancient road—now passable in most places only by foot or horse—that winds its way through the southwest region of England. The road was set down by the Druids, the island's oldest inhabitants, several thousand years before the Romans arrived and built their own roads in Britain. In fact, the Ridgeway is the most ancient road in the British Isles and is just under 100 miles long, passing by both Stonehenge as well as the home of Peter Scholey. The Ridgeway name is a representation of Scholey's dedication to keeping Britain's rich history alive in the face of ever-widening development and the passing of time. At his brewery, he's able to fuse the innovative techniques of a modern brewer with the old-world brewing traditions that are increasingly under threat. We congratulate the man for standing up against the odds to keep traditional British beer alive and kicking. Many of Peter Scholey's beers have been given tongue-in-cheek Christmas-themed names like Santa's Butt, Lump of Coal, Pickled Santa, and this month's Insanely Bad Elf, which is the latest creation in a long line of Elf series beers dreamed up by Scholey's irreverent sense of humor. Other beers in the series have borne the names Bad Elf, Very Bad Elf, Seriously Bad Elf, and Criminally Bad Elf. We're wondering what Peter might come up with next—we can think of a few new increasingly wild names, but they're decidedly un-Christmas-like, so we'll avoid pushing the limits here and just wait to see what new beers come down the pike in future years. The humorous names have gotten Ridgeway in a bit of hot water, though. The label on Seriously Bad Elf created a stir in 2005 when officials in the state of Connecticut decided it violated legislation prohibiting marketing alcoholic beverages to kids. So what was the matter with the label? Well, a rather shady-looking elf is using a slingshot to shoot Christmas ornaments at Santa's sleigh, high in the sky and off in the distance. Apparently the tiny red dot that depicts Santa Claus was the offending imagery, as the officials claimed that the image of Santa would push children to buy the beer. We're not sure about your local liquor store, but the ones we go to are usually pretty good about not selling beer to kids who are of the age to still eagerly await Santa's arrival on Christmas Eve. Eventually the ACLU took up the case, defending the importer: our friends over at Shelton Brothers. Attorney Annette Lamoreaux stated: "not only does it violate Shelton's free speech rights, but protecting Santa Claus is a violation of the Constitution's establishment clause, which prohibits government endorsement or disapproval of religion." OK, well, perhaps that's going a bit far—linking Santa to religion? After all, didn't we learn from South Park that Santa and Jesus are actually arch enemies? Anyway, we digress… Finally in November of '05, just in time for Christmas, Connecticut's Department of Consumer Protection relented and dropped their case against the child-luring evil on the label, stating that "…the regulations do not apply to beer labels." Thanks Connecticut!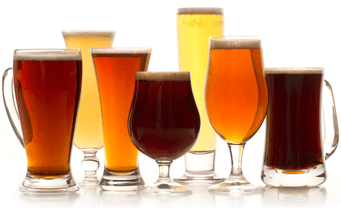 Unmatched Variety by style, brewery & country
Choose from Five different Beer Clubs offering unmatched variety by brewery,
country of origin, and beer style to suit your specific tastes.
DISCOVER OUR FIVE CLUBS