Rio Grande Brewing Company - Elfego Bock
ABV:

6.00%

Int'l Bittering Units (IBUs):

26

Serving Temperature:

46-48° F

Malts:

Durst Munich

Hops:

Saaz, Horizons
Rio Grande Brewing Company's cleverly named Elfego Bock pays tribute to a New Mexico man by the name of Elfego Baca. In a time when the law was as strong as the men who enforced it, Baca walked in to history in 1884 at the age of 19. The self-appointed deputy sheriff set out to restore order to the small town of Frisco, near present-day Reserve, New Mexico. Southwestern New Mexico was still untamed, ranching country. It was a time and place when cowboys did what they wanted, when they wanted. Elfego Baca arrested one of these cowboys, who had been shooting up the town, and his brothers-in-arms naturally wanted him released—something Elfego Baca wasn't going to do. A standoff ensued when Baca took shelter a tiny house during a furious attack by over 80 cowhands, in which over 4,000 rounds were fired into the house. Good 'ol Elfego managed to kill four of his assailants and wounded eight others. Thirty-six hours after it began, Elfego Baca walked out unharmed and into history as one of the youngest, toughest lawmen of his day. And while the Elfego Bock is a unique character as well, it's possesses a much less rugged demeanor. Expect a sweet, big and bready malt aroma with a hint of floral hops on the nose and a flavor with lightly toasted malts, gently bitter hops and a big bread-flavored finish.
OK, we got one for ya… An English literature student, a Presbyterian minister and a brewery owner walk into a bar… this last sentence may sound like the start of joke, but actually, each of these three very real characters have played a vital role in the inception and evolution of New Mexico's biggest microbrewery, the Rio Grande Brewing Company. Scott Moore, a California native who started brewing homemade beer as a college student at the University of California, Santa Cruz, moved to New Mexico in 1989 to begin graduate studies in English at the University of New Mexico. While there, he joined a local home brew club, the Dukes of Ale, and met other folks interested in the noble art of brewing. One of his brethren at the club would end up serving an important role in Moore's life course—a role that would have absolutely nothing to do with English literature… After obtaining his master's degree in English literature, Moore abandoned his initial plans to work as a professor of higher education, citing disillusionment with the "bureaucratic bull!+ you have to put up with to teach at a state-rum facility." As an alternative, he began researching careers related to the microbrew industry. Unfortunately, several business plans involving restaurant & brewery partnerships fell through. Fortunately for us, however (and the residents of New Mexico, we might add), the faltering of said plans ultimately led Moore to start his own brewery and bottling business. In September 1993, Moore invested $200,000 to open his sole proprietor business with the help of Dukes of Ale buddy Tom Hart—the practicing Presbyterian minister we mentioned at the start of our story. This investment was used to procure the Rio Grande Brewing Company's first operating space, a modest 2,400 square feet of light industrial space. Between the two of them, Moore and Hart held 25 years of homebrewing experience, and together they creatively built the brewery with used dairy and wine equipment. Initial production was 75 barrels per month, but by December 1995, the brewery had increased to 100 barrels per month and expanded to 5,000 square feet. In order to streamline production, Moore automated his bottling, labeling and packaging line during the same year, thereby decreasing packaging time from a laborious three days to a painless six hours. Today, Rio Grande produces well over 300 barrels per month. The company has since been racking up accolades. Its Pancho Verde, a unique green chili beer which is "dry hopped" with roasted chilies won silver and bronze medals at Denver's Great American Beer Festival in 1996 and 1998, respectively, and in 2001, Rio Grande's Outlaw Lager was named Best Local Microbrew in the Weekly Alibi's Best of Burque Award. But what about the brewery owner mentioned in our introductory line you ask? That would be Mike Carver, owner of the Cabezon Brewing Company, also located in New Mexico. In 1998, Moore began contract brewing beers for the company, but after doing so for three years, Cabezon's owner decided to drop the brewing business altogether, opting instead to sell bottled water (what!?). Moore saw an opportunity, realizing that if the already popular Cabezon beers simply dropped off the market scene, then he and his competitors would end up splitting the sales, but if he bought the brewing company, he'd get 100% of those sales. So, for a mere $10,000, Moore bought the five-year-old Cabezon in a deal which included its intellectual property—the recipes for Cabezon Stout, Sunchaser Ale and Anasazi Wheat—and its packaging materials. The move increased Rio Grande's product line to seven beers, the most famous being its Outlaw Lager, and expanded its offerings to include both ales and lagers. For more information about the brewpub or to make reservations, call (505) 343-0903 or check out their web site at www.riograndebrewing.com.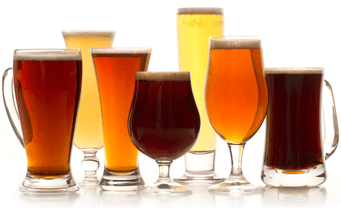 Unmatched Variety by style, brewery & country
Choose from Five different Beer Clubs offering unmatched variety by brewery,
country of origin, and beer style to suit your specific tastes.
DISCOVER OUR FIVE CLUBS