River Horse Brewing Company - Amber Ale
ABV:

4.5%

Int'l Bittering Units (IBUs):

19

Serving Temperature:

40-45° F
Extra Special Bitters (ESB) possess medium
to strong hop qualities in aroma, flavor and bitterness. The residual malt sweetness of this richly flavored, full-bodied bitter is more pronounced than in other bitters. River Horse's is brewed with a combination of three barley malts including Two-Row, Caramel, and Carapils, as well as three hops: Cluster, Fuggle, and Cascade. Immediately note a big malty rich nose with traces of floral hoppiness evident. Look for a sweet, rich, caramel-heavy malt body and ample hop bitterness in the body, true to style. A tasty, smooth inter-pretation of one of our favorite styles, this is nicely paired with a well-done steak, roast, or even duck.
Ahhh, New Jersey—home of innumerable diners, the mob, and a resident accent that sounds nearly as intellectual as Frenchie's from Grease. These may be a few of the features that you associate with "Joy-zee," but the Garden State is, perhaps surprisingly, home to a number of great microbreweries*. But it hasn't been easy for entrepreneurial microbrewers to get their delicious beverages delivered to the eager locals, as rather restrictive laws have hampered their ability to disseminate their creations (it seems that the mob wasn't the only lingering element of prohibition). Luckily for those locals, and for the members of our Beer of the Month Club, these laws have softened up recently. Thanks to the talents of residents who have grown
up with a slightly hardened and always determined edge, microbreweries that have diligently fought the battle to give consumers what they have longed for can now in fact deliver - umm, legally that is. One such group of residents just happens to be, purely by coincidence, from this month's featured brewery (truth be told, this "coincidence" was not really an accident, we just made it look that way).


The River Horse Brewing Co., located in Lambertville, New Jersey, is housed in an old brick building that once was an oyster-cracker factory. Located alongside the bank of the Delaware River, the brewery is one of New Jersey's oldest and fastest growing breweries. Incident-ally, "River horse" is a nickname for the hippopotamus. "So what", you say? The ancient Egyptians believed in the beer god, Seth, who appeared in the image of a hippo-potamus. Pretty neat, huh? Another quick tidbit for your next round of impromptu "I'm a beer connoisseur and I'll prove it, you uncultured swine.;" beer is believed to have been first brewed in ancient Egypt. While being a slave laborer indentured for life to build the great pyramids at Giza couldn't have been easy, it seems somehow less grueling a task when you consider that those fellas may have had a chance to grab a cold one from time to time! The River Horse brewery began production in 1996, and they currently have a capacity of 5,000+ barrels per year. A barrel, just in case you aren't familiar with the lingo, contains about 31 gallons of beer (which is about twice the size of a standard Keg). OK everyone, put on your math caps and figure out how many 12-oz. servings of beer are in 31 gallons… that's right, about 330! This means that these folks can churn out approximately 1.65 million 12-oz. beers per year. So, if you like what you've got in front of you now, there's plenty more where that came from.

In addition to the Special and Belgian Frostbite Winter Ales featured this month, the brewery currently makes three other beers: Hop Hazard Pale Ale, the newest addition to the River Horse family, this is an American pale ale brewed with five hop varieties and dry-hopped with domestic cascade hops; a traditional Lager, which is fermented and conditioned with German brewing tech-niques; and a Summer Blonde, light and simple, like the season ought to be. With this assortment of finely crafted malted nectars made in the heart of Jersey, we're pretty sure you'll agree that our expert panel has made you an offer you can't refuse.

For more information about the brewery and scheduled tours, call (609) 397-7776

*Other NJ breweries include the Flying Fish Brewery, the first microbrewery founded exclusively on-line (check out newsletter volume 9, no. 11, available on-line at www.beermonthclub.com for more info on these guys), as well as a much larger fish, Anhueser-Busch (not lik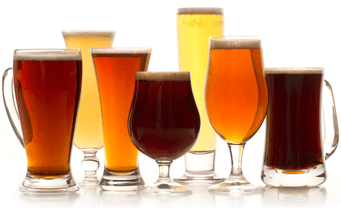 Unmatched Variety by style, brewery & country
Choose from Five different Beer Clubs offering unmatched variety by brewery,
country of origin, and beer style to suit your specific tastes.
DISCOVER OUR FIVE CLUBS