Riverside Brewing Company - Old 119 Saison
Int'l Bittering Units (IBUs):

24

Serving Temperature:

45-50° F
Riverside's Saison is brewed with a 80% two row pale, 11% light carastan, and the remainder, carapils malts. Magnum hops are added at the beginning of the 60 min. boil for bittering while cascade hops are used at the end of the boil for their aromatic characteristics. Daniel dry hops his Saison in a big way with both Ultra and Czech Saaz hops and uses a proprietary yeast strain propagated from bottle conditioned Belgian beers solely for use in brewing this beer.
Note a very fruity, complex yeast estery nose with some spicy notes evident. This beer smells Belgian! Look for good head retention in this pale, clear, medium-bodied beer. We found this Saison to have a very nice pale maltiness with some spicy characteristics in its flavor profile. Riverside's Saison finishes dry and overall, is an excellent American interpretation of an unusual beer style.
Founded on August 19, 1993, The Riverside Brewery became the first brewery in the Inland Empire to open since prohibition. The brewery is located in the historic Riverside Arlington Heights Fruit Exchange building in downtown Riverside, CA. Attached to the brewery and bar is a 120 seat restaurant, a beer-garden style patio and a more intimate sidewalk patio. Riverside produces their award winning ales and lagers by combining both American and European malts and hops with three different proprietary yeast strains. Brewmaster Daniel Kahn took 6 medals in the last three years at the Great American Beer Festival and has produced two World Champion beers at the World Beer Championships. The brewery brews a different seasonal beer each month under it's rotating "Old 119" tap handle and we feel very fortunate to be able to bring you their superb interpretation of a Saison, a very unusual and difficult style of beer to brew.

For more information about the brewery and scheduled tours, call (909) 784-BREW.
Ellie's Beer-Becued Pork Ribs

Both Ellie and Murl agree with a unanimous "two paws way up" that this thick, fruity sauce based on plums, tomatoes, beer, and spices not only has genuine sinus-clearing qualities, but also beats the hell outta Kibbles and Bits or rawhide chewies. The well-balanced full flavor of this sauce complements pork so perfectly that it's hard to imagine eating ribs without it. Bone Appetite!

¼ Cup butter, olive, or other vegetable oil
1 large onion, finely chopped
6 cloves garlic, minced and mashed with 1 teaspoon salt
1 cup pitted plums, fresh or canned, or whole cranberry sauce
12 ounces tomato sauce or crushed tomatoes in puree
12 ounces Ellie's Brown Ale
2 large or 4 small beef or chicken bouillon cubes
½ cup red wine vinegar
1 teaspoon bottled liquid smoke
½ cup dark brown sugar
1 teaspoon each ginger, cayenne, crushed coriander seed, black pepper, cumin seed, and mustard seed
5-8 lbs. pork ribs, country-style, back or baby back
freshly ground black pepper and allspice

In a small skillet melt butter and sauté onion on medium-low until limp and translucent. Add garlic and continue to cook, stirring occasionally until onion is limp, set aside. In a blender or food processor, puree plums and tomato sauce until smooth. In a 3-quart pan heat beer to medium simmer and add bouillon cubes, stirring until dissolved. Add vinegar, liquid smoke, brown sugar, spices, sautéed onion, and plum-tomato mixture. Bring to a slow simmer and cook, stirring frequently, until very thick, 45 min. to 1 hr. Wipe ribs to remove fat and bone particles and keep whole to retain moisture. Sprinkle liberally with pepper and allspice. Let stand at room temperature 30 minutes. Heat coals very hot and set grill close to them. Quickly sear ribs. Remove, raise grill to highest position, and place lightly oiled heavy-duty foil on grill. Puncture for ventilation. Place meat on greased foil, brush liberally with sauce, close lid, and cook until through and tender from 45-75 mins.

Source: The Great American Beer Cookbook, Candy Schermerhorn, Brewers Publications.
Brew Lingo

Jacob's ladder - A ladder-like conveyor for transporting ale casks from the cellar to the brewery or pub.

Lady's waist - In Ireland or Australia, a beer glass with a capacity of about 3 1/2 ounces.

Lautering - The process of separating the spent grains from the sweet wort with a straining apparatus. From the German lauter meaning clarifying.

Prohibition era - Thirteen years, ten months and eighteen days of pure hell.

Resin scum - The brownish substance found on the froth of beer during primary fermentation.

Zymology - The science or study of fermentation. Syn: Zymurgy.
Dear Murl,

I am a lay person just discovering the wild Microbrew Frontier! You may have covered this in a past issue of The Brew Harvest Review, but I did not see it as I am a new subscriber. Would you please explain "original gravity" and "initial bittering units" to me? Thank you in advance. You are welcome to my house any time for a lobster dinner, but be sure and bring your own bowl!

Best regards,

Bill Marsh

Tewksbury, MA.

Oh Billy, Billy, Billy...

Caddyshack. Ted Knight. Remember? "Oh Billy, Billy, Billy"... Man, I crack me up sometimes. Before I get into answering your question, let me just clarify a thing or two here, Bill. Are we talking East or West Coast crustaceans (I like the claws, though they're tough to eat with paws) and as you've suggested it to be a B.Y.O.Bowl affair, am I to assume that I'll be asked to eat on the floor as well? Let us hope not. Original Gravity refers how much the earth pulled you toward it before (bold and italics) you started drinking beer as opposed to how much more it pulls you now! Actually, it refers to the amount of sugars in the bittersweet liquid solution (called wort) obtained by mashing the malted barley and boiling-in hops before it is fermented into beer. What it tells you is potentially how high and full-bodied the alcohol content and body might be for that beer. Generally speaking, the higher the Original Gravity, the higher the alcohol content and the more full-bodied the beer. Initial Bittering Units (IBUs) are a measure of the amount of bittering alpha acids in your beer. At one end of the spectrum, you might find and American Standard Lager such as a Budweiser in the range of 5-20 IBUs. Samuel Adam's Boston Lager might fall in the middle somewhere in the range of 20-40 IBUs and a heavily hopped Pale Ale such as the El Dorado Real Mountain Ale that we sent you last month was a whopping 58 IBUs. Hope that helps, Bill.

Woof!

Murl.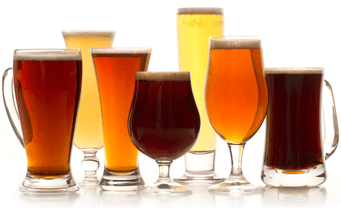 Unmatched Variety by style, brewery & country
Choose from Five different Beer Clubs offering unmatched variety by brewery,
country of origin, and beer style to suit your specific tastes.
DISCOVER OUR FIVE CLUBS