Rock Creek Brewing Company - Rock Creek American Ale
ABV:

5.8%

Int'l Bittering Units (IBUs):

60

Serving Temperature:

43-48° F
The All American Pale Ale is a West Coast style pale-ale. It has a slightly darker color than a standard pale ale and is packed with Cascade hops from the Northwest area of the country. The flavor of this great ale will stand up with any food that you care to drink it with. The American Pale Ale has American 2-row pale malt and includes English crystal in the first load. They use whole centennial and Cascade hops throughout the boil.
The Rock Creek Brewing Co. is headquartered in Raleigh, North Carolina. Rock Creek's brewery is a traditional English brew house, employing traditional brewing processes. The brewery moved its Pennsylvania brewing facility to Raleigh, North Carolina back in 1999. The Raleigh brewery is double the size of the previous one, and features a small tasting room and beer garden. Customers are invited to tour the new facility and sample Rock Creek's 20 plus beers. Rock Creek also has food and drinks available at the brewery.

Currently, the brewery produces five year-round beers including: River City ESB, a full-bodied traditional "Extra Special Bitter", Black Raven Porter, named for Edgar Allen Poe's famous Raven - Richmond being the home of Poe - a deep, dark London style porter, Nuttrageous Brown Ale, an English-style nut brown ale brewed in the tradition of Samuel Smith's Nut Brown Ale, Rock Creek Red Ale which took the Gold at the 1997 World Beer Championships, Devil's Elbow IPA, and Rock Creek Gold, a lighter-bodied Golden Ale. Rock Creek also brews an number of Seasonals including Wild Summer Passion Wheat Ale, a Raspberry American Wheat beer, Pumpkinhead Ale, a spiced pumpkin Ale, and Winter Passion Spiced Ale, a high gravity holiday Ale. Lastly, if you get a chance to swing by the brewpub yourself, you'll be able to try one of two Cask Conditioned Ales, a Roasted Stout and/or an Extra Special Bitter.

For more information about the brewery and scheduled tours, check out their web site at www.chesbaybrewing.com.
Brooklyn Brown Meat Loaf

1 19-oz can of stewed tomatoes
1 lb lean ground beef
1 medium onion, diced
1 celery stalk, diced
1 egg
1-½ cup cornflakes
salt and pepper
½ cup Brooklyn Brown Ale

Place the stewed tomatoes into a sieve and gently mash them with a wooden spoon, releasing all their juices into a bowl beneath the sieve and saving the liquid for other uses.

Put the mashed tomatoes into a large bowl and, using your hands, mix in all the ingredients except for the beer. When everything is thoroughly mixed, add the ale and thoroughly mix it in. Place the mixture into a 9 x 5-inch loaf pan and bake for 1 hour at 350 F (180 C).
Dear Murl,

I've tried to research this one in several places and come up with Bupkus! So I'm thinking the Ole Malty Dog might be able to help as he's pulled off some tough ones in the past. So here goes. For quite some time now, I've been looking for an old Hamm's Beer sign. I'm guessing it's from the 60's or so. It's the one has a rotating scene that scrolls across the sign. You know, like a river and waterfall or something. I even think there was a campfire with moving smoke! It just kind of changed scenes too I think. I saw one the other day in this great dive bar off the beaten path in a pretty dicey neighborhood and offered the bartender $150 for it and he wasn't having any! Any idea what I'm talking about or better yet, where I can get one of these classics?

Fred Stagman

West Chicago, IL

Yo Stag Man!

Great name pal! You going alone tonight, man? Yeah, I figured as much. Stagger Man would have been better though. So you're from "Wego", eh? Don't know if you knew it, but I grew up in Wheaton and Glen Ellen. 'Bout the only thing I remember about West Chicago was kicking your ass in football every year in High School! Go Wolverines! Sure, I was just the waterdog, but I had other important team functions as well…Like running over to the other team's sidelines and sniffing their coaches crotches at critical decision points in the game so as to both distract them and publicly humiliate them.

Man, I know the sign you're talking about. It's great! I need one too! Classic stuff. We had one in our house in college over the bar. Spent many a late night sitting in the Lazy Boy with a bag of Doritos in one paw and half a brew in the other, completely mesmerized by that waterfall. They first came out just about the time television was making its way into bars and since T.V. was just in black & white, the idea was to create this sort of non-stop color commercial. Hamms, Storz and G. Heileman and other Midwest and Plains brewers issued signs with this kind of rolling scenery. Try the Kane County Flea Market! I bet you'll round one up there. If not, go to Ebay or one of the other big auction web sites. And if you find a couple for under a $100 bones (literally), let me know.

Woof!

Murl.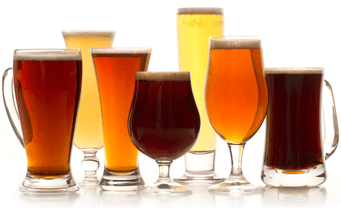 Unmatched Variety by style, brewery & country
Choose from Five different Beer Clubs offering unmatched variety by brewery,
country of origin, and beer style to suit your specific tastes.
DISCOVER OUR FIVE CLUBS