Rockies Brewing Company - Buffalo Gold Ale
ABV:

4.8%

Int'l Bittering Units (IBUs):

25

Serving Temperature:

42-47° F
Buffalo Gold Ale is brewed with a combination of 2-row Pale and crystal malts. The brewery uses 3 different hop varieties including nuggets, Willamette, and cascade to give this beer it's wonderful hop character. Another winner recommended by the Beverage Testing Institute, the Buffalo Gold is deep golden in color, medium-bodied, and lively thanks to full carbonation. Note a distinctively hoppy nose, with notes of toasted pale malt evident. You'll find the flavor well balanced with a slight bitterness and pale malt accents. We found the finish to be somewhat malty sweet and then clean and dry. Enjoy!
Ipswitch Beer Basted Prime Rib

6 lb rib, rump or chuck roast
4-6 cloves of garlic
salt and pepper
dried thyme and ground sage
1 bottle Ipswitch Brown Ale
½ cup beef stock
2 large onions chopped
2 lbs new potatoes coarsely chopped
2 lbs parsnips coarsely chopped
1 lb mushrooms
1 carrot diced
1 stalk celery diced
1 bottle dark beer

Using the tip of a sharp knife, make slits 1 inch deep at regular intervals over the entire surface of the roast. Insert garlic slivers into the slits. Brush outside of roast with ½ cup of beer. Season meat with salt, pepper, thyme and sage. Set in large roasting pan and let sit at room temp while preparing vegetables. Preheat oven to 350 degrees.

Place veggies and one bottle of beer in large pot, cover and cook over medium heat until potatoes and parsnips start to soften (12 -15 min). Add to roasting pan, place in oven and cook meat and veggies, about 15 min per pound. Basting every 10 minutes with 2-3 tbsp of remaining beer. Remove from oven and let stand on serving plate before carving. Skim the fat and discard. Place pan on burner over medium high heat. Pour in stock or leftover beer, and stir to dislodge browned bits. Simmer and season to taste. Serves 8 adults, 4 malnourished ferrets, or Jaba the Hut.
Police in New York City recently reported that a truckload of beer was stolen from the Beehive Beer Distribution Corporation and driven to New Jersey. Three days later Officer David Driscoll spotted the truck and attempted to apprehend the driver. The suspect tried to flee the scene, but was caught hiding in a driveway by Officer James Abney. When police searched the suspect, he had $200 in his pocket, leading police to believe that he had sold some of the beer in the truck. They were able to recover 11 kegs and 21 cases of beer however.


Yo Murl!

I have an unopened 6-pack of Billy Beer. What is it worth yee old salty…I mean malty dog!?

James Brown

Albany, NY

Yow! Lookee Here!

'Sup James! Love the name brother! Did you ever see that spoof that Eddie Murphy did back when SNL was funny about James Brown's Celebrity Hot Tub? He was dancing all around the hot tub singing… "Hot Tub! Yeah! Gonna git in-to the Hot Tub! Good God!" Then he puts his foot in and screams, "Yow! Too hot in the Hot Tub! Yeah! Put some more water in the Hot Tub! Hey!"

So you want to know how much a 6-pak of Billy beer is worth, eh? Let's just put it this way James, you might be able to get a meal out of the deal if you go to Taco Bell and are only feeding one person. Quite a few folks tucked away a few cans of Billy Beer when they were first produced and most beer can collectors, including myself when I was a young pup back in the 70's, have already added them to their collections. The cans usually sell for 50 cents or less though you may see them with a much higher price on them as flea markets where some poor unsuspecting fool may give you more than they're worth because he or she thinks that Billy was some kind of a political icon and actually has a place in our country's history! He might have a place, or a stool rather, with his name on it in some seedy bar with a name like "The Pink Palace" or "Nude Live Nudes & Beer", but that's the only place he's making history!

Woof!

Murl.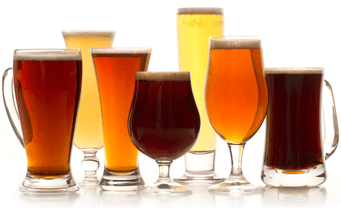 Unmatched Variety by style, brewery & country
Choose from Five different Beer Clubs offering unmatched variety by brewery,
country of origin, and beer style to suit your specific tastes.
DISCOVER OUR FIVE CLUBS