Saxer Brewing Company - Saxer Bock
ABV:

6.2%

Int'l Bittering Units (IBUs):

24

Serving Temperature:

40-45° F
Their flagship beer and one can taste why! Saxer Bock is a golden crisply hopped Helles style brewed in the centuries-old tradition of this classic lager. Brewed with Vienna and Carapils specialty malts, Saxer Bock delivers a delicious malty sweetness beautifully proportioned with its rich, creamy body.

This style of lager means different things to different people. In Germany it is classified as a strong lager, with at least 6.25% alcohol by volume. In America the name "bock" has been traditionally applied to dark lagers. An old wives' tale exists that bock beer is dark because it is made in the spring when the brewery cleans the dregs out of the brew kettles. There is absolutely no truth in this whatsoever. Thank the powers that be because that would be some nasty fluid!

There are a host of bocks in existence, including pale bock; Doppelbock, a strong, malty version; Maibock; eisbock, an extra strong bock completed by freezing the beer and removing some of the water; and weizenbock, a dark, strong wheat beer. Not to mention our favorite 'can I have another-bock'? Note the rich and complex maltiness without the hop flavor. The rich malt aroma is complemented with a hint of sweetness and the flavor of toasted grain. The warming alcohol and slight hop bitterness help to balance. This bug beer is a well-crafted elixir that is well…simply packed with malt. Enjoy, with the knowledge that this Bock has taken the gold, silver and bronze at the Great American Beer Festival. Is there anything this bock can't do? Oh yeah drink itself -now hop to it!
Clam Chili with Saxer Bock Beer

3 tablespoons olive oil
1 ½ cups celery, sliced
1 ½ cups red onion, peeled and diced
1 ½ cups red bell peppers, seeded and diced
1 ½ cups green bell peppers, seeded and diced
3 tablespoons garlic, peeled and minced
1 cup Saxer Bock beer
1 cup tomato paste
5 lbs. canned diced tomatoes (with juice)
1 large can clam juice
Tabasco and cayenne pepper to taste
½ teaspoon red pepper flakes
½ teaspoon cumin
6 cups cooked red beans
6 cups chopped clams
1/3 cup fresh parsley, stemmed and minced

Sauté the vegetables in olive oil, set in a large stockpot over medium heat, stirring often for 5 minutes. Add garlic, and sauté three minutes. Add Saxer bock beer, tomato products, clam juice, beans with the juices from the can, and seasonings. Simmer uncovered for 1 hour, taste and adjust seasonings and add chopped clams. Stir well to blend. Let the clams cook through, but do not boil (this will make them turn rubbery). If the mixture seems too thick, thin to the desired consistency with tomato juice or more Bock beer to taste. In the chili gang, not in your stomach! Serve in big soup crocks, garnished with minced parsley, plenty of tortilla chips and Bock beer on the side.

Serves: 12
Dear Murl,

Not that I'm a profound fan of the stuff, but I'm kind of curious as to how Budweiser got its name. A buddy of mine told me that it's German in origin and I've got a bone to pick with that as I am of German decent and therefore take it as a personal slam! So I figured I'd ask for some divine canine intervention to settle the score as we now have a case of real beer on the line. So what's up homedog? Am I flyin' or buyin'? By the way, love your column babe. Good stuff. And Woof! to you!

Oliver Albret

San Rafael, CA

Yo Ollie,

The word, 'Budweiser' needs to be broken down a bit in order to better understand its true meaning. 'Bud' was actually an ancient Mesopotamian slang term used for the description of beer itself while 'weiser' is a derivative of the German verb Weizant defined as: to stink or smell. Skunky. So, I guess you could say that Budweiser either had no idea what so ever what they were up to when naming their premier product or they knew exactly what they were doing and assumed it would remain an inside joke indefinitely. Kind of an ironic translation in the face of their recent campaign slamming micros as producers of contaminated brew that couldn't possibly compare to their fresh, 'born on dated' beers. They may be fresh, but so's the oil spill in my garage and you won't see me drinkin' that either!

Okay. Okay. Enough Bud-bashing for the next 10 ... well at least the next 3 minutes. Actually, during the days of the Austro-Hungarian Empire, the important Czech brewing city of Ceske Budojovice was known by the German name of Budweis, and beer from that city was known as Budweiser. Today Budweiser beer (locally called Budvar) is still brewed in Ceske Budojovice, but it has nothing to do with the beer of the same name brewed in the United States. So for the sake of your bet, one could argue in either direction, however, in light of your kind words towards my column, I am inclined to take the posture that the fact that the beer and city are in fact Czechoslovakian takes precedence of the mere German words used to describe them. (In italyics. Editorial note: Just send my 12 pack to the warehouse to my attention). Auf Wiedersehen Herr Oliver!

Woof!

Murl.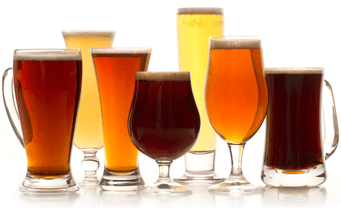 Unmatched Variety by style, brewery & country
Choose from Five different Beer Clubs offering unmatched variety by brewery,
country of origin, and beer style to suit your specific tastes.
DISCOVER OUR FIVE CLUBS