Saxer Brewing Company - Dead Armadillo
ABV:

4.5%

Int'l Bittering Units (IBUs):

25

Serving Temperature:

40-45° F
Dead Armadillo is brewed with a combination of dried armadillo liver, ground armadillo tail skin, and portions of rubber from the tire that ran the little bugger over. This unusual brew is hopped up front with powdered armadillo toenails for their funky bittering characteristics and then dry-hopped aggressively with dehydrated armadillo nostrils for their obvious aromatic contributions. Or was it a combination of two-row Pale, sweet-roasted Caramel, and dark-roasted Black Patent malts? Might have actually been German Hersbrucker hops come to think of it.
Note a predominately crystal and dark maltiness in the Armadillo's nose so to speak. Look for great head retention in this dark amber, slightly hazy, light-to-medium-bodied beer. Dead Armadillo's flavor profile, as the nose would indicate is also primarily dark maltiness with some crystal malt sweetness and a trace of hop bitterness. Look for a tart, bitter end, as would seem appropriate for any beer bearing such a name. Overall, a very clean, crisp and drinkable beer.
In 1852, a German immigrant named Henry Saxer settled in Portland, Oregon, and established the first brewery in the Pacific Northwest. Appreciative beer drinkers immediately gave him a parade and nominated him for Territorial Governor. Henry graciously declined, and pursued his mission to bring quality beer to a thirsty frontier. The new Saxer Brewing Company was established in nearby lake Oswego in 1992 to carry on Henry's name.

The brewery's brand name, The Finger Jack is the name of a mountain range in Central Oregon and also the name of a notorious robber and murderer who was captured by State Rangers in Tucson, AZ and hanged in 1853. The brewery utilizes 30 barrel kettles, 23 lagering tanks and employs 21 employees. Brewmaster, Tony Gomes, is a graduate of Doemen's Brewing Academy in Munich, Germany. In addition to Dead Armadillo, the brewery also brews a Bavarian-style Dopplebock, Lemon Lager, Marzen, Roasted Red Hefedunkel, and a Stout.

For more information about the brewery and scheduled tours, call (503) 699-9524.
Baked Crabmeat Legacy (appetizer)

1 lb. Round loaf rye bread
12 oz. Lump crabmeat
2 - 8oz. Packages cream cheese, room temp.
2 TBS Legacy Red Ale
1 tsp. lemon juice
tsp. Worcestershire sauce
1 dash hot pepper sauce
¼ tsp. salt

Preheat the oven to 300 degrees. Slice the top off of the loaf and scoop out the center, leaving about a 1" thick shell. Cut the soft bread into cubes. Set them aside in a plastic bag. Combine all ingredients in a large bowl. Mix thoroughly and taste for seasoning. Adjust for salt or hot pepper sauce, as necessary. Fill the bread shell with the crabmeat mixture. Replace the top. Wrap completely in foil and place on a backing sheet. Bake for 1 ½ to 2 hours. Unwrap and remove the top. Serve hot, with reserved bread cubes for dipping. Serve with a cold Dead Armadillo and watch for their expressions of pure delight.
BEER, THE MAGAZINE - France's Pecheur Brewery is betting on the bow-wows of approval with its new version of non-alcoholic beer for animals. Made from beer-making leftovers and enriched with vitamins and mineral salts, the concoction will be touted as a power drink for pets and is currently being test-marketed in Japan.

ON TAP (BREWER'S ASSOC. OF CANADA) - Almost 100 alcoholics were required to watch reruns of Dallas for a study conducted by the Addiction Research Foundation. Some patients watched the show with drinking scenes, others watched it with the drinking scenes cut out, and all patients viewed the program with either beer, non-alcoholic beverage or food commercials. Results indicated that the patients who watched both Dallas's drinking scenes and beer commercials were "more confident in their ability to resist the urge to drink heavily" than those who watched the drinking scenes with food commercials. The reports were published by the Journal Studies on Alcohol and contradict the assumption that beer commercials influence alcoholics to drink. Researchers are reported as feeling perplexed and should perhaps study the effects of food commercials.

ASIAN BUSINESS - Vending machines in Japan dispense an inspiring range of items: Beer, neckties, wine, flowers, whiskey, lingerie, batteries, socks, pornographic magazines, and canned coffee. The approximately 200,000 alcohol vending machines are proving to be most convenient to the under-age drinkers and have sparked petitioning for their ban from citizen groups. Districts in Tokyo have responded to the petitions and are keeping the machines in operation.

DAILY MIRROR - Cleanliness counts to barfly Brits. The British Brewer's Society reports that when it comes to choosing a pub, women's first priority is a clean toilet and men's is a clean bar. The sexes switched positions on the second order of priority, and both chose friendly staff for their third choice. Stocks of beer, by the way, came far down on the list after general comfort, value and speed of service. The report also found that pub-goers drink a pint almost two minutes faster on Saturday nights and that 86 percent of American prefer British pubs to their own back home.

S.F. EXAMINER - Pyramids built by beer drinkers. Egyptian excavations revealed that the workmen who built the Great Pyramids were beer-drinking, bread-and-garlic-eaters. Not unlike modern American, many died from cancer or industrial accidents. The mustachioed workers, whose tombs were discovered when a horse's leg went through the roof of one of the tombs, had learned to brew five types of beer and bake 12 varieties of bread, as evidenced by a menu on one tomb wall.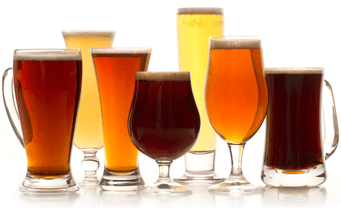 Unmatched Variety by style, brewery & country
Choose from Five different Beer Clubs offering unmatched variety by brewery,
country of origin, and beer style to suit your specific tastes.
DISCOVER OUR FIVE CLUBS