Saxer Brewing Company - JackFrost Winter Doppelbock
ABV:

8.0%

Int'l Bittering Units (IBUs):

17.5

Serving Temperature:

48-53° F
Their Winter Seasonal, JackFrost is an authentic Doppel (double) Bock beer. This is a Gold Medal example of the style originally developed by the Bavarian monks of St. Francis Paula in the 18th century. You might consider this a religious experience. Brewed with imported malts, this dark, full-bodied beer is deliciously rich and malty tasting. Cold-conditioned for a full two months.

Although these Bocks are stronger than traditional Bocks, they are not twice the strength. They were originally made by monks that wanted a full-bodied, strong "liquid bread" to drink during lent. Wait, I thought you 'gave up' something at lent hmm. In Bavaria, any beer ending in -ator is a Doppel Bock. Doppelbocks tend to be full bodied and deep amber to dark brown in color. Astringency from roast malts is absent. Alcoholic strength is high, and hop rates increase with gravity. It is not advised you take this with you to outer space although several consumed in short period of time may take YOU there! Hop bitterness and flavor should be low while hop aroma is absent. Fruity elements are commonly perceived but at low to moderate levels.

Note the slight roasty aroma and rich sweet malty taste. Look for a coffee like flavor that dovetails well with high alcohol content. A hearty fuller bodied, lager beer. The color is reddish brown with a plethora of sediment floating throughout the beer. Hop bitterness remains low allowing the malt to dominate the rich flavor. An intense drink to cap off the day with! Saxer is the only microbrewery in the United States to have won three consecutive gold medals at the Great American Beer Festival. Go on, have another-You deserve it 'champ'!
Pull up a brew, its time for a little nostalgia gang. Henry Saxer established the first brewery in the Pacific Northwest in 1852. Good ol' Henry set up camp in Portland, Oregon where appreciative beer drinkers immediately gave him a parade and nominated him for Territorial Governor.

Henry graciously declined the nomination, and pursued his mission to bring quality beer to a thirsty frontier. Can you imagine? What a stroke of luck that allows these beautiful treats to exist in your home …err castle today?

The new Saxer Brewing Company was established nearly 140 years later in nearby Lake Oswego to carry on Henry's name. Saxer is a subsidiary of the infamous Portland Brewing Company. The brewery's brand name, The Finger Jack is the name of a mountain range in Central Oregon and also the name of a notorious robber and murderer who was captured by State Rangers in Tucson, AZ and hanged in 1853. You've gotta love a brewery with a bit of history to its name!

Through unique blending of roasted malts, Saxer's lagering process guarantees the extinction of a lingering aftertaste. Examples of this successful process are Henry Saxer Public Lager and Dark Lager. Saxer is also the producer of the Nor'Wester line. Nor'Wester is best known for its Oregon Pale Ale (OPA), which is exclusively brewed for Oregonians. Some folks have all the luck!

The brewery utilizes 30-barrel kettles, 23 lagering tanks and employs 21 employees. Brewmaster, Tony Gomes, hails from Doemen's Brewing Academy in Munich, Germany. In addition to Dead Armadillo Ale, the brewery also brews a refreshing Lemon Lager, Marzen, Roasted Red Hefedunkel, and a Stout. Our panel enjoyed the line from Saxer across the board and that's why you'll have the opportunity to sample two of its beers.

For more information about the brewery and scheduled tours, call (503) 699-9524 or check out their web site at www.saxerbeer.com.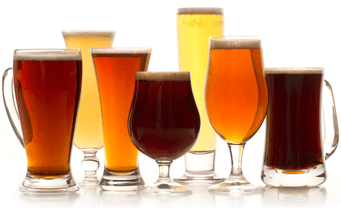 Unmatched Variety by style, brewery & country
Choose from Five different Beer Clubs offering unmatched variety by brewery,
country of origin, and beer style to suit your specific tastes.
DISCOVER OUR FIVE CLUBS