Schirf Brewing Company - Raspberry Wheat
ABV:

4.0%

Int'l Bittering Units (IBUs):

27

Serving Temperature:

35-40° F
The Schirf Brewing Company brews this American style wheat beer with a subtle effervescence of raspberry with a combination of 2-row pale, wheat, crystal and carapils malts. Chinook hops are added at the beginning of the boil for bittering, while Tettnanger, Willamette and Perle hops are added later in the boil for their aromatic contributions. Real raspberry extract is added to create this unusual beer.
Notice a pale, slightly cloudy appearance without too much yeast sediment and good head retention. We found a mild raspberry nose that smells like the real thing, not an added artificial flavoring. Look for a sweet raspberry start which moves into the middle and finish as well in this mildly hopped beer. A dry tartness provides a nice balance to this medium-bodied wheat. Overall, an excellent choice for a summertime shipment as we found it to be very refreshing and not overpowering.
Slickrock Eggplant Pasta

½ cup olive oil
1 medium eggplant, peeled & diced
Salt and pepper
6 ounces smoked ham, cubed
1 cup Wasatch Slickrock Lager
1 teaspoon chopped fresh rosemary
1 cup fresh or frozen peas
1 lb. large tubular pasta such as penne
Freshly grated parmesan cheese

In a large skillet heat the olive oil over medium heat. Put in the eggplant, and season with salt and pepper. Cook, stirring, for about 10 min., until it becomes soft. Stir in the ham, and fry 2 min. Add the lager and rosemary, and bring to a boil. Reduce the liquid by half. Put in the peas, reduce to a simmer, cover, and cook for 2 minutes. Stir the cooked pasta into the sauce, and cook for 30 seconds to heat through. Transfer to a serving bowl, sprinkle with plenty of Parmesan cheese, and serve. Serves 4-6.

Source: Real Beer and Good Eats; Bruce Aidells & Denis Kelly; Alfred A. Knoph, Inc., 1992.
CREATIVE COMMUNICATIONS - Riverwalk Brewery and Grill owner Chris Stasinos is giving away his 12 barrel Ft. Lauderdale brewpub as the first place prize in an essay contest where the entrants must describe why they wish to own and operate the brewery in 250 or less words. The $100 entry fee must be mailed with 2 self-addressed stamped envelopes to Riverwalk Brewery Essay Contest, P.O. Box 810579, Boca Raton, FL. 33481-0579. Send a self-addressed envelope to the above address to request complete contest rules or e-mail
[email protected]
. Entries are due Oct. 6, 1995 and the winner will be announced on the 22nd. Good Luck, you'll need it to top my entry!
Microbrewed Beer of the Month Club PACKAGING DESIGN DEPARTMENT - You can actually get your beer out of our seemingly adult-proof box without raising your blood pressure in the process! Try opening it from the bottom this time and pulling the beers out by the base of the bottle. Fear not, we have redesigned the box to make it much easier for you to get at your coveted shipment and you will see this change in your next shipment if not this one.
CHICAGO TRIBUNE - Another touchdown for Sweetness! Hall of fame running back Walter Payton hopes to renovate the 138-yr.-old Aurora Roundhouse in Aurora, IL and turn it into the Walter Payton Roundhouse Complex, a multi-use entertainment facility including a microbrewery. Among the planned products: Payton Pilsner.
Dear Murl,

Every time my owner cracks open a brew, my mouth starts to salivate. So to satisfy my slobbery condition, he indulges me by pouring some beer into his cupped palm for me to lap up. My question is this: Is beer OK for us canines?

Kono & Jim Harris

Denver, CO.

Dear Kono,

My gut reaction to your question is..."What are you kiddin' me bro? Does The Pope where a funny hat?! You bet it's OK for us!" But the legal suits we employ to sit around and tell us what we can't do have informed me that comments like that might be slightly negligible on my part, so I made a few prank calls to several of my favorite doggie docs. I got comments like, "I can't say that beer would be any better or any worse for dogs than it is for humans", "I would recommend alternative forms of stress relief such as feline chasing or rawhide chewies", and "Well, it is highly addictive and some canines have very delicate digestive systems." Draw your own conclusions, Kono, but I'd prefer to think that an occasional brew (consumed in moderate quantities of course...especially burrito dogs like Chihuahuas) would be acceptable for many dogs. I'm sure that there are a few pansies out there whose delicate digestive systems' might induce adverse reactions generating business for their local carpet cleaning service, but this Big Dog eats license plates for breakfast and needs a little Wasatch to wasatch it down with! Your best bet would be to consult your personal physician cause he knows your insides a lot better than I do... unless you were in that out of control party in the dog park last weekend.

Take Care, Kono

Woof!

Murl.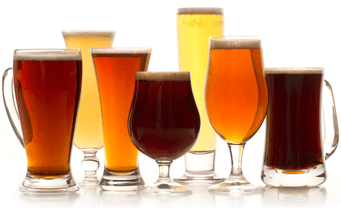 Unmatched Variety by style, brewery & country
Choose from Five different Beer Clubs offering unmatched variety by brewery,
country of origin, and beer style to suit your specific tastes.
DISCOVER OUR FIVE CLUBS