Smuttynose Brewing Company - India Pale Ale
ABV:

6.60%

Int'l Bittering Units (IBUs):

65.0 (!)

Serving Temperature:

48-53° F

Malts:

Pale Brewers, Belgian Pale, Light Caramel

Hops:

Amarillo, Simcoe, Santium, Cascade
Let's get right to it, for one whiff of this brew and you're drawn right in… Massive hops hit the nose but are not even slightly abrasive. Notes of grapefruit peel and pine aroma strike with a solid grainy backbone and a hint of alcohol. The complexity in the nose signals the use of multiple hop varieties, including some lesser used types (see list above). Intensely bitter, this is not a beginner's IPA. Bitterness and flavor have elements of unsweetened grapefruit juice, with a husky, grainy flavor also quite prominent. This is a great pacific northwest IPA that just happens to be from the northeast—a masterful blend of hops superbly balanced by an unwavering malt backbone. This is such a solid IPA that it gives one the impression that it's been around for quite a while, acting as a sort of IPA barometer by which other examples of the style should be judged. The almost shocking truth is that this beer was first released less than a year ago in Spring of 2004. Consider this the new barometer—one of the finest IPAs we've had to date. Another stellar Smuttynose creation, this IPA will go nicely with a well done London Broil and rosemary & garlic seasoned potatoes, but is beer enough to stand on its own.
Peter Egelston, the owner and founder of the Smuttynose Brewing Company is quite well known in the New England brewing community. Not only did he start one of the two original New England brewpubs (The Northampton Brewery), he has also succeeded in opening the Granite State's first brewpub (The Portsmouth Brewery), a brewery (the critically acclaimed Smuttynose), and one of the most well attended beer festivals in the Northeast. His beer career started in 1986 when his sister Janet and her boyfriend convinced Peter to quit his teaching job in Brooklyn, New York and move to Massachusetts to open a brewpub. Peter stayed in Massachusetts until 1991, at which point he opened New Hampshire's first brewpub, the Portsmouth Brewery. With two successful brewpubs under his belt, Peter was ready open his first brewery. Smuttynose Brewing opened in 1994 in Portsmouth, New Hampshire. The brewery was built on the ruins of the Frank Jones Brewing Company, a brewery that opened in 1992 and went out of business a year later. Perhaps one of the reasons they went under so quickly was the name—Frank Jones…? Let's get a little more interesting, shall we? Smuttynose—now that's something people will remember. What does it mean? Well, people often mistake it to mean something quite dirty—sort of like Wang Chung's "Everybody Wang Chung tonight" line from their 1986 hit tune—it just sounds dirty… but it wasn't… and neither is the meaning behind Smuttynose. Though the name is, to those familiar with the legend we're about to summarize, associated with something quite sinister. Smuttynose Island is one of the isles of Shoals, a small archipelago of nine islands which lies nine miles off the coast of New Hampshire and Southern Maine. Legend has it that mariners in the 1600s named the island for the nose-shaped smutch of seaweed on the southeast corner of the island. For over three centuries, poets, pirates and fishermen called the Isles of Shoals home, but today, not a soul inhabits the isle of Smuttynose. Not a living soul that is, unless you count the numerous harbor seals (the likeness of which you'll see printed on the neck of each Smuttynose brew). The only structure that remains on the island is the Haley House, site of the infamous and grisly murders which occurred there in 1873 in which two women were hacked to death at the hands of a crazed, axe-wielding fisherman. Recently, the murder weapon, which had been missing for many years, was unearthed, rekindling a macabre interest in the killings (for a more detailed account, punch up http://seacoastnh.com/smuttynose/101.html). Murder and mystery aside, there is today another reason to remember the Smuttynose name and that is the magnificent brews created by the Smuttynose Brewing Company. For these malty nectars we have brewery founder Peter Egelston to thank, as well as his gifted Executive Brewer, David Yarrington. David began as a homebrewer while studying Chemistry at Colby College in Maine. He parlayed his homebrewing experience into a career, gracing the likes of the Tommyknocker Brewing Company, Golden Pacific Brewing Company, Commonwealth Brewing Company and Tokyo Brewing Company over a period of seven years before enrolling in the UC Davis Master Brewers Program. Since August of 2001 David has been brewing up ridiculously tasty brews for Smuttynose. You might have caught the vibe that we really, really dig Smuttynose's brews. If you happen to find anything brewed by Smuttynose on your local liquor store shelf, we can't urge you enough to pick it up! We've had the pleasure of tasting their Shoals Pale Ale, White Ale, Robust Porter, S'muttonator (a wildly delicious, true-to-style double bock)—as well as the brews we're featuring this month—and we wholeheartedly recommend their brews! Of course, if you're not lucky enough to be in one of their distribution areas, don't fret—you can always reorder brews we've featured by contacting us at 800-625-8238. For more information about the brewery or scheduled tours, call (603) 436-4026, or visit their website at www.smuttynose.com.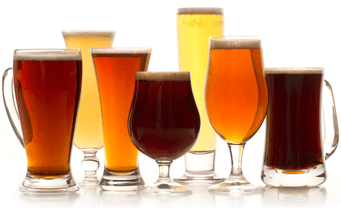 Unmatched Variety by style, brewery & country
Choose from Five different Beer Clubs offering unmatched variety by brewery,
country of origin, and beer style to suit your specific tastes.
DISCOVER OUR FIVE CLUBS