Star Brewing Company - Imperial Stout
ABV:

9.1%

Int'l Bittering Units (IBUs):

27

Serving Temperature:

50-55° F
Caution: Now entering high alcohol zone! In our humble opinion, the Star Brewing Company's most superior product by a long shot is their Imperial Stout. It's brewed with a combination of roasted barley and two-row Pale, Munich, Crystal, Black Patent and Chocolate malts. Northern Brewery and Tettnanger hops are used up front and 60 min. into the 120 min. boil for their bittering contributions while Liberty hops are used for aroma. A Northwest Ale yeast strain is used. Beware: Serious gravity and alcohol content in this bad boy. You might want to set it aside for a couple of months as it should only improve with age.
Grab on to your taste buds and get set for a bombardment of intense flavor! This Imperial Stout starts our with a very rich, dark malty nose that screams sweetness and also has some roasted undertones. Note a serious head in this filtered, dark-as-it-gets, thick and big-time-full-bodied beer. The complex flavor starts out sweet and quickly heads towards a wonderful smoky and robust, intense roasted flavor. Overall, perfectly balanced, thick, wonderfully complex, yet still very drinkable. A superb Imperial Stout.
The original Star Brewing company was founded in 1894 when Louis Gerlinger bought the existing Young's Brewery in Vancouver, WA and promptly renamed it to reflect the change in product line. The brewery was sold and renamed again in 1952 and then finally closed entirely in 1985. In the summer of 1992, the brewery, like many other newly resurrected micros, was brought back to life by a small group of beer enthusiasts in Portland, OR.

The brewery began with Grant's Ales' 10 barrel brewhouse and upgraded to a 35 barrel brewhouse only one year after opening. In addition to the exquisite Imperial Stout that we've brought you this month, Star also produces a Black Cherry Stout, a spiced Christmas Ale, an IPA, a Golden Ale, and a Nut Brown Ale.

The brewery is currently undergoing still yet another transformation and is in the process of relocating to Phoenix, AZ. The Imperial Stout we've sent you was the last produced at the Portland site and may never be brewed as you will experience it, so enjoy! It is truly one of a kind.
Firestone Lamb & Black Bean Chili

This month's recipe, a serious stew-like chili, was contributed by owner Adam Firestone's wife, Kate Firestone. You should consider serving it over a bed of white rice with the avocado salsa described, sour cream, cilantro, a crunchy green salad, French bread or soft rolled tortillas and a lemon tart for dessert! Do this and accompany it with a pint of Firestone Double Barrel Ale my friend, and you will be a happier person... and most likely quite full too.

4 cups chicken broth
5oz. dried ancho chiles, stemmed, seeded
3 canned chipotle chiles in adobo sauce
¼ cup plus 2 TBS olive oil
1 - 5lb. leg of lamb, boned & trimmed
2 lg. onions, diced
4 garlic cloves, finely chopped
12 ounces of Firestone Double Barrel Ale
1 - 28oz. can chopped tomatoes, drained
¼ cup ground pasilla chili powder
3 TBS ground cumin
5 - 15oz. cans black beans, rinsed, drained
¼ cup fresh lime juice

Avocado Salsa:
3 large ripe avocados, peeled, pitted, diced
7 TBS fresh lime juice
¼ cup finely chopped red onion
6 TBS chopped fresh cilantro
3 jalapeno chiles, seeded, minced
Salt and pepper to taste

Bring stock to a boil in heavy medium saucepan. Remove from heat. Add ancho chiles. Cover and let stand until soft, about 30 min. Transfer ancho chiles and 2 cups stock to processor or blender, add chipotle chiles and puree the lot of 'em! Stir into remaining stock and set aside. Heat 1/4 cup oil in large Dutch Oven or covered pot over high heat and add lamb meat and reserved bones in batches. Cook until meat is brown about 3 min. per batch. Transfer to bowl using slotted spoon. Add remaining 2 TBS oil to Dutch oven and sauté onions and garlic for 3 min. Return meat, bones and juices accumulated in bowl to Dutch oven. Add your brew and simmer for 10 min. Have a brew. Add stock mixture, tomatoes, chili powder and cumin and simmer until lamb is tender, about 1 hr., 10 min. Mix beans and lime juice into chili. Season with salt and pepper. Mix all of your avocado ingredients in a bowl just prior to serving. Serves 8.

Note: Lamb bones add flavor to the stock. Ask the butcher to bone a Leg of Lamb and cut the bones into 2 inch pieces and the meat into 3/4 inch cubes, leaving off as much fat as possible (unless you're into that fat thing ... which is okay).
Brew Lingo

Caudle - A sort of fortifying soup consisting of wine or ale, eggs, bread, sugar and spices and formerly given to the sick as well as Mr. T when training to fight Rocky whom relied simply on raw eggs.

Fruhjahrsbierfest - An annual springtime beer festival held in Munich starting on March 19, St. Joseph's Day.

Dregs - The sediments at the bottom of a vessel.

Galopin - In France, a beer glass of a capacity of 15 centiliters. Because it is so small it is very rare and almost obsolete. Leave it to the French to design a shot glass to drink beer out of!

Withering - Blowing dry air into barley after germination is complete so as to decrease the ratio of humidity in the green malt.
Dear Murl,

Can you tell me what the difference is between a Microbrewery and a Brewpub?

Eric Bischoff

Yo Bisch,

The primary difference between the two as I see it, is that the odds of your pickin' up a fee-fee to share your tasty nectar with are dramatically improved when you frequent a Brewpub. True, both places produce and serve beer, a characteristic conducive to art of conversation, seduction and/or raw passion as the case may be, but an important distinction between the two establishments is that Brewpubs are really restaurants that produce their own beer for on site consumption and therefore are more of a public and social gathering place. Microbreweries may host tours and have small tasting rooms, but do not generally served food or host large crowds of thirsty consumers on a regular basis. Their primary function is to brew, bottle and keg beer for distribution to retail stores and/or draft account, whereas a brewpub is again, first and foremost a restaurant. Some larger brewpubs, however, do in fact distribute their products as well. Am I being perfectly unclear? Hope that helps clarify the issue for ya!

Woof!

Murl.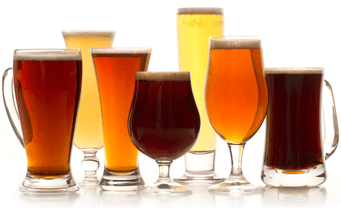 Unmatched Variety by style, brewery & country
Choose from Five different Beer Clubs offering unmatched variety by brewery,
country of origin, and beer style to suit your specific tastes.
DISCOVER OUR FIVE CLUBS