Sweetwater Brewing Company - Sweetwater India Pale Ale
ABV:

5.9%

Int'l Bittering Units (IBUs):

57

Serving Temperature:

38-43° F
Sweetwater's IPA is concocted with a combination of 2 row wheat, crystal, and munich, malts. Here Kevin uses both Columbus and Goldings hops to give this IPA a hop profile sure to please any hophead! The Sweetwater IPA is all about hops! For this reason, we strongly recommend pouring this beer into a glass so that you can capture the intense hop aroma. It is a well-balanced beer that finishes with an aggressive, yet pleasant, hop bitterness.
Gorgonzola Ale Soup

2 lb peeled red potatoes
¾ lb peeled and diced yellow onions
4 cups chicken stock
1 pint Arapahoe Amber Ale
¾ lb Gorgonzola cheese
1 pint heavy cream
1 tbsp salt
2 tsp ground white pepper
4 tsp cornstarch

Boil the potatoes and onions in water until the potatoes become slightly mushy and then drain, saving the water. Puree the potatoes and onions, adding potato water as necessary until the mixture becomes smooth. In the meantime, bring the chicken stock and Arapahoe Amber Ale to a boil in a large pot, reduce the heat and gradually add the Gorgonzola cheese, whipping with a whisk to make the mixture smooth. Next, add the cream, and, gradually, the potato mixture, again whipping to make the mixture smooth. Bring the pot to a boil and reduce the heat to simmer before adding the salt and pepper. Dissolve the cornstarch in a little water and slowly add it to the soup, whisking gently. Simmer for at least 10 minutes prior to serving. Feeds 8-10 people, 3 Water buffalo, or…..Ted Kennedy (if served with a bottle of Absolute!).
THE REAL BEER PAGE - Tsingtao to buy 3-5 breweries by year end. Tsingtao Brewery Co. of China plans to purchase three to five breweries by the end of the year to extend its distribution network and increase production. Chinese breweries are trying to boost output as the Chinese beer drinking market expands and competition increases. Foreign brands brewed in China, such as Budweiser and Asahi, have put more pressure on domestic brewers in the tough premium beer market. Tsingtao purchased Nanjizhou Brewery Group, Rongcheng Brewery and Anqiu Brewery earlier this year. At exactly what point did Budweiser enter the PREMIUM beer market?

BEER NOTES - World beer production in 1999 increased 1.6% from a year earlier to about 133 million kiloliters, up for the 14th consecutive year. The biggest five producing countries are the United States (up .05%), China up 5.3%), Germany (down 2.7%), Brazil (down 0.3%) and Japan (up 0.5%). Russia, eighth in output, showed the biggest growth rate of 24.6% thanks to increases in consumption among women and young people. Increases in areas such as China, Taiwan and Japan reflect growth of U.S. domestic brands such as Budweiser (perhaps the world's largest contract brewer) and international brands like Heineken that are brewed under contract license by beer manufacturers in those countries. Great…Now we're gonna have to re-educate the entire world about good beer!

THE CELEBRATOR BEER NEWS - Although official statistics reported German beer sales were down another 2.6% in the first half of 1999, breweries indicated they are not particularly concerned. They said hot weather in July sent people flocking to the beer gardens and that they don't expect the slide to continue. German beer consumption has declined steadily in recent years. Still per capita consumption is 127 liters per year, with only Czech beer drinkers consuming more per capita. Erich Dederichs, spokesman for the Federation of German Brewers, said brewers are trying to woo back drinkers by offering specialties such as beer/lemonade mixtures and more outlandish concoctions such as beers brewed under a full moon. Erich needs to strongly reconsider her approach on the beer/lemonade thang!

ROCKY MOUNTAIN BEER NOTES - An Australian pub owner has been fined $20,000 (Australian) as a result of a drinking competition in his pub that caused the death of the winner. Allan Taylor, a 33-year-old computer technician, died after drinking 34 glasses of beer, four bourbons and 17 tequilas in 100 minutes in a Sydney bar in 1997. The courts learned that Taylor died within hours of the competition. A post-mortem revealed a level of 0.353 grams of alcohol per 100 milliliters of blood, compared to the legal limit for driving of 0.05. The court fined Brian Whelan of the Strathfield Hotel because he failed to exercise his license in the public interest when his staff failed to stop Taylor from drinking. Wow. I'm at a loss for words. That's a lot of booze.
Dear Murl,

I just received my 1st shipment of brew and am looking forward to each month's delivery. I am however, offended by your crude reference to my friend Rush Limbaugh's weight. You are obviously unaware of the new and improved Rush that has lost over 50 pounds through sheer willpower. In the future would you please refrain from political commentary or at a minimum use a realistic example such as Ted Kennedy? Thank you in advance for the many tasty brews I will be receiving from your company.

Sincerely,

Fred Smith

Heeeeeeeey Fred!

Thanks for taking the time to share your thoughts on our subtle commentary in our food recipe last month. For those that missed the slap on the Rushter, we noted that the food recipe would feed roughly 12 Europeans, 8 Americans or 2 large dogs or Rush Limbaugh. I've been told by our public relations department to go easy on you with my response as you're still a relatively new customer and might not be aware of or prepared for my somewhat less than subtle approach to my column!

True, I haven't been logging a weight chart on the big guy and wasn't aware that he pulled an "Oprah". I must question, however, your apparent knowledge that he lost the poundage through "Sheer Willpower". Are you sure? How do you know there wasn't some liposuction involved? He might have a tapeworm. Or have you considered the possibility that he's now on the new and improved Jenny Craig (did I spell that right?) weight loss program as it is now strongly endorsed by Monica Lewdinski. Maybe, they use some kind of funny camera lens when they take his picture to make him look skinnier. You can't just blindly rule these things out just because the National Inquirer ran and article on Rush's new "Willpower" diet.

Now Kennedy, Whoa boy! I literally can't get into that guy with the amount of space I have left! Gonna have to try and weave some slams on that naughty boy in a future column to try and win you back over! I'm glad you're diggin' the brews Freddy ma man! Try not to take me too seriously. We do sell beer for a living here and try not to take ourselves too seriously. I got a piece of rawhide stashed under the couch that's calling me.

Woof!

Murl.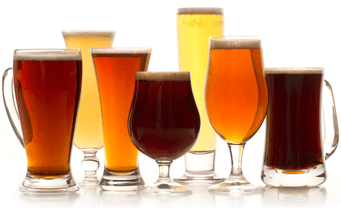 Unmatched Variety by style, brewery & country
Choose from Five different Beer Clubs offering unmatched variety by brewery,
country of origin, and beer style to suit your specific tastes.
DISCOVER OUR FIVE CLUBS