The Modern Brewer Company - Fat Cat IPA
ABV:

5.2%

Int'l Bittering Units (IBUs):

43

Serving Temperature:

43-48° F
Fat Cat IPA is brewed with a combination of two-row Pale, Munich, Vienne, and Carapils malts. It undergoes four separate hop additions in the boil, involving Czechoslovakian Saaz hops for bittering and Willamette and Kent Goldings for flavor and aroma. This copper-colored, full-bodied IPA starts with a floral and malty sweet nose that hints towards hop spiciness as well. Look for good head retention in this filtered beer. A complex body is perhaps slightly maltier than most IPA's, but a pleasant mix of hop character soon reminds you of the style you're drinking. We enjoyed a spicy, dry, tangy lingering hop finish. Overall, a complex, very flavorful and unique interpretation of an India Pale Ale.
The Modern Brewer Company sprung from a home brewing supply shop in Cambridge, MA. Founded in 1988 by Jeff Pzena, an avid home-brewer whom had moved to Boston after graduating from the University of Chicago. After not being able to find home-brew supplies in Boston, Jeff decided to open his own home-brew supply shop. At the time, the craft beer industry was starting to pick up and he sensed there was a market for craft supplies. He was right. The store grew quickly and our hero was able to hire a store manager to run the store, enabling him to winter in Boulder.

While there, he found a job as a brewer, and indulged his love for both brewing and skiing! He also planned a new phase of his beer business: A (B.O.P.) or Brew-on-Premise. He installed a commercial brewing system in his store, which enabled customers to brew their own beer under the supervision of skilled brewers. B.O.P.s started in Canada as residents there sought to avoid high alcohol taxes by making their own beer. The concept became popular as more and more people came to enjoy producing their own custom labeled brews. Several local bar and restaurant owners approached Pzena, and the commercial brewing arm opened in the early spring of 1996. In addition to the exceptional IPA you'll try this month, the brewery also produces a stout, an ESB, a golden ale, a wheat beer and a brown ale. The beers were dubbed Fat Cat Beers, after a well-fed feline owned by Jeff's wife.
India Pale Ale Caribbean Chicken Thang!

We uncovered this unique tropical recipe to salute those of you that had to shovel a path for your UPS man in order to receive your shipment this month! The combination of cooling coconut milk, beer, toasted almonds, and fiery spices makes this chicken dish one of contrast and fascinating flavors.

½ cup blanched almonds
2 cups coconut milk
¼ cup peanut or canola oil
1 lg. onion, finely chopped
4 lg. cloves garlic, finely minced & mashed
¾-inch piece fresh ginger, peeled & lightly mashed
4 chicken breasts, skinned, split, & boned
1 ½ cups Fat Cat IPA
½ cup flour mixed with ½ teaspoon each salt, pepper, and paprika
1 teaspoon freshly ground cumin
15 small dried hot red Asian chilies
Juice of 1 lime
½ cup freshly chopped cilantro
4 lg. scallions, finely chopped

In a heavy skillet, toast almonds lightly to a pale gold color. Place in blender with coconut milk and blend until smooth. Set aside. Heat 2 tablespoons oil over medium and sauté onion, garlic, and ginger until onion is wilted. Remove and set aside. Moisten chicken breasts with ½ cup ale. Coat lightly with seasoned flour. Turn up heat to medium-high, add about ¼ cup oil, and brown breasts lightly on both sides. Add coconut-almond mixture, cumin, salt, and chilies to chicken and bring to a slow simmer. Keep low or coconut milk with curdle. Simmer, uncovered, 35 minutes. Remove chicken and add lime juice, chopped cilantro, and scallions, stirring gently. Remove ginger and discard. Serve chicken and sauce over steamed rice. Serves 4 adults, 2 Chicken Hawks, or Murl.

Source: The Great American Beer Cookbook; Candy Schermerhorn; Brewers Publications, 1993.
365 BEERTIME STORIES - Eighty percent of Canadians drink alcohol according to a 1988 Gallop poll. Use of beer, liquor or wine is highest among Canadians aged 18 to 29 at 86%. So it seems that the McKenzie brothers were pretty much a good representation of their countrymen. Ambassadors of the Great White North.

THE ULTIMATE BOOK OF BEER TRIVIA - The world's oldest surviving brewpub, named U Fleku, is located on Kremenkova Street in Prague, Czech Republic, and was founded in 1499. Where the average age of their typical customer is "deceased".

365 BEERTIME STORIES - In the 1860's in Augusta Township, near Brockville, Ontario, there were so many breweries in the area that farmers often received free pails of beer on hot summer days. All they were asked to do was to spread the good word about a particular brewer's product. I'm forming a convoy leaving tomorrow. Who's in?

CELEBRATOR BEER NEWS - In Babylonia 4,000 years ago it was the accepted practice for the father of the bride to supply his new son-in-law with all the mead he could drink for the first month of the marriage. Mead is a honey beer, and because their calendar was lunar based, this period was called the "honey month" or what we know as the "honeymoon." If the mead was not from an exceptionally tasty batch, often a goat and 2 chickens would also be added to the dowry.

NEWSWEEK - Charlotte, NC. Local legislation has recently ruled that it's OK to moon someone in public (show your butt to strangers!), but it's illegal for a stadium vendor in the very same district to shout "Beer!" at potential customers. It is, however, okay to shout "Beer!" at a beer vendor while mooning him.

(WHNI) WE HAVE NO IDEA - In old England, when the brewster or alewife finished a new batch of beer, she would place a broomstick on her house to advertise the fresh bee. A broomstick accompanied by a dry mop meant the wine was done fermenting as well, and every now and then you'd see a broomstick, dry mop and a squeegee which simply meant the house was really dirty 'cause the misses couldn't reach any of them.

(WWCTY) WISH WE COULD TELL YA - Thomas Jefferson was an avid home-brewer and was also involved in a plan that would have established a U.S. National Brewery. And he also had something to do with some kind of declaration of something or other.
Dear Murl,

My boyfriend has been giving me some grief about my weight and says I should cancel my subscription to help me slim down a bit but I don't really think he knows what he's talking about cause beer isn't really fattening is it? Help me build a case here, pal!

Jennifer Salyers

Mill Valley, CA

Jenn, Babe,

Sweetheart… May I speak frankly here, my dear? Lose the buttnut. What is this guy some kinda materialistic, shallow Richard Simmons Nazi-boy. Can't appreciate the weight? 'Fraid you gonna kick his skinny butt around the boudoir? Personally, I like a fifi with a little meat on her milk-bones and I'm a picky pooch. All right, I'm not that picky. A pulse and a flea dip and I'm in. But hey, I'm a dog and you're man is missin' the point here. Sorry, on a rant here. Gotta remember I'm not Dear Abbey - not that she's any more qualified - Back to your question.

Beer is only gonna add to your womanly figure if you drink too much of it! But hell, you eat too many alfalfa spouts and pita bread and you'll gain weight too. My point is that although the alcohol and sugars in beer add up to a fair number of calories per frosted mug, it's literally fat-free. And relative to some of the other substances we pump into our personal food processors, it's looking damn healthy. Your basic 12-oz. bottle of lager or pale ale weighs in at about 150 calories, none of which are derived from fat. Beers of other styles vary somewhat with alcohol and malt content, of course, up to 200 calories or more for 12 ounces of a strong beer like a Bock. "Lite" beers, conversely, range from about 95 to 110 calories, depending on brand. As a side bar, please note that the difference in caloric content between a micro and a Bud Light is roughly the equivalent of one stalk of raw celery. Think about it before you go there next time. Eight ounces of Fruit yogurt has 230 calories and 3 grams fat. You make the call. Anyway, if you must cut back, do it elsewhere and don't deprive yourself of your brew, girl! Hope that helps build your case, counselor.

Woof!

Murl.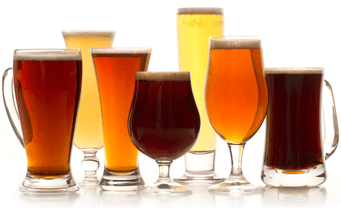 Unmatched Variety by style, brewery & country
Choose from Five different Beer Clubs offering unmatched variety by brewery,
country of origin, and beer style to suit your specific tastes.
DISCOVER OUR FIVE CLUBS