Williams Brothers Brewing Company - Midnight Sun
ABV:

5.6%

Serving Temperature:

50-55° F

Suggested Glassware:

Pint Glass or Mug
Pouring an impenetrable deep brown, almost black, and capped by a crop of light brown foam, Midnight Sun certainly looks like what we expect of a British porter. On the nose, look for the ginger root to come through – not in an overpowering way at all, but not sneaky either. Aside from the ginger, it certainly displays some classic porter notes, including roast, chocolate overtones, and a bit of woodiness. On the palate, expect the ginger to come through right from the beginning, supported by clean roast notes, hints of burnt caramel and cocoa powder, and just a hint of sweetness. There's a tapestry of nicely crafted nuanced flavors here. Wisps of smoke or char bolster the English First Gold and Fuggle hops, which deliver some woodiness, perhaps a touch of citrus, and a certain herbal character that melds into the spicy, fruity ginger notes – the net effect being to add a really neat brightness to a style that can be quite rich and brooding. Try pairing this unique porter with a grilled teriyaki steak. And, to give all the beer's flavors an opportunity to develop, be sure to give it a few minutes to come up from fridge temp before you imbibe. Cheers!
Scotland is a land boasting an enormously rich brewing history, but unfortunately many of the country's own unique beer styles – sporting a myriad of unusual ingredients – faded away out of mind generations ago. However, brothers Bruce and Scott Williams have managed to rescue several of these very special beers through considerable research and dedication, starting with their famous Fraoch Heather Ale which they first brewed in the late '80s. The success of Fraoch spurred them to build a brewery in Alloa, a city along the Firth of Forth in central Scotland. It was at this time that they began branching out, rediscovering and re-introducing four more "Historic Ales of Scotland." Each of these wonderfully unique brews contains ingredients from the nation's forgotten brewing tradition, including such things as elderberries, pine, spruce, seaweed, gooseberries, bog myrtle, and meadowsweet.
So what's with all the weird ingredients, you ask? Well, brewing in Scotland long pre-dates the use of hops as a way to add bitterness to beer. When beer is brewed, sugars are released from malted grains, yielding a sweet liquid known as "wort" (pronounced "wert") that is basically beer before fermentation. After fermentation, in which yeast transform much of that sugar into alcohol (and CO2), residual sweetness remains in the beer to varying degrees depending on the style. To balance the sweetness, a bittering agent is used as an offsetting flavor. In modern times, hops are used almost exclusively for this task, but for thousands of years brewers used all sorts of ingredients like bark, roots, fruit, spices, and flowers (it's worth remembering that hops are flowers, so some of these older ingredients are really not any stranger than our contemporary bittering additive). In Britain, the use of ginger in beer, such as in this month's feature, Midnight Sun, dates back at least as far as the early 1700s, and likely before. While we have evidence of the use of hops in brewing as far back as 1079, British beers weren't widely hopped until the early 16th century. As varied as beer styles are today, imagine the incredible range of flavors offered by ancient brews, with so many cultures using so many varied ingredients!
Okay, back to the Williams Brothers. In 2004, brewing operations were moved into a larger facility in Alloa, where they remain to this day. With more space to brew, they decided to expand their offerings to include a large number of more "Contemporary" beers like an 80/- (80 shilling) Scottish Ale, IPA, Porter, and more. For additional info on the brewery, visit their website at www.williamsbrosbrew.com.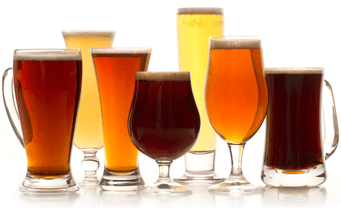 Unmatched Variety by style, brewery & country
Choose from Five different Beer Clubs offering unmatched variety by brewery,
country of origin, and beer style to suit your specific tastes.
DISCOVER OUR FIVE CLUBS