Wisconsin Brewing Company - Oscar's Chocolate Oatmeal Stout
ABV:

4.5%

Int'l Bittering Units (IBUs):

27

Serving Temperature:

45-50° F
Wow! We really liked this Chocolate Oatmeal Stout. Just the name makes you want to give it a try! Oscar's is hopped exclusively with Kent Goldings hops and brewed with a combination of Two-Row Pale and Chocolate malts as well as a healthy dose of Roasted Barley and, as you might suspect, Oatmeal. A Gold Medal winner at the World Beer Cup 2000, Oscar's is a very full-bodied, yet smooth drinking Oatmeal Stout. We found it highly drinkable, yet complex, offering a big full roasted flavor and a somewhat sweet, nutty finish. Overall, a great, full flavored stout, a perfect after dinner beer.
Bluegrass Blazing Golden Mustard Wings

Did ya know that spicy Buffalo wings were invented by a bar owner in Buffalo, NY to drive beer sales?! Makes sense now, doesn't it? Well, you're gonna dig this recipe. It's wings with a fabulous twist as they're doused in a pungent, potent, mustard sauce! Keep your shipment on ice for the feast!

2/3 cup Bluegrass Pale Ale
1/3 cup honey, warmed
1 clove garlic, finely minced and mashed
1/8 to ¼ teaspoon cayenne
3 tablespoons cornstarch
36 chicken wings
Olive oil

Blend the first 5 ingredients and marinate wings in refrigerator 4-6 hrs. Drain and pat dry wings. Heat oil to 375 degrees in a deep skillet. Fry wings a few at a time until crisp and cooked through. Drain on paper towels.

Mustard Sauce

2 cups Bluegrass Pale Ale
1/3 cup dried yellow mustard
¼ cup brown sugar
2 teaspoons hot mustard powder or hot red chili powder
1 ½ tablespoons cornstarch
4 tablespoons butter
1 small onion, finely minced

Combine first 5 ingredients and let stand ½ hour. Heat butter over medium and sauté onion until limp and translucent. Stir beer mixture into onions. Cook over medium, stirring constantly until thickened. Pour hot sauce over fried wings and serve. Feeds 5 adults, 2 Australian Sheep Dogs or William "The Fridge" Perry.

Source: Great American Beer Cookbook, Brewers Publications, Boulder, CO.
AUSTRALIAN PUB OWNER FINED FOR PATRON'S DRINKING DEATH - An Australian pub owner was fined $20,000 (Australian) as a result of a drinking competition in his pub that caused the death of the winner. Allan Taylor, a 33-year-old computer technician, died after drinking 34 glasses of beer, four bourbons and 17 tequilas in 100 minutes in a Sydney bar in 1997. The courts learned that Taylor died within hours of the competition. A post-mortem revealed a level of 0.353 grams of alcohol per 100 milliliters of blood, compared to the legal limit for driving of 0.05. The court fined Brian Whelan of the Strathfield Hotel because he failed to exercise his license in the public interest when his staff failed to stop Taylor from drinking.

JAPANESE BREWER WON'T USE GENETICALLY MODIFIED CORN - Kirin Brewery, Japan's largest brewery, has indicated it will stop using genetically modified corn to produce beer. Beer is exempt from a Japanese law requiring labeling of genetically altered food by April 2001. Kirin, which uses 200,000 tons of corn a year, previously has not distinguished between genetically modified and non-modified corn in making purchases. It intends to sign contracts with U.S. farmer and distributors to supply non-genetically modified corn.

BEER CONSUMPTION SHOWN TO REDUCE KIDNEY STONES - A study conducted in Finland indicated that drinking a beer a day reduced the risk of kidney stone formation in men by 40%. The trial of 30,000 male smokers was conducted with beer, wine, distilled spirits, milk, coffee and tea. Beer was the only drink that significantly reduced the risk of kidney stones. The hops in beer may be the reason. Hops may inhibit the release of calcium from bone. Kidney stones are primarily calcium.

THE £635 BOTTLE OF BEER - How big does a bottle of beer have to be before you'd spend $1,000 for it? Bierodrome, a division of London's popular Belgo restaurant chain, offers a bottle of Bon-Secours that takes two from the bar staff to pour, a 15-liter serving that goes for £635 (about $1,000). That works out to nearly $40 per pint. The large bottles, called Nebuchadnezzars, hold the equivalent of 20 standard wine bottles and come with a wax seal. The Bon-Secours at the Bierodrome is made at the Caulier Frères Brewery in Péruwelz in the Walloon region and bottled to order.
Dear Murl,

Living in Chicago for most of my life, I must confess that I've tossed back a lot of Old Style in my day (we referred to it as "Dog Style" you might be interested to know). I am now, thanks to your service, just beginning to appreciate the distinctions between the many varied beer styles, but don't know what many of them are all about. My question is this: What exactly is an India Pale Ale? Did it originate in India?

John Leitch

Santa Fe, NM.

Dear John,

First of all, you should know that this is my first "Dear John" letter and although it's not my style, I'll try and be gentle. First of all, let's address the "Dog Style" comment Johnny. My highly acute canine senses are telling me that you are using the phrase in a somewhat derogatory context. Like maybe this beer is only fit for a dog or something. I sure hope not man 'cause I grew up in the western burbs of Chicago and I'm hear to tell ya that Old Style is not fit for man nor beast! And if you feed it to your best friend, let's call him "Rambone", he might just leave a little present for ya in your favorite slippers one fine Sunday morning! You should consider letting him lap up some of your fine monthly suds for a change and leave the Old Style for high school kids hanging out in front of 7-11's that can't afford any better or simply have not developed common sense yet.

Right then. India Pale Ales. Aka: IPAs. You gotta love a good one. They're typically aggressively hopped, often dry hopped, higher alcohol content beers that were originally brewed for the residents of Gary, Indiana so that they could forget where they live from time to time. Just Kidding, John. Seriously, the IPA style was developed by British brewers to be shipped to the Royal Army members stationed in India. It was heavily hopped and higher in alcohol in order to preserve it on the long voyage. Hope that helps Johno!

Woof!

Murl.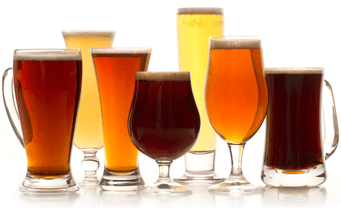 Unmatched Variety by style, brewery & country
Choose from Five different Beer Clubs offering unmatched variety by brewery,
country of origin, and beer style to suit your specific tastes.
DISCOVER OUR FIVE CLUBS