Wychwood Brewery - Hobgoblin
ABV:

5.00%

Serving Temperature:

50-55° F

Suggested Glassware:

Pint Glass or Mug (clear or opaque)

Rated exceptional (91 points) by the Beverage Tasting Institute, earning a Gold Medal in the 2006 World Beer Championships, Hobgoblin pours a deep amber (you could call it light brown) with a great pub-ale look to it with its beautiful, lacing head. Look for rich caramel, toffee, and maple syrup notes on the nose, with a nice dose of true-to-style British butterscotch character, dried dark fruits, and nuttiness. A notable feature is its woody character, almost as if it were conditioned in wood or drawn from the cask. Expect this beer to deliver a sweet yet restrained richness, held in perfect balance by lightly bitter hops, rounded out by some woody, tobacco-like notes. The primary flavors to look for are butterscotch, caramel, and raisins, but other characteristics abound. Finishes with more woody, almost musty, yeasty characteristics. Overall, Hobgoblin is a real treat and a great representation of a Dark English Ale. Enjoy with a plate of red grapes and cheddar cubes, or maybe lemon pepper chicken, and most definitely, another pint.
The Wychwood Brewery (pronounced 'Witch Wood') is one of few independent breweries left in England. Perhaps their fanciful gallery of forest-lore friendlies has been what's kept them from the 'evils' of mega-brewery consolidation. Protective spirits with a Pagan-era edge, like the 'Black Wych,' 'Circlemaster' (aka scarecrow), and the 'Hobgoblin,' all seem to stand guard over this brewery, luring in fans while keeping the nasties of brewing conglomerates at bay. We think their offbeat, somewhat irreverent tone is part of what's helped keep them independent. Take, for example, their Hobgoblin advertising campaign, launched in Spring of 2003, which we just love: "What's The Matter Lagerboy, Afraid You Might Taste Something?" Hell, yes! We dig this Hobgoblin fellow—he clearly knows where it's at. He might not be the guy we want to throw a few back with (best to keep your full wits about you in his company), but we admire his spirit and his cause—challenging meat-headedly mindless pale yellow lager drinking. So how did the brewery get affiliated with this cast of characters? In 1983, a German-trained English brewer named Paddy Glenny took an interest in the historic market town of Witney, in the heart of Oxfordshire's Cotswolds. He purchased Clinch's Brewery, which had been founded in 1841, and two years later, Paddy was joined by Chris Moss. The pair renamed it the Wychwood Brewery after the Ancient medieval Wychwood Forest that borders the town. In 1988 the brewery was asked to brew a special wedding beer for a local landlord, to be served at his daughter's wedding (that's an opportunity every brewer should take, considering that Oktoberfest started in much the same way). The ale that Chris Moss created was the famed Hobgoblin Ale, which, of course, did not bear that name at the time (can you imagine the reaction of the bride or her father if their celebratory wedding ale had been called "Hobgoblin"?). After the celebrations, some ale remained and was brought to market, where it was a hit. More was brewed, and as 'legend' has it, while a firkin of the beer was briefly out of the brewer's sight, a Hobgoblin sketch had been left on it. Was it a Hobgoblin who did it? Could be. Or this might be a fun bit of brewery marketing. Regardless, the name stuck and took the brewery down the path of witches, scarecrows, goblins and the like. Wychwood also brews organic beers for Prince Charles (yup, that Prince Charles—The Prince of Wales) under the Duchy Originals brand. In this capacity, they are the UK's number one producer of Organic Beers. Hey, if it's good enough for the Prince, right?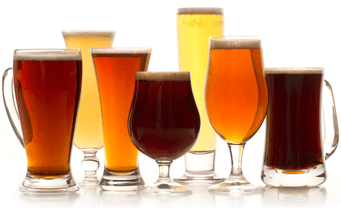 Unmatched Variety by style, brewery & country
Choose from Five different Beer Clubs offering unmatched variety by brewery,
country of origin, and beer style to suit your specific tastes.
DISCOVER OUR FIVE CLUBS