Wynkoop Brewing Company - Railyard Ale
ABV:

5.5%

Serving Temperature:

45-55° F
Railyard Ale is a contemporary cross between a German Octoberfest and an English Amber Ale. It offers the fruitiness of an ale with a clean crisp finish. Railyard was awarded Best Pub Brew in Westword Magazine. The brewpub's most popular beer is brewed with caramel, red crystal and pale malts. It is hopped only once with both Tetnezer and Hallertauer hops in equal proportions at the boil.
Note a clear pale color with a fruity aroma and some hop spiciness in Railyard. This medium-bodied beer's flavor has a fruity, toasted, caramel malt character, a wonderful malt complexity, and a medium hop finish. Look for a malt emphasis and just enough hops to nicely balance this very clean beer. Overall, a very unique Marzen-style ale. Very nice.
The Wynkoop, which holds the enviable distinction of Colorado's first brewpub, is located in the historic brick J.S. Brown Mercantile building in Lower Downtown Denver and boasts original maple floors, a stamped tin ceiling, and oak trim throughout. The name Wynkoop comes from Major Wansheer "Ned" Wynkoop, founder and first sheriff of Denver. The brewpub features an assortment of hand-crafted beers, healthy pub fare with a flair and freshly made breads and desserts. The upper level of this sizable brewery features an elegant turn-of-the-century billiard hall. The brewery began production in late 1988 and has grown to the current capacity level of 5,000 barrels.

Other beers brewed at the Wynkoop include: Churchyard Ale, an strong Old English style ale, Dean and Rog's One-Eyed Pilsener, Lil' Red Raspberry, a light-bodied ale fermented with raspberries, and Sagebrush Stout which is serviced through a custom English tap handle to maintain a thick, smooth texture and creamy head.The Wynkoop offers brewery tours on Saturdays, from 1-5 pm.
Pale Ale Cheese Spread

This zesty spread blends four cheeses and several spices with your favorite ale. Try it on your favorite cracker or chip. We recommend using the hoppier of the two beers featured this month, Doggie Style Ale, both in the recipe as well as to complement the spread when served.

2 oz. Blue Cheese
1 oz. fresh American chevre or other fresh goat cheese
6 oz. aged New York State white cheddar or other sharp cheddar, diced
1 oz. Philadelphia-type cream cheese
1/2 teaspoon celery seeds
1/2 teaspoon caraway seeds
2 teaspoons Hungarian paprika
1/2 teaspoon coarsely ground black pepper
1/2 cup Doggie Style Ale

Process all the ingredients in a food processor until smooth. If spread istoo thick, give up a little more of the Doggie. Pack into a crock or small bowl, and let sit several hours or overnight in the refrigerator before using. Serve at room temperature. Makes about 2 cups.

Source: Real Beer and Good Eats, Alfred A. Knoph, Inc., 1992
BARLEY CORN - Pete's Wicked Red was just one of 55 beers at the 1994 Great American Beer Festival to use the word "red" in its name; 61 preferred the more traditional "amber" moniker. At 1993's festival, however, amber-named beers outnumbered the reds by more than two to one.
SOUTHERN DRAFT BREW NEWS - Beer makes you smart! Researchers at Indiana University Medical Center in Indianapolis have discovered that moderate drinking may improve memory and problem-solving abilities, according to a report in Health magazine.
YANKEE BREW NEWS - On January 5, WLPZ in Portland, Maine, began broadcasting Radio Beer, which is claimed to be America's first all-beer talk radio show. The weekly show features interviews with key beer industry players, news reports, on-air beer tastings, and segments for homebrewers and collectors.
BEER, THE MAGAZINE - The Virtual Village Home Brew Society has been formed on the Bacchus Wine and Beer Forum on CompuServe. This unique on-line club meets continuously and is available worldwide. For more information, contact president, Roy Klein at
[email protected]
Dear Murl,

I want to host a beer tasting. Can you give me any tips on how to make it a successful event?

Dessa Willie

Littleton, CO.

Dessa,

Your main task in hosting a beer tasting is making it a fun and educational evening. You'll want to make it an event that people will remember, so put some thought into these simple rules of thumb as you plan your soirée:

1. Obviously, your guest list should include only people who really enjoy beer, but consider mixing it up a bit between those that might consider themselves connoisseurs of hand-crafted beers to those that lock in on whatever is discounted most heavily at the local watering bowl. Enlightenment is a beautiful thing to behold.

2. Keep in mind that you need to be a responsible host. This is not an occasion to dust off your college beer bong, and quarters mixed with your sampling glasses tend to only confuse the palate. All you really need to get an ample taste of a beer is 2-3 ounces, which will allow your guests to try numerous styles without being featured on Real Stories of the Highway Patrol.

3. Food should play an important role in any beer tasting. Unsalted crackers, plain popcorn and water are key to helping cleanse the palet... rawhide works well with the pack I run with. Consider asking your guests to bring over foods that complement the styles of beer you plan to taste. Check out Candy Schermerhorn's Great American Beer Cookbook.

4. Serve the beers at their optimal recommended serving temperatures: Lagers around 42 degrees, ales at 50, and stouts and porters at approximately 55 degrees.

5. Be sure and have enough clean glassware and/or bowls. You may want to have 2 or 3 styles evaluated next to each other so its best to have at least 3 glasses per guest. You can have them rinse between rounds.

6. As the host, you'll need to be in charge of placing the beers in the order that they should be sampled - generally speaking lighter to darker styles is best. Facilitate discussion amongst your guests as to their observations of the beers sampled. You might want to put aside a bottle of Doggie Style Ale, guaranteed to spur some lively deliberation. Consider using Microbrewed Beer of the Month Club's enclosed beer evaluation form as a basis for discussion. With these things in mind, your party should be a tremendous success. Just do me a favor and give me at least a weeks notice so I can line up the French poodle twins next door and book a flight. Cheers!

Woof!

Murl.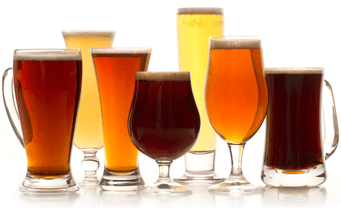 Unmatched Variety by style, brewery & country
Choose from Five different Beer Clubs offering unmatched variety by brewery,
country of origin, and beer style to suit your specific tastes.
DISCOVER OUR FIVE CLUBS