Cervejaria Sul Brasileira - Xingu Black Beer
ABV:

4.70%

Serving Temperature:

45-50° F

Suggested Glassware:

Pint Glass, Stein or Oversized Wine Glass
When you pour this beer you'll see we ain't lyin' – this is one black beer. But Xingu is not to be confused with the German style of black beer known as Schwarzbier; this is an entirely different species and is quite unusual. On the nose, there are not the big roasty notes one expects from such a dark brew. Instead there's an impressive complexity including sweetness akin to treacle (which is like a heavy, almost medicinal molasses), notes of anise, and a raisin-like dark fruit quality. In the mouth, Xingu continues to announce its uniqueness. Upfront, the moderate level of residual sweetness is the first to be noticed, and as you swish it around an astonishing and quite rich array of flavors burst forth including treacle, raisins, blackcurrants (cassis), rum, caramel, cola, and anise. Xingu was rated by the Beverage Tasting Institute as "Outstanding" with a tremendous 91 points. As they put it, "in two words: black silk," and we agree – this is one smooth operator. We think it pairs well with Latin American dark meat dishes, as well as pumpernickel & pastrami sandwiches, served with a dill pickle. Also a surefire winner with a dark, leathery, chocolate-heavy maduro cigar. Interested in supplementing your beer explorations with some world class stogies? We've got plenty of them. In fact, each month, we feature 5 premium hand-rolled cigars in our Premium Cigar of the Month Club—which, like our Beer of the Month Clubs, runs cigars of various different styles and flavors. A beer in one hand and a fine stogie in the other—come on now, what could be better? Visit us at www.cigarmonthclub.com and get a subscription for yourself or a friend. You won't be disappointed.
It's likely that craft beer is not the first thing that comes to mind when you think of Brazil, but after sampling the famed Xingu Black Beer (pronounced "shin-goo") you'll rethink this Portuguese-speaking country's potential for high quality brewing. We're actually quite excited to see a burgeoning craft beer scene developing in South America, including the excellent Eisenbahn beers we've featured before (also from Brazil), so we're hoping to see more and more excellent brews from our southerly neighbors in the coming years.
The story of Xingu Black Beer begins in 1986 when five women from Vermont founded Amazon, Inc. (no, not the online retailer!) in an effort to prevent the extinction of some of the world's most rare beer styles. These beer lovers hired Alan Eames, a beer historian and anthropologist widely considered the "Indiana Jones of Beer," to attempt to identify and locate native examples of rich, dark beers from around the world. Western records of black beer being brewed by native Amazonians dates as far back as the year 1557. Many Amazonian peoples considered black beer to be of great spiritual importance in their social and religious rituals. Thus, naturally the hunt for traditional Amazonian black beer would begin in Brazil, where Alan and his then-wife and president of Amazon, Inc., Anne Latchis, knew the history of native female brewers who fermented grains and roots into black beer, using herbs and bark to bitter the brew. After their successful expedition, the pair teamed up with Brazilian Cesario Mello Franco who identified a willing brewer to finalize the recipe for the black beer and begin production.
A successful marriage of native Brazilian and European cultures, Xingu is named after a tributary of the Amazon that was home to the indigenous tribes who first brewed the original black beers. The unique Xingu label was created by artist Eric Green, and depicts a map of the Xingu tributary area, along with a Txucahamei warrior, a caiman, and anacondas along the border.
We all owe a debt of gratitude to Alan Eames for his dedication, particularly when one considers the difficult and dangerous areas he traveled through in search of this traditional and unusual beer. Unfortunately Alan unexpectedly passed away in February of 2007 at the young age of 59. During his life he contributed much to our understanding of the history of beer and its place in ancient cultures – including such things as the discovery of the world's oldest beer advertisement, dating to 4,000 B.C. in Mesopotamia, and the significant role of women in brewing throughout history. A dedicated advocate of better beer, Eames owned a store that offered essentially the finest selection of beer at the time in Massachusetts, and he also began a few well-known pubs on the East-coast. So let's all raise our pints, steins, mugs, and tulips in memory of Alan and his contribution to our culture of better beer and historical understanding of brewing. Prost!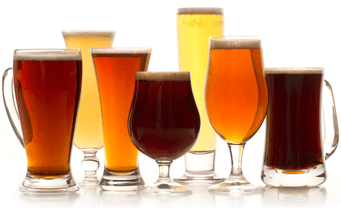 Unmatched Variety by style, brewery & country
Choose from Five different Beer Clubs offering unmatched variety by brewery,
country of origin, and beer style to suit your specific tastes.
DISCOVER OUR FIVE CLUBS