Yakima Brewing Company - Grants Scottish Ale
ABV:

4.7%

Int'l Bittering Units (IBUs):

40

Serving Temperature:

45-50° F
This was the first craft beer brewed in the Pacific Northwest. Keeping true to style, this Scottish ale is crafted from pale and caramel malts to achieve an authentic Scottish flavor. It is then "seasoned" with Cascade hops from, where else, the Yakima Valley. Look for an aroma filled with hops and a fresh malt sweetness. In the flavor department, this Scot is malts from beginning to end. You will notice a caramel sweetness with a good hop balance to start with; with a more pronounced caramel sweetness in the finish. If you can't stomach (forgive the pun) the traditional Scottish Haggis, try this beer with some smoked poultry or buffalo.
Hot Oktoberfest Potato Salad

A hearty side dish, this warm salad combines red and white new potatoes with bacon and beer to create a new twist for an old spud.

8 each small new and white potatoes, scrubbed
5 strips lean bacon, coarsely chopped
1 lg. onion or 5 shallots, coarsely chopped
5 scallions, cut diagonally into 1-inch pieces
2 teaspoons caraway seeds
1 cup Grants Oktoberfest beer
3 tablespoons balsamic vinegar
¼ to 1/3 cup oil or bacon drippings
Paprika, salt, and pepper to taste
¼ cup toasted crushed walnuts

Lower potatoes into boiling water to cover. Add a teaspoon of salt and boil just until tender. Drain, cool slightly, and quarter but do not peel. Place in a hot covered pan. In a heavy skillet cook bacon until crisp. Remove and set aside on towels to drain. Remove all but 3 tablespoons of the bacon drippings and sauté onion in drippings until golden. Add scallions and caraway seeds, sauté for 1 min. Add beer to onions and simmer over medium-high until reduced by half. Pour in vinegar and oil and simmer briefly. Adjust seasonings. Add warm potatoes to sauce and simmer 2 mins., turning potatoes gently. Remove from heat and place in serving bowl. Sprinkle with paprika and walnuts.

Serves: 3-4.

Source: The Great American Beer Cookbook; Candy Schermerhorn; Brewers Publications, 1993.
Dear Murl,

What is the difference between 2 row Harrington malt and 6 Row Harrington malt? What would happen if there were a slight mix of the two types of the malt and would it affect the taste of the beer? Your answers to these questions would be much appreciated.

Anonymous.

Dear Anonymous,

What's up with the Anonymous Pal? I hope you're not embarrassed by the stupidity of your question or anything. Har Har. Just pullin' your chain my friend. What the hell is that supposed to mean anyway…"pulling your chain". Is it some kind of reference to indentured dogs on short leases or what? I don't get it. Anyway, it's actually a great question. Of course, any question that I think I might be able to answer qualifies in my book as a "great" question. Generally speaking, 2-row malt is considered amongst brewers to be a higher quality grain primarily as it provides better yields per quantity used than 6 row grains. Two row grains, as the name indicates only have two rows of grain on each stalk and the resultant is larger grains and thereby more malt/starch and less husk per kernel. Six row is about 10% cheaper and is used more by large breweries than micros. Mixing two and six row shouldn't alter the flavor profile enough to notice, though it may throw off your recipe quantities if it calls for one or the other. Hope that helps Big A.

Woof!

Murl.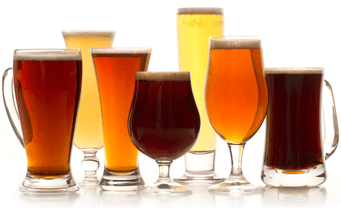 Unmatched Variety by style, brewery & country
Choose from Five different Beer Clubs offering unmatched variety by brewery,
country of origin, and beer style to suit your specific tastes.
DISCOVER OUR FIVE CLUBS