Ybor City Brewing Company - Ybor Gold Amber Lager
ABV:

4.7%

Int'l Bittering Units (IBUs):

21

Serving Temperature:

40-45° F
Now, with all that hype about the brewery, you might be curious as to what it looks like. Look no further than the label on this beer and youll find a fairly detailed depiction of the ole brick beauty! Ybor Gold is an Amber lager, brewed with a combination of 2-row pale, caramel 40, and carapils malts, and hopped with both Northern Brewer and German Hallertau hops. We found it true-to-style, finding the nose slightly malty and offering a bit of hop spiciness. This light copper brew has a pleasant malt flavor with a balanced, slightly bitter-hop finish. Consider pairing this with some barbequed ribs or grilled fish.
In the 1800s, Ybor City, FL was the cigar capital of the world. This city was the location of the first cigar manufacturing company to settle into Florida. Jose Martinez Ybor led the migration of the Cuban cigar industry to Ybor City in Tampa. It wasnt until the depression, along with the boom of cigarettes that the cigar industry rapidly declined.

This led to many of the factories being closed, abandoned, and torn down. One building though, the Seidenberg and Co. cigar factory, built in 1894, withstood the test of time. This happened to be the building where the first cigar manufacturing firm, Seidenberg and Co., in Florida was located. Now, you ask, Why are we telling you all of this?" Well, if you move ahead by a century from the date Seidenberg opened its doors at this location (1894) that is when the Ybor City Brewing Company first opened its doors (1994) in this exact same brick building.

Not only is the building loaded with history, the brewerys president, Humberto Perez, is a third-generation brewer, whose grandfather founded one of the largest breweries in Venezuela – Cerveceria, about 70 years ago. And just like the cigar factory, this brewery keeps some of the same traditions; all the brewing is done by hand. Nothing is automated in this brewery!

Ybor brews four different styles of beers, including Ybor Gold, Ybor Brown Ale, Calusa Wheat, and Gaspars Porter, along with a variety of seasonal brews. This month, we are featuring their flagship brew – Ybor Gold, a nice hoppy amber lager.

For more information about the brewery and scheduled tours, call (813) 242-9222
Blazing Golden Mustard Wings

Did ya know that spicy Buffalo wings were invented by a bar owner in Buffalo, NY to drive beer sales?! Makes sense now, doesnt it? Well, youre gonna dig this recipe. Its wings with a fabulous twist as theyre doused in a pungent, potent, mustard sauce! Keep your shipment on ice for the feast!

2/3 cup Pale Ale
1/3 cup honey, warmed
1 clove garlic, finely minced and mashed
1/8 to ¼ teaspoon cayenne
3 tablespoons cornstarch
36 chicken wings
Olive oil

Blend the first 5 ingredients and marinate wings in refridgerator 4-6 hrs. Drain and pat dry wings. Heat oil to 375 degrees in a deep skillet. Fry wings a few at a time until crisp and cooked through. Drain on paper towels.

Mustard Sauce

2 cups Pale Ale
1/3 cup dried yellow mustard
¼ cup brown sugar
2 teaspoons hot mustard powder or hot red chili powder
1 ½ tablespoons cornstarch
4 tablespoons butter
1 small onion, finely minced

Combine first 5 ingredients and let stand ½ hour. Heat butter over medium and sauté onion until limp and translucent. Stir beer mixture into onions. Cook over medium, stirring constantly until thickened. Pour hot sauce over fried wings and serve.

Feeds 5 adults, 2 Australian Sheep Dogs, or William The Fridge" Perry.

Source: Great American Beer Cookbook, Brewers Publications, Boulder, CO.
Dear Murl,

Ive actually got two separate questions for you, if you can fit it in your busy schedule of gnawing on rawhide and lapping up your no doubt complimentary shipments from Malt of the Earth. Ive recently moved to Texas and have noticed that Longneck bottles are far more prevalent here than anywhere else in the country. Can you shed any insight as to why this may be? Secondly, and not related in anyway whatsoever, whats the difference between cold-filtered" and draft" beers?

Betsy Schmeling

Fort Worth, Texas

Dear Bets,

Does my acute canine sense of smell detect an air of attitude with your opening statement? I do a lot around here. Product research and Quality Assurance are two areas I take damn seriously. And by the by, lets get one thing straight. Not only do I get a complimentary subscription, I get pallets of beer... to my bowl... when I want it... and served in my favorite stein cause I am the Main Mutt at Corporate if you get my meaning.

So, what was your question again? Sorry, you got me all frothy here. Texas. Longnecks. Right. On the longneck thing, I really have no idea; however I suspect that its some kinda phallic, cowboy-related subliminal deal suggestive of ones manliness. On your other inquiry, all beers are cold when they are filtered. Cold-filtered implies fresh", and naturally draft beer means very fresh". Both are really no more than slick marketing terms used by the big boyz to woo the general public into consuming mass quantities of their otherwise lack-luster products.

Woof!

Murl.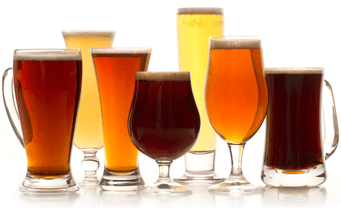 Unmatched Variety by style, brewery & country
Choose from Five different Beer Clubs offering unmatched variety by brewery,
country of origin, and beer style to suit your specific tastes.
DISCOVER OUR FIVE CLUBS