Adelbert's Brewery - Scratchin' Hippo
ABV:

6.9%

Serving Temperature:

45–55° F

Suggested Glassware:

Tulip or Pinot Glass
This month's Scratchin' Hippo from Adelbert's Brewery is produced in partnership with our friends at Pints for Prostates. This is our sixth year working with them and various partner breweries on an annual benefit brew to raise money for improving prostate cancer awareness and early detection. (One dollar from every bottle sold will go directly to support Pints for Prostates' efforts.)
THE ALE: This bière de garde is brewed in the style of a traditional, rustic artisanal French farmhouse ale. Its complex malt-driven flavor elicits notes of toasted caramel, roasted malts and cocoa, complemented by a mild sweetness. It pairs best with rich foods like steak and barbecue.
THE STORY: Named after a night when the Naivasha House in Kenya was shaking so strongly that Del thought it was an earthquake. It turned out to be a massive hippo from Lake Naivasha scratching itself against the house. –Scratchin' Hippo label notes
This is, as you may imagine from the label imagery, pretty much the ideal beer to drink when watching a hippo scratch itself against a house. Your house or somebody else's house—to be honest, it won't really matter. This is precisely executed bière de garde: crisp, on point, while nicely complementing red-fruit qualities, like raspberries and plum, grow in volume behind.
This pours a ruby brown with honeyed edges. A light-tan head caps things, leaving thick lace as it subsides. There's light viscosity here—hinting at the hippo's slightly more-rotund ABV. The aroma's like peppery cola, with sweetening notes like cotton candy and brown sugar set beside yeast-driven bittering elements: clove, white pepper, maybe even a whiff of smoke. A nearly minty crispness pervades the nose: that sense of a soft, spicy aspect lifting everything.
There's also that core fruit: apple, sweet cherry, raspberry. Without the heaviness of dessert.
An engaging, sudden jolt of carbonation hits the tip of the tongue here, and overall bubbles are not in a scarcity state. This feels almost effervescent, that vibrant lightness working well to properly show the depth of malt complexity here. Digging in, we found all kinds of stuff. A ribbon of candied cherries mingles with light caramel. Layered crystalline sugar and bread and doughiness get counterbalanced by pitch-perfect amounts of pepper and clove and soft phenols. Do give this a proper amount of time to warm up. As the dense middle-ness opens up, there's cola, dark cherry, notes like fruit leather and Dr. Pepper, and a number of varied middle-malt notes that play out, courtesy of that carbonation and the warmer temperatures.
Without a doubt, one of the most intricate bière de garde examples we've ever crossed paths with, and one that somehow manages to still feel light and crisp on the palate overall. As this is bottle conditioned and slightly amped up on the alcohol, we could see bottles of Scratchin' Hippo aging reasonably well for at least six months to a year. Sample often. Take notes as to how it's developing. Once things seem to have hit their peak, savor those remaining bottles.
Adelbert's Brewery began shipping beer just three and a half years ago, in early 2012. In that short amount of time, they've managed to share with us some truly expressive and unique beers, including their Belgian-style Tripel B which we feaured in the club in December 2013. We're excited to share another of their creations with our Rare Beer Club members this month.
The brewery itself was started by Scott Hovey and is named in tribute to his brother, George Adelbert Hovey (1953–2000). "Del," as he's referred to on the labels, is commemorated with a different brief story about him attached to each of the brewery's beers, the names of which include Philosophizer, Rambler, and Naked Nun. As Scott puts the ethos, "[I'm] immortalizing my brother through my different beers." Looking through those stories tends to make one think about their interactions with beer in a way they perhaps often don't.
Scott specifically wanted to make beers that could age at Adelbert's. The focus is on Belgian-style, bottle-conditioned ales with an extra emphasis on ingredient sourcing and process. The majority of their barley is floor-malted and sourced from the Czech Republic, from a malting house just outside of Prague that dates back to the 1300s. Their specialty malts are purchased from Belgium, and they employ the labor-intensive, decoction-mash technique for their beers.
Less than four years on, Adelbert's has already established a reputation for itself in Texas and beyond. The brewery only makes a few thousand barrels annually and these see light distribution in a small handful of states. It's a pleasure to extend this brewery's reach far further than that through The Rare Beer Club. We encourage everyone to raise a toast in memory of Adelbert.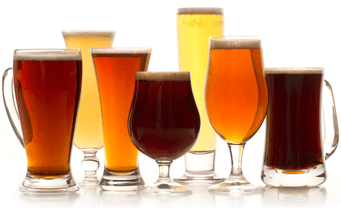 Unmatched Variety by style, brewery & country
Choose from Five different Beer Clubs offering unmatched variety by brewery,
country of origin, and beer style to suit your specific tastes.
DISCOVER OUR FIVE CLUBS