Alesong Brewing & Blending - Raspberry Gose
ABV:

5.2%

Bottle Size:

750-ml

Serving Temperature:

48–55° F

Suggested Glassware:

Tulip, Lambic Tumbler or Pinot Glass

This is the very first release of Alesong's Raspberry Gose, and we're thrilled the team over at the brewery worked with us to make this one a Rare Beer Club exclusive. Aside from a little bit being held back for their tasting room, the bulk of the entire batch has been allocated for our thirsty RBC members. We've been fans of Matt Van Wyk's beer for over a decade, from back when he was making award-winning beers at Flossmoor Station. The current situation's allowed Matt to dig into some amazing flavor profiles, and we think you're going to be pretty pleased with the raspberry character here. It's one of the best raspberry beers we've ever had.
Alesong's Raspberry Gose pours a pulpy, well-hazed burgundy, emphasizing just how much raspberry character gets packed into this beer. This gose-style ale goes through a secondary fermentation on raspberries, added at a pound per gallon, and that fruit focus becomes very clear as soon as this beer gets poured. Think: raspberry puree, but respectfully so. Significant pink foam rises above the initial pour, leaving firm lacing behind along the perimeter. Fresh berry aromatics become apparent immediately, with tart lemon and berry elements rising up.
The aroma's a beautiful show of the raspberry character as well. The Lactobacillus provides an impact of lemony lactic acidic that's seamlessly integrated with the fruit additions, and we've found yet another example where raspberries are the perfect sort of fruit for this type of core acidity, tempering it and making it feel more like an electric raspberry (-ish) than lemons and raspberries offered separately. Everything fits together. The raspberries are like fresh, whole fruit in the nose, that delicate berry character lifted and amplified by citrusy notes. We found hints of toasty wheat, along with that subtle, spicy undercurrent from the coriander addition.
While there's potent lemony acidity here, particularly in those initial sips, it's impressive how quickly this beer mellows out into an exceptionally complex, fruit-forward offering. This can work for friends who dig fruit beers with more modest acidities, but it's especially interesting for those favoring serious sour beers. We kept thinking of New Glarus Raspberry Tart as we dug further and further into this beer, though this occupies a slightly different profile overall, with that amped-up acidity at the forefront especially. But this also holds true to the promise of its gose-like additions, with the sea salt providing a welcome touch of salinity as coriander and wheat provide some toastiness, particularly in the mid-palate and after. We just love the beers we track down that manage to do an exceptional job showing all of their nuances, and this one's an absolute pleasure to dig into. An amazing raspberry presence, perfect balance in its sea salt additions and tartness, and that toastiness near the finish makes for a soft landing.
As far as getting the most berry character out of this beer, we'd be inclined to pop bottles on the fresher side. The acidity will help the longevity here, but this is also a pretty delicate beer at 5%, and we don't necessarily see this as having lambic-like aging potential. For pairings, a core of tart lemons plus raspberries suggests good mojo with summery, citrus salads; vanilla panna cotta with raspberry compote; or mascarpone-based options like tiramisu and tarts.
Alesong Brewing & Blending was founded in 2015 by three partners: brothers Brian and Doug Coombs, and long-established brewer Matt Van Wyk. Matt's been brewing world-class beers for more than a decade, helping to put Flossmoor Station in Illinois on the early beer-geek radar (in 2006 he was named Small Brewpub Brewer of the Year at the Great American Beer Festival) before transitioning to the West Coast, where he served as brewmaster at Oakshire Brewing for a period of seven years, helping that brewery to tenfold growth. At Oakshire he brought longtime friend Brian Coombs on to head up their quality-control program, where Brian's professional background in chemistry proved particularly handy. Brian eventually left to travel and study fermentation and barrel-aging, including a stint in Peru at Cerveceria del Valle Sagrado and in Eugene at King Estate Winery, before returning to start Alesong. His brother Doug brings a wealth of knowledge from his time in the Northern California wine industry, and together the three launched Alesong, informed by the combined experiences.
As such, the brewery's focus and release schedule is pretty unique. Alesong focuses on small-batch beers using plenty of oak aging and Belgian-influenced techniques, with the majority of their beers seeing three months to three years of maturation in oak barrels. The wild beers typically use French-oak wine barrels and mixed-culture fermentation, along with local fruits and herbs, while non-wild beers typically spend time in barrels that previously held bourbon, gin or tequila. Their release calendar tends to revolve around annual spring and fall releases (much in the same way wineries typically stagger their offerings) and there's no flagship beer at Alesong. Blends come together as the maturing beers are ready, and the brewery is always moving in the direction of new and interesting creations, rather than trying to replicate the irreplicable act of long-term barrel-aging. It makes for a lot of fun, unique releases, and we're frankly pretty darn pumped to get this Raspberry Gose out to our Rare Beer Club members.
While still quite young, the brewery's already taken home a number of high-profile awards. Most recently, they took gold in the Brett Beer category at the 2016 Great American Beer Festival with their Touch of Brett (and it probably isn't unreasonable to expect more where that came from). Their brewery is now open to the public on Friday through Sundays, and you can find the latest hours and beer info on their website at www.alesongbrewing.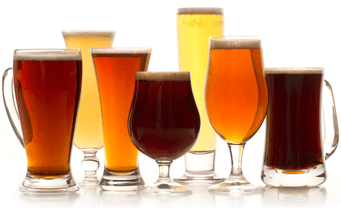 Unmatched Variety by style, brewery & country
Choose from Five different Beer Clubs offering unmatched variety by brewery,
country of origin, and beer style to suit your specific tastes.
DISCOVER OUR FIVE CLUBS