Almanac Beer Company - Golden Gate Gose
ABV:

5%

Serving Temperature:

44–52° F

Suggested Glassware:

Stange, Weizen, or Tulip
We've been looking forward to bringing these folks to a wider audience. While Almanac has been slowly making its way into the various corners of California, it's still a challenge to find their products anywhere outside the state. Inside the state, the releases just quickly disappear (particularly the Farmer's Reserve line). For most, Golden Gate Gose will be their first taste.
Personally, we found this one quite a bit more expressive with a bit of time to warm up from fridge temperature. There's light candied sweetness, which subsides into something far more interesting and allows this beer's botanical notes to show through more clearly. Give it a few.
Golden Gate Gose pours the color of honey, a golden orange topped by a lacy perimeter of off-white foam. There's a lot of nuance in the aroma on this, even when cold: peaches, a hint of white pepper, honey, and then all the contributions of the locally sourced ingredients: that salinity from Bay Area sea salt; the local coriander and lemon verbena coming through grassy and potently herbal. Even from the aroma, this beer very much embodies what Almanac has managed to do across many of their releases: highlighting contributions of local ingredients. The saison yeast used on this tends to remain out of the way of those elements, offering up a bit of vanilla, almond, and fruitiness, plus that thin ridge of firm, surrounding white pepper.
But the special ingredients run the show. There's a moderate carbonation to this, just enough lift to work properly with that white pepper and soft bitterness. There's a slightly tart, spritzy peach note at the tip of the tongue serving similar purpose, enlivening the Triple G's texture.
Salt, as a textural component in beer (and elsewhere), is its own thing. For us, in things like a gose or our recent encounter with MAD Beer's Salt, it serves as a bright, almost electric sort of counterpoint to toasty or lightly bitter elements. Perhaps it suffices to say that there's very good reasoning for why we add salt to so many different sorts of food; it also functions here.
The lemon verbena and coriander elements, which came across as quite citrusy at first, offer a toasty note beneath, with more of the coriander showing through. (Speaking of which we'd be remiss not to mention that it originates from Dirty Girl Produce in Santa Cruz, maybe an hour south of San Francisco.) We found a bit of mint in here as well—almost spearmint-like.
We were very pleased to also find a bit of tartness, which (weighing everything we've read on the subject) seems to be a pretty darn probable element of historical goses, and often lacking in contemporary ones. It comes across well in Almanac's version: citrusy lemon-like tartness, bringing out the saline and herbal elements very nicely here. Mouthwatering, generous stuff.
As far as aging gose, we'd be inclined to encourage folks to enjoy the herbaceous qualities of this beer best fresh, but feel free to see how it gose. We found this to be a great pairing for a warm patch of weather, its grassy, herbal notes working quite well alongside grilled seafood.
We've been closely following San Francisco's Almanac ever since they opened. The brewery, founded back in 2010 by Jesse Friedman and Damian Fagan, has proven itself as one of the most capable and influential new players in the city's rapidly evolving beer scene. We've been tasting through a number of Almanac releases, and their Golden Gate Gose offered a hugely enveloping profile: a German-style Gose employing local salt, coriander, and lemon verbena.
First and foremost, perhaps, Almanac is a high-concept brewery—which is basically another way of saying that they operate around a core set of ideals, and that they emphasize different elements of beer than one normally would. There's no brick-and-mortar Almanac brewery in San Francisco to visit, and they've helped firm up a general trend around the area of contract and alternating-proprietorship beer producers (who basically create their own beers using the excess, and often otherwise-unused, production capacity at existing breweries nearby). Those "gypsy"-ish brewers, as the parlance goes, have been making some of the area's best releases.
For Almanac, producing their beers off-site allows them to better focus on things like barrel aging, which falls into that category of high concepts. Wine, bourbon, and brandy barrels are employed throughout their Farm to Barrel series, in offerings like their Heirloom Pumpkin Barleywine (featuring locally grown pumpkins and oak brandy barrels) and recent Valley of the Heart's Delight (with foraged apricots, loquats, and cherries, plus oak barrels, plus wild and sourdough yeasts). Almanac's brewing focus also revolves around the "farm" aspect of that Farm-to-Barrel approach, with their beers generally highlighting the works of produce growers operating throughout the San Francisco Bay Area. Their beers have brought some deserved attention to the strawberries of Swanton Berry Farms, tart Cara Cara oranges and Meyer lemons from Hamada Farms, and fresh ginger sourced from the Santa Clara Valley. Even things like their Honey Saison steer the conversation back around to locally produced ingredients, as it's brewed with honey produced in hives on San Francisco's Fairmont Hotel.
What we've been most excited about with these beers is how well they serve to truly present those local ingredients in a way that serves to showcase them. Their Farmer's Reserve No. 3 has an aroma resembling a field of ripe strawberries, while Brandy Barrel Peche matches the high-summer peaches of Blossom Bluff Orchards to a seamless brandy-barrel counterpoint.
These are beers that are deftly handled, and built to remind one of where our beer originates: barley from farmers, hops from farmers, yeast occasionally sampled from the open air, fruits and spices from farmers, the water often from underneath our feet. It helps to be reminded.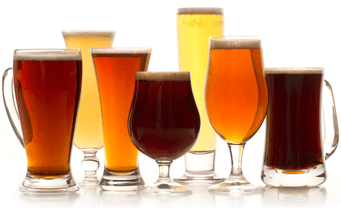 Unmatched Variety by style, brewery & country
Choose from Five different Beer Clubs offering unmatched variety by brewery,
country of origin, and beer style to suit your specific tastes.
DISCOVER OUR FIVE CLUBS