American Solera - The Ground is Shaking! (Exclusive)
ABV:

6%

Bottle Size:

750-ml

Serving Temperature:

50–57° F

Suggested Glassware:

Tulip, Goblet or Pinot Glass

This one's a very special release from the folks at American Solera. Though Chase and Co. have previously done a small version of this base beer in more neutral red wine barrels, for this Rare Beer Club exclusive release they're pulling out all the stops, and debuting the first of two beers they've been aging in Italian Vin Santo wine casks. American Solera was able to acquire eight of these casks total, with four of them being filled for this beer (and four being filled with a spontaneously fermented coolship beer they're working on). The sour-brown-ale core of The Ground is Shaking! is beautifully appointed with a robust, complex fermentation and nice depths from its specialty malt additions. Plus: the Vin Santo casks do wonders here.
Vin Santo (aka "holy wine") is an Italian dessert wine traditional to Tuscany but produced all across the country. It typically focuses on white grape varieties, like Malvasia, Trebbiano and Garganega, with the red (and more familiar!) Sangiovese grapes occasionally used for a little something called Occhio di Pernice, or "Eye of the Partridge." There's a lot of terrain to be covered in Vin-Santo-land with examples, like sherry, ranging widely from dry to quite sweet. Grapes for Vin Santo are often left out to dry on straw mats or hung up, concentrating sugar content, before being aged in barrels (oak, chestnut, etc.) for typically three to 10 years total. These wines often exhibit significant and complex oxidative qualities, resulting in notes that can be described as nutty, honeyed, creamy, raisiny, perfumed... Chase mentioned that these particular 25-hectoliter Vin Santo barrels, which The Ground is Shaking! spent 18+ months inside, afford beautiful nuttiness, subtle wood notes, and a seamless match to the base beer.
Also: this happens to be one of American Solera's two anti-fracking beers—the other being Man-made Earthquake, a cognac-barrel-aged tripel. Without being too heavy-handed: these two beers acknowledge the huge uptick in earthquakes in Oklahoma over the past few years.
The final result, which we're pleased to offer this month as a Rare Beer Club exclusive, ends up landing in the intriguing space between a traditional Flemish red and brown ale. It pours deep mahogany—reddish around the edges, but ultimately a dark beer—with a modest tan-colored foam. The aromatic oomph is immediate, with the central profile of tart cherry and caramel and chocolate coming through brightly: layered medium and dark malts positioned effortlessly alongside vibrantly acidic fermentation character. American Solera included the Roselare ale blend of lambic cultures for fermenting The Ground is Shaking!, which they've only previously used for a few releases, such as the sour stout Preacher Seat. It's a little less citrusy than the brewery's usual profile, with more tart cherry complexity—an ideal fit here.
Everything comes together beautifully in the flavor. There's about 2.6 to 2.7 volumes of CO2 in this beer, giving a spritzy underpinning of carbonation that really opens this one up. While an expressively tart cherry character is the leading element here, so many further pieces come into play: deep dives of chocolate, caramels and cola; subtle funk and phenolics; and loads of mellowing notes from the Vin Santo wine casks. The barrel aging offers just hints of tannin, but lots of rich hazelnut and roasted nuttiness, offering up an almost sherry-like contribution of well-aged warmth, toasty wood, and persistent caramelization intertwining all these parts.
There's rich leather, loads of dark fruits, a persistent cherry tartness... This is one of the most intriguing dark sour ales we've found in such a long while, from one of our favorite brewers in the U.S., and the uniqueness from those Vin Santo wine casks was just too much for us to pass on. We're thrilled to bring this masterful release from American Solera to our Rare Beer Club members: an incredibly unique and detailed riff on the delicious tart styles of Flanders.
The brewery suggests The Ground is Shaking! should age gracefully for a number of years in one's cellar, possibly up to a decade. Promising pairing options include: rich, fatty cheeses (to go with that tart-cherry core); butter cookies; or pork tenderloin with a raspberry reduction.
We've long appreciated the brewing work of Chase Healey, earliest on through his efforts at Prairie Artisan Ales, where he was responsible for incredible farmhouse ales, imperial stouts and experimental offerings. Prairie has long been a beer-geek staple, and that brewery's been a regular fixture on RateBeer.com's annual Top 100 Brewers in the World list. In early 2017, RateBeer named Chase's newest venture, American Solera, the #2 new brewery in the world.
While Prairie continues to grow and evolve, American Solera has allowed Chase to get back to what he enjoys doing most in the business: working hands-on at the brewery, and getting back to his roots of actually brewing. (As we were chatting through some notes for the Rare Beer Club's newsletter, Chase mentioned he'd just stepped off the American Solera bottling line...) American Solera focuses on oak aging, particularly while being true to the 'solera' part of its name, with many of the brewery's oak foeders being managed in the Solera style that's generally used for sherry and certain other fortified wines. Here, young barrels of aging beer are used to top up older ones, resulting in releases that are blends of beer of varying ages and exhibit complexities and flavor profiles that just aren't possible with the more usual barreling methodologies. American Solera, which just opened up on August 26th of 2016, provides an exciting artistic focus for Chase and his team of brewers to continue exploring new turf.
Currently, most of American Solera's releases are sold exclusively through the brewery's two Tulsa locations, plus some very light distribution through Shelton Brothers. We're grateful to Chase and co. for making enough of this release for our Rare Beer Club members, and we're pretty thrilled to see The Ground is Shaking! head out into the world. American Solera has a taproom-only release of the popular Razzbarrel coming up in the middle of December, and, in May of next year, membership opportunities for the American Solera Society will reopen for their 2018–2019 membership year. Additional info, tour details, and up-to-date tap and bottle lists for both American Solera locations can be found at www.americansolera.com.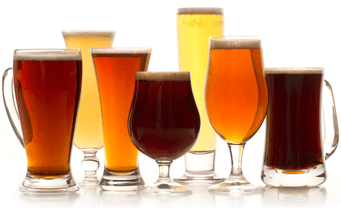 Unmatched Variety by style, brewery & country
Choose from Five different Beer Clubs offering unmatched variety by brewery,
country of origin, and beer style to suit your specific tastes.
DISCOVER OUR FIVE CLUBS