Anchorage Brewing Company - Galaxy White IPA
ABV:

7.00%

Serving Temperature:

45-50° F

Suggested Glassware:

Tulip, Goblet, Oversized Wine Glass
You've heard of (regular) IPA, Double IPA (or Imperial IPA), and maybe even Black IPA, Belgian IPA or Double Black IPA. But what's a "White IPA"? That's a good question, and it's not yet all that clearly defined—more of a work in progress. The basic idea (thus far) behind so called White IPAs is a Belgian-style spiced wheat beer (a wit) that is aggressively hopped and has an above average alcohol volume. With the creation of new beer styles comes this sort of emergent period where things are pretty wide open to interpretation—so, let's see where brewer Gabe Fletcher takes us with his take on "White IPA"… He's certainly pulled out all the stops in this remarkable brew, with ingredients/influences from four different continents: Australian Galaxy hops, Indian coriander and black peppercorns, North American wheat, fresh kumquats from Asia, and fermented and aged in French oak foudres with a Belgian wit yeast.

Galaxy White IPA pours a pale butterscotch color, nicely hazed and just what we expect in a witbier. Also present is the characteristic brilliantly white head that a wit ought to possess. The aroma is quite alluring—intensely citrus-forward, with a blast of aromatic hops. Expect notes of fresh lemons and oranges, as well as grapefruit-and-pine hoppiness. It's a pretty intense hoppiness; all the more impressive is the fact that it's coming from a single variety (Galaxy). We'd have thought it was a Pacific Northwest variety, especially since this beer is brewed in Alaska, but no, these hops are from down under. Spare no expense, right? Also look for suggestions of passionfruit, which Galaxy hops are known for, but it's pretty tough to say if that's just the hops, or also the fresh kumquats. We're not sure either if the subtle tartness on the nose is exclusively from the wheat, the Brett, the kumquats, or some interplay between all three, but there is a nice, fresh, citrusy tartness suggested in the aroma. The Brettanomyces is also casting off just a touch of pineapple. The beer is young right now, so the funky characteristics from the Brett will increase with time. We also got quite a bit of the coriander coming through as well. Quite a complex aroma, but let us say that for all that's going on in this beer, it's just beautifully melded together. On paper, this gathering of ingredients may seem like some mad scientist-brewer's wild-eyed experiment, and it certainly could be (the winters are very long in Alaska), but that aside, the fusion is gentle and reveals an impressive artistry.

For all its soft, suppleness on the nose, the flavor has plenty of Alaskan ruffian to it. Expect plenty of citrus notes, with a touch of sourness coming from the interplay of the wheat (sour), hops (citrus) and kumquats (sweet citrus and bitterness), all giving the impression of lemons. But like a proper IPA, there's quite a hefty bitterness. In this case, the bitter notes are coming not only from the hops, but also the kumquats (think orange rind) and the herbs and spices. The finish is quite lengthy, and if you give the palate time to try to recover between sips (it won't, by the way, this is pretty much a palate thrasher), that's when the black peppercorns show up, leaving a distinctive tingle that really does taste like freshly cracked black pepper.

Galaxy White IPA is a brand new beer, so we haven't had any aged samples, but the Brettanomyces and wine yeast used for bottle conditioning this brew will go to work, "funking" things up and even drying it with age. The hops will fade too, so we're expecting this beer to really change with time in the bottle. Having been matured in French oak foudres (which are large casks, bigger than standard barrels, usually used for maturing, storing or transporting wine), the influence of the oak is a bit tough to pull out of the beer when young (look for a faintly spicy woodiness amidst the citrus peel notes). But the oak notes are likely to blossom as the beer ages and the currently vibrant hoppiness subsides. We've kept a few bottles for ourselves as we will definitely be checking in on this beer every six months for at least the next two years (if we don't drink it all in the next few weeks… damn this stuff is good). We're happy to debut it for our members, who will receive it 3-4 weeks before it can be found outside of Alaska, in limited distribution. Cheers!
This month we're very excited to be featuring a new brewing outfit that is already beginning to make big waves in the craft beer universe, impressing the relatively few lucky souls who have managed to taste their superb beers, as well as scoring a #1 position on RateBeer's recently released "2012 Top New Brewers In The World" list. We think this brewery has a bright future and after tasting their newest offering, Galaxy White IPA, we knew we absolutely had to introduce them to our members ASAP. Gabe Fletcher has been a serious force in craft brewing in Alaska for over a decade. As the head brewer for the Midnight Sun Brewery in Anchorage, he was directly responsible for their tremendous growth over the years, as well as for producing such beers as their award-winning Arctic Devil Barley Wine and their legendary M Belgian-Style Barley Wine, a beer which has earned a perfect score of 100 from the members of BeerAdvocate.com. Despite his many successes at Midnight Sun, in the summer of 2010 Gabe decided to strike out on his own, to pursue his passion for brewing unique beers, aging them in wood, and experimenting with using brettanomyces and other "critters" to produce flavors both unexpected and exceptional. Rather than go the traditional route and buy his own brewhouse, Gabe hit upon the unique idea of renting time on the system of the Sleeping Lady Brewery in Anchorage, as well as space in their basement. This is not contract brewing; Gabe does all the brewing himself, simply using someone else's equipment. Doing this allowed Gabe to invest his capital where he really wanted to put it: wood. Visiting the Anchorage Brewing Company, as Gabe's new venture is known, is a bit like being invited into the Bat Cave. You take an elevator to the basement, wind through some hallways, until you are confronted by a locked door. Once Gabe unlocks the door, you are ushered into a beer lover's wonderland of wood. There are racks and racks of barrels—chardonnay, cabernet, pinot noir, over 160 in all. There are massive French Oak foudres, wooden vats holding over 600 gallons each. Using each different barrel as a master craftsmen uses his tools, Gabe produces his beers, most of which are bottled in 750ml bottles for distribution via Shelton Brothers. And what amazing beers they are! Gabe has released six beers so far. The first four were each triple fermented: a primary fermentation in stainless steel, a long secondary fermentation in French oak wine barrels dosed with brettanomyces, and a final bottle-conditioning. Released first was Whiteout Wit, brewed with Sorachi Ace Hops, spiced with lemon peel, coriander, and black peppercorn, and aged in French Oak Chardonnay barrels. It finished at 6.5% ABV, 20 IBUs. Next was his Bitter Monk Double IPA, 9% ABV and a massive 100 IBUs from Apollo and Citra hops, with Citra dry hopping during aging with brettanomyces in French Oak Chardonnay barrels. Then came his Love Buzz Saison, 8% ABV and 40 IBUS, brewed with Amarillo and Simcoe hops and spiced with fresh Alaskan rosehips, fresh orange peel and black peppercorns. It was aged in French Oak Pinot Noir barrels with brettanomyces. Finally, there was The Tide and Its Takers Tripel, brewed with Sorachi Ace and Styrian Golding Hops, aged in French Oak Chardonnay barrels with brettanomyces. It finished at 9% ABV & 30 IBUs. Given his creative genius and skill as a brewer, Gabe Fletcher and his Anchorage Brewing Company represent one of the most exciting developments on the craft brewing scene in the last several years.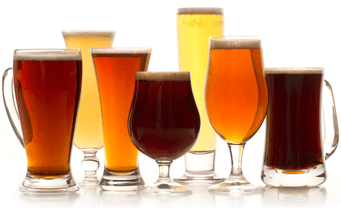 Unmatched Variety by style, brewery & country
Choose from Five different Beer Clubs offering unmatched variety by brewery,
country of origin, and beer style to suit your specific tastes.
DISCOVER OUR FIVE CLUBS