Anchorage Brewing Company - Mosaic Saison
ABV:

6.5%

Serving Temperature:

50–57° F

Suggested Glassware:

Tulip, Pinot Glass or Bucket
Sameness is easy, predictable, accepted. Different, however, poses a challenge, gives way to debate, stimulates thought. The ancient art form of Mosaic is founded on the idea of creating splendor utilizing contrasting elements: jagged edges situated (un)comfortably next to rounded perfection, darkness clarifying the light, hammered down broken glass. It is these contradictory, different processes that create beauty. —Mosaic Saison label notes
Mosaic hops are known for kicking out tropical notes, and they're present in abundance in this expressive saison from Anchorage. This is only the second time that this beer has been brewed, with the first brief run occuring in June of last year. In 2016, only about 650 cases or so will see distribution in the U.S. outside of the Rare Beer Club, and our members will get their bottles approximately three or four weeks or so before Mosaic Saison will hit retail shelves.
Let's see if the mosaic analogy from the label notes fits. There are certainly some saison-like, triangulated edges present in elements like the brisk carbonation, the zest of pepper and lime leaf, the refreshing jolt of acidity from the contributing yeast and critters. And yet, it remains bright and brilliant on the whole, looking past the edgy properties to a "rounded perfection", as it's spoken of above: the parts of the flavor profile that feel like droplets. The juicy flipside to the above lime note, feeling fresh-squeezed. Other citrus that feels like grapefruit sections. And effortlessly plush notes further beneath that, the vanillas and fruit-filled esters, subtly at work while the louder things go on above. If we were to really think about it, describing that feeling of rusticity—that authentic feel of great saisons—feels a bit like edges and round bits.
The aromatics are intensely herbal and grassy, that Mosaic dry-hopping playing out fully, as a lime and Brett-tinged grapefruit quality leads. Early sips preferentially find the pointy edges a bit more, with vibrant CO2 and peppery saison yeast landing first. But with some time in the glass, everything else appears: vanilla and almond, papaya-like fleshy sweetness, as well as the delicate tannic brushstrokes from the oak-barrel aging. Some really cool, curious depth here.
Gabe isn't exactly new to Brett. Expect bottles of this to age just fine—but keep in mind the Mosaic hop character, particularly the early tropics and grass, is going to fall off with modest haste. Be sure to at least sample it while fresh to get the full expression of that 100% Mosaic treatment. The herbaceousness, reasonable ABV and bubbles have us thinking flaky, buttery fish, or maybe a modestly bitter collection of greens with a fatty element: say, diced pancetta.
We first featured the esteemed Anchorage Brewing Company shortly after they'd opened, digging into their Galaxy White IPA right around the time that they were taking the #1 slot on RateBeer's 2012 Top New Brewers In The World list. They haven't exactly disappointed in the time since, with assertive release after assertive release hitting shelves in limited spots. Mosaic Saison's one of their masterpieces. We'll dig in below after swinging by the brewery.
Gabe Fletcher has been a serious force in craft brewing in Alaska for well over a decade. As the head brewer for the Midnight Sun Brewery in Anchorage, he was a major contributor to their tremendous growth over the years, as well as for producing such beers as their award-winning Arctic Devil Barley Wine and their legendary M Belgian-Style Barley Wine. Despite many successes at Midnight Sun, in the summer of 2010 Gabe decided to strike out on his own to pursue his passion for brewing unique beers, aging them in wood, and experimenting with brettanomyces and other "critters" to produce flavors unexpected and exceptional.
Rather than go the traditional route and buy his own brewhouse, Gabe hit upon the unique idea of renting time on the system of the Sleeping Lady Brewery in Anchorage, as well as the space in their basement. Doing this allowed Gabe to invest his capital where he really wanted to put it: wood. Visiting the Anchorage Brewing Company is a bit like being invited into the Bat Cave. There are racks and racks of barrels—chardonnay, cabernet, pinot noir, hundreds in all. And those massive French oak foudres: wooden vats holding over 600 gallons each.
Using each different barrel as a master craftsmen uses his tools, Gabe produces beers that are typically packaged into 750mL bottles for distribution via Shelton Brothers. And they're pretty amazing stuff—with Gabe taking on a ton of adventurous terrain in recent years. The first four releases were each triple fermented: a primary fermentation in stainless steel, a long secondary fermentation in French oak wine barrels dosed with Brettanomyces... before being bottle conditioned. Released first was Whiteout Wit, brewed with Sorachi Ace hops, spiced with lemon peel, coriander and black peppercorn, and then aged in French oak Chardonnay barrels. Next was Bitter Monk double IPA: 9% ABV, with a massive 100 IBUs from Apollo and Citra hops along with Citra dry-hopping during aging with Brettanomyces in French oak Chardonnay barrels. (A mouthful.) Then came the Love Buzz Saison, 8% ABV and 40 IBUs, brewed with Amarillo and Simcoe hops and spiced with fresh Alaskan rosehips, fresh orange peel and black peppercorns. (Also: aged in French oak Pinot Noir barrels with Brett.) Finally there was The Tide and Its Takers tripel, brewed with Sorachi Ace and Styrian Golding hops and aged in French oak Chardonnay barrels with Brett. Every one delicious. With the lasting creativity and depth in brewing, Gabe Fletcher and Anchorage Brewing Company have been, for us, one of the most exciting developments on the U. S. brewing scene in recent years. It's a treat to dig into their mouthwatering Mosaic Saison with our RBC members this month.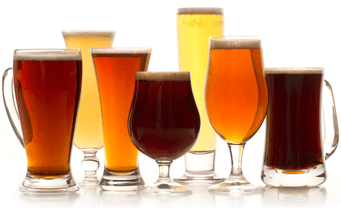 Unmatched Variety by style, brewery & country
Choose from Five different Beer Clubs offering unmatched variety by brewery,
country of origin, and beer style to suit your specific tastes.
DISCOVER OUR FIVE CLUBS