Atom Brewing Company - Still Here
ABV:

10.5%

Bottle Size:

750-ml

Serving Temperature:

50–58° F

Suggested Glassware:

Snifter, Tulip, Chalice, or Pinot Glass
This month's featured offering from Atom Brewing Co. is an exclusive release between Atom, The Rare Beer Club, and Pints for Prostates. This is our 10th year doing a beer release in support of Pints for Prostates, and proceeds from every bottle sold go towards supporting the organization's outreach activities, raising awareness about prostate cancer through the language of beer. Bonus: sunflower seeds have been found to be good for prostate health!
Atom Brewing's Still Here is a barrel-aged imperial stout made with malted sunflower seeds, and it's a perfect encapsulation of what this small brewery's up to. Based off their previously made Stillness, this version swaps oats in favor of sunflower seeds, and is made with 100% Coloradan ingredients. Malts are sourced from Root Shoot Malting, Troubadour Maltings, and Colorado Malting Co., hops from Colorado are used exclusively, and the house culture of Atom uses local native yeasts sourced from different parts of the brewery's wee property. This beer was put into neutral, used red-wine barrels at the end of January and packaged into bottles seven months later, resulting in a super-smooth (and very Coloradan) imperial stout.
Still Here pours black as night, and mostly headless. This imperial stout is packaged without carbonation intentionally, and that lack of bubbles keeps head formation modest. Those rich aromatics of nutty, toasted and roasted malt character come through quite strong, alongside dense coffee and dark chocolate. Leather. Tobacco. A big, rich, Russian-style imperial stout.
There's a beautifully developed imperial stout core here, with more subtle contributions via the time this beer spent in (relatively) neutral red-wine barrels. Lots of its expected chocolate and roasted qualities upfront, along with leather plus light nuttiness from its sunflower seeds. There's a touch of a tart-cherry bite at the perimeter of things, providing some very welcome acidity to the overall presentation—a combo of the native yeasts' contribution and that time spent in red-wine barrels—while subtle notes of oaky vanilla and a tannic structure appear as complementary notes from the mid-palate forward. There's a dry earthiness at the core from the beer's fermentation qualities, and this plays off brilliantly beside more conventional notes of roasted malts, chocolate, and coffee—taking this to a whole other level. This is one of the most intriguing imperial stouts we've tried, and a stellar showcase of Atom Brewing's talents.
Still Here is definitely formidable enough to spend some time developing in one's cellar, and the fact that it's unfiltered and unpasteurized further solidifies that point. Jeff mentioned that aged bottles of the Stillness actually developed some carbonation after some significant time in the cellar—though these beers aren't intended to be consumed as such. Expect that house yeast character to grow more assertive with time. For food pairings: look to an appropriately hefty option for main courses (e.g. steak, lamb), or pair it like a port with dessert or cigars.
Atom Brewing Co. in Colorado got its start in November 2015, in the backyard of Jeff and Chris Porn—where it remains to this day. Jeff's been brewing for 18 years, Chris previously worked for White Labs, and together the couple's converted a 1920s carriage house on their property to be the home base of Atom Brewing. Jeff handled the rebuild and construction of the brewery himself, while Chris' experience with brewing yeasts served them well when they set up yeast captures all around the small brewery, finding nine viable native yeast strains that they then blended together—creating a house culture that forms the basis of all Atom beers.
Old-world methodologies are at the heart of Atom Brewing's core ethos. Their cedar-lined ceiling in the barrel house encourages wild microflora, and all of their crucial equipment is wooden: from custom-made oak fermenters to the many hand-selected used barrels that they use for aging their beers. Their wort is typically brewed off-site at another brewery, with Jeff handling the brewing itself, then trucked back to the Atom carriage house/barrel room to be fermented and aged before release. The quickest beer they make takes around 8 months!
Each beer is open fermented, using one of the brewery's house yeast blends to incorporate the locally harvested Colorado yeast, before seeing extensive aging inside of (usually neutral) freshly emptied wine and spirit barrels. These provide the ideal environment for the various yeast and bacteria to do their slow-paced work on the beer, resulting in the truly exceptional and unique releases we've been sampling from Atom. This month's feature in particular—a potent, deeply nuanced farmhouse imperial stout, with malted sunflower seeds—showcases that uniqueness and expressiveness of their core house character. In general, these beers are aged for a period of up to 3 years, and allowed to develop for as long as needed before they see a formal release. The Atom yeast culture is maintained batch to batch in-house, and each of their beers is unfiltered and packaged by hand. Atom Brewing is a 100%-wood(!) brewery, in fact, and every one of their beers gets barrel-aged and fermented with a mixed culture. It's a pretty intricate production process—in a brewing space that's only around 700 square feet.
For the very-very small batch experimental stuff, they recently had a custom 5-barrel copper kettle built (in addition to their copper coolship), which allows them to brew batches on-site: outside, and over a wood fire. Along with Pen Druid Brewing and Scratch Brewing, Atom is one of very few commercial U.S. breweries incorporating open wood fire into their brewing, with these very-very small batches forming the basis of the brewery's spontaneous program. Jeff and Chris also maintain a 20' x 60' garden on their property, where they grow all sorts of different ingredients, such as mint, lemongrass, hyssop, pumpkins, raspberries, and rhubarb.
As you might imagine, Atom doesn't really have a flagship or set lineup of beers. The closest to a flagship they've got is Arlo, their mixed culture farmhouse ale that's light, crisp, and the perfect showcase for their open fermentation and oak-barrel aging. It's the only beer that the brewery makes on a regular basis. Atom's Harvest Series takes a base beer that's aged inside of barrels for 5 to 6 months and adds up to 3 pounds per gallon of fresh fruit, on which the beers gets aged for another 1–3 months before packaging. Releases have included Blueberry Harvest, Passion Fruit Harvest, and Yuzu Harvest. Stillness, the imperial stout that serves as the original basis of this month's featured Still Here, is aged in neutral oak barrels for around 6 months and intentionally packaged uncarbonated to best showcase the core flavors (hence its name!). Atom also has a Sour Series—using stuff like Zinfandel barrels and fresh peaches.
As you've likely already guessed: Atom Brewing's releases see very light distribution, and are generally confined to about 80 locations sprinkled throughout Colorado. (The brewery's also been experimenting with a light amount of distribution to Europe.) Atom's beers are usually one-offs, or at most once-per-year releases, and around 98% of their production is packaged in corked-and-caged bottles. They don't have a taproom, but keep an eye out for their tasty bottles should you be in Colorado anytime soon. Learn more at atombrewingcompany.com.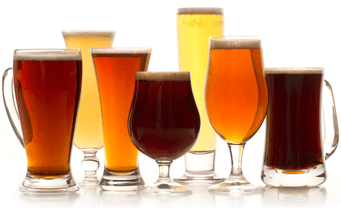 Unmatched Variety by style, brewery & country
Choose from Five different Beer Clubs offering unmatched variety by brewery,
country of origin, and beer style to suit your specific tastes.
DISCOVER OUR FIVE CLUBS